Methodology article

Open Access
De novo assembly of the complex genome of Nippostrongylus brasiliensis using MinION long reads
Received: 12 September 2017
Accepted: 14 December 2017
Published: 11 January 2018
Abstract
Background
Eukaryotic genome assembly remains a challenge in part due to the prevalence of complex DNA repeats. This is a particularly acute problem for holocentric nematodes because of the large number of satellite DNA sequences found throughout their genomes. These have been recalcitrant to most genome sequencing methods. At the same time, many nematodes are parasites and some represent a serious threat to human health. There is a pressing need for better molecular characterization of animal and plant parasitic nematodes. The advent of long-read DNA sequencing methods offers the promise of resolving complex genomes.
Results
Using Nippostrongylus brasiliensis as a test case, applying improved base-calling algorithms and assembly methods, we demonstrate the feasibility of de novo genome assembly matching current community standards using only MinION long reads. In doing so, we uncovered an unexpected diversity of very long and complex DNA sequences repeated throughout the N. brasiliensis genome, including massive tandem repeats of tRNA genes.
Conclusion
Base-calling and assembly methods have improved sufficiently that de novo genome assembly of large complex genomes is possible using only long reads. The method has the added advantage of preserving haplotypic variants and so has the potential to be used in population analyses.
Keywords
Helminths
Next-generation sequencing
Base-calling
Genome assembly
DNA repeat
Population analysis
Background
Human hookworm infections by the parasitic nematodes Necator americanus and Ancylostoma duodenale continue to be a major global health problem. Next-generation sequencing (NGS) techniques open the door to molecular epidemiological monitoring of nematode and helminth parasites in endemic areas. Such studies are, however, hampered by the heterogeneous nature of parasite populations and by the intrinsically complex genome structures of nematodes [1]. In contrast to most NGS machines, which are cumbersome and can be operated only within a laboratory setting, Oxford Nanopore Technology (ONT) MinION sequencers are small and highly portable. They are robust and are now being used all over the globe, even in extreme environments [2, 3]. That they are well suited for field studies, and their capacity to generate long-read sequences, makes them potentially an ideal tool for conducting molecular epidemiological studies of nematode and helminth parasites in remote locations.
Long-read sequences are especially useful for de novo genome assembly. Reads from the MinION, as well as from PacBio's single-molecule real-time (SMRT) sequencing platform, however, suffer from an error rate that is very substantially higher than seen with short-read NGS technologies. As a consequence, de novo genome assembly based on long DNA reads often relies on hybrid strategies incorporating, for example, short-read DNA sequencing [4–7], although non-hybrid long-read only methods do exist [8–12] (see [13] for a review). Indeed, there have now been successful chromosome-scale assemblies of large genomes, primarily using the PacBio SMRT platform to generate contigs (e.g. [14]), combined with long-range linking information (e.g. [15, 16]) but the approach can still be challenging.
As a model for the analysis of human hookworm populations, we turned to
Nippostrongylus brasiliensis
, a gastrointestinal nematode that infects rodents. Its lifecycle is analogous to that of hookworms and it is widely used as a surrogate for hookworms in research (e.g. [
17
]). Lines of
N. brasiliensis
are maintained by serial passage in rats. The standard culture protocol involves infection of several rats by thousands of infective larvae. Each rat will produce hundreds of thousands of eggs in a few days [
18
]. These are harvested in feces and grown without any intentional selection to give a new generation of infective larvae (Fig.
1
). Although there will be some adaptation of this laboratory-maintained strain to rats housed in a specific pathogen-free animal facility, the use of this relatively high number of worms at each generation is expected to maintain diversity within the population. We, therefore, took
N. brasiliensis
as a test case to evaluate the possibility of generating a genome sequence de novo from a heterogeneous population using MinION long reads and improved analysis methods.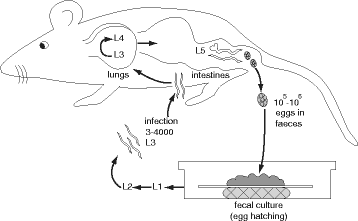 Results and discussion
Since in the current study, the Trinity [genome-guided]-based approach using RNA-seq data gave a marginally higher complement of USCO genes, we used this gene set for further analyses. In addition to an elevated proportion of fragmented USCOs (see below), we also noted a high proportion of duplicated USCOs. Inspection revealed that some of these were bona fide lineage-specific expansions. For example, the analysis uncovered three distinct loci encoding isoforms of fructose 1,6-bisphosphatase (PFAM: PF00316), as predicted also from the WTSI assembly. Pairs of USCOs were also found on homologous contigs. There were four such examples in the 12 heterozygous branch subgraphs alone; this presumably reflects haplotypic variants.
As explained above, during the long-term culture of N. brasiliensis, attempts are made to maintain genotypic diversity in the population. The assembly that we produced reflects this. Surgical transplantation of single adult parasitic worms has very recently been shown to be feasible, allowing controlled matings and the establishment of inbred lines [30]. A less demanding alternative approach to describe the different genotypes within a population would be to assemble separate genome sequences directly from DNA extracted from individual nematodes. Current sequencing technologies are not sufficiently sensitive to allow this. Whole-genome amplification (WGA) was, therefore, used to generate sufficient DNA from a single adult worm. This was then sequenced with a single MinION run. Base-calling using Albacore produced 2,074,871 reads for 6.5 Gb of sequence (compared to 1,722,835 reads totaling 4.9 Gb of sequence using the older MinKNOW approach). Based on the initial FASTQ files, the 90th percentile of length for the WGA sequencing run was 6.4 kb, with more than 27,000 reads of at least 13 kb. The overall read length distribution for the WGA run was somewhat shifted to smaller sizes (Additional file 6: Figure S3), presumably a consequence of Phi29 processivity.
Since the WGA reads that mapped only to the final assembly (in regions of low sequence coverage) represented 11% of the total number, sequencing depth was not a major limiting factor. As the stringent pairwise mapping also indicated that the WGA assembly captured a third (32.4%) of the predicted genome, it appears that genome amplification was indeed biased; future attempts should use alternate amplification (e.g. primer-free) approaches. The results do, however, illustrate that assembling a complete genome from a single nematode is within the bounds of current technology and this method could be used to survey genotypic diversity in populations.
Conclusions
For researchers interested only in coding genes and their expression, standard short-read RNA-seq will continue to be an efficient and appropriate technology. As we showed here, however, Illumina-type DNA sequencing is particularly poor as a basis for assembling genomes rich in long repeats. On the other hand, our results illustrate that a de novo assembly of high quality can be obtained using only long reads, even of a complex genome from a heterogeneous population, using a very modest sequencing depth (24× after trimming and correction). At the local level, the incorporation of sequencing polishing, using only MinION reads, raises sequence quality close to that seen with Illumina-based approaches. The results revealed the need for further improvements in resolving ambiguous contig architectures and in transcript-directed gene structure prediction. Nevertheless, since haplotypic variation could be detected even without RNA-seq-directed sequence correction, they clearly show the potential for using this approach to profile parasite populations, opening the way for detailed molecular epidemiological studies.
Declarations
Acknowledgements
We thank Rick Maizel for a discussion, and Simon Mayes and colleagues at ONT for their assistance. This study utilized the computational resources of the Biowulf system at the National Institutes of Health, Bethesda, MD (https://hpc.nih.gov/systems/). The Cloud Infrastructure for Microbial Bioinformatics (CLIMB) service in the U.K. and the Genomics Research Centre server at Queensland University of Technology (QUT) were used to strip out event data and facilitate data transfer.
Funding
This study was supported by program grant funding from the Health Research Council of New Zealand (14/003) and the Marjorie Barclay Trust. SK was supported by the Intramural Research Program of the National Human Genome Research Institute, National Institutes of Health. The funding bodies had no role in the design of the study, nor in the collection, analysis, and interpretation of data, nor in writing the manuscript.
Availability of data and materials
MinION reads (base-called FASTQ and raw) used for this assembly project (as well as RNA-seq reads used for assembly correction) are available from the European Nucleotide Archive, project PRJNA328296. Accessory scripts used for sequence and assembly analysis (see 'Methods') can be found at https://github.com/gringer/bioinfscripts.
Authors' contributions
DE, GLG, and JJE conceived and designed the experiments. DE, JC, and MC performed the experiments. DE, BH, SK, and JJE analyzed the data. DE and SK contributed reagents, materials, analysis, and tools. DE and JJE wrote the paper. All authors read and approved the final manuscript.
Ethics approval
Ethics approval was provided by the Animal Ethics Committee of Victoria University of Wellington.
Consent for publication
Not applicable
Competing interests
The authors declare no competing interests but note that ONT, the manufacturers of the MinION device, carried out DNA sample preparation and sequencing free of charge, and have covered travel and accommodation expenses for SK to speak at ONT conferences.
Publisher's Note
Springer Nature remains neutral with regard to jurisdictional claims in published maps and institutional affiliations.
Open AccessThis article is distributed under the terms of the Creative Commons Attribution 4.0 International License (http://creativecommons.org/licenses/by/4.0/), which permits unrestricted use, distribution, and reproduction in any medium, provided you give appropriate credit to the original author(s) and the source, provide a link to the Creative Commons license, and indicate if changes were made. The Creative Commons Public Domain Dedication waiver (http://creativecommons.org/publicdomain/zero/1.0/) applies to the data made available in this article, unless otherwise stated.
Authors' Affiliations
(1)
Malaghan Institute of Medical Research, Wellington, New Zealand
(2)
Department of Biological Sciences, King Abdulaziz University, Jeddah, Saudi Arabia
(3)
CNRS UMR 7257, Aix-Marseille University, Marseille, France
(4)
INRA, USC 1408 AFMB, Marseille, France
(5)
Genome Informatics Section, Computational and Statistical Genomics Branch, National Human Genome Research Institute, National Institutes of Health, Bethesda, USA
(6)
Centre d'Immunologie de Marseille-Luminy, Aix-Marseille University, CNRS, INSERM, Marseille, France