Research article

Open Access
The house spider genome reveals an ancient whole-genome duplication during arachnid evolution
Received: 19 April 2017
Accepted: 21 June 2017
Published: 31 July 2017
Abstract
Background
The duplication of genes can occur through various mechanisms and is thought to make a major contribution to the evolutionary diversification of organisms. There is increasing evidence for a large-scale duplication of genes in some chelicerate lineages including two rounds of whole genome duplication (WGD) in horseshoe crabs. To investigate this further, we sequenced and analyzed the genome of the common house spider Parasteatoda tepidariorum.
Results
We found pervasive duplication of both coding and non-coding genes in this spider, including two clusters of Hox genes. Analysis of synteny conservation across the P. tepidariorum genome suggests that there has been an ancient WGD in spiders. Comparison with the genomes of other chelicerates, including that of the newly sequenced bark scorpion Centruroides sculpturatus, suggests that this event occurred in the common ancestor of spiders and scorpions, and is probably independent of the WGDs in horseshoe crabs. Furthermore, characterization of the sequence and expression of the Hox paralogs in P. tepidariorum suggests that many have been subject to neo-functionalization and/or sub-functionalization since their duplication.
Conclusions
Our results reveal that spiders and scorpions are likely the descendants of a polyploid ancestor that lived more than 450 MYA. Given the extensive morphological diversity and ecological adaptations found among these animals, rivaling those of vertebrates, our study of the ancient WGD event in Arachnopulmonata provides a new comparative platform to explore common and divergent evolutionary outcomes of polyploidization events across eukaryotes.
Keywords
Parasteatoda tepidariorum
Genome
Centruroides sculpturatus
Gene duplication
Evolution
Hox genes
Background
Gene duplication plays an important role in the evolutionary diversification of organisms [1, 2]. Unequal crossing-over commonly results in one or a few tandemly duplicated genes, but larger scale events, including whole genome duplications (WGDs) can also occur. Tandem duplication has been shown to underlie the evolution of many genes in both plants and animals, for example, of up to 32% of genes in the centipede Strigamia maritima [3, 4]. WGD is arguably the most sudden and massive change that a genome can experience in a single evolutionary event. The occurrence of WGDs across a wide variety of eukaryotic groups, including plants [5, 6], fungi [7, 8], ciliates [9], oomycetes [10], and animals [11–17], attests to the major impact that polyploidization events have had in reshaping the genomes of many different organisms.
Although most of the duplicated genes resulting from tandem duplication or WGD are subsequently lost, it is thought that these events provide new genetic material for some paralogous genes to undergo sub-functionalization or neo-functionalization and thus contribute to the rewiring of gene regulatory networks, morphological innovations and, ultimately, organismal diversification [2, 7, 18–24]. Comparisons of independent paleopolyploidization events across different eukaryotes, such as plants, yeast, and vertebrates [5, 8, 11, 13, 14, 24], have led to the development of models to elucidate genome-wide evolutionary patterns of differential gene loss and retention compared to smaller-scale events [2, 25]. However, the enormous differences between these disparate eukaryotic lineages in terms of genome structure, morphological and developmental organization, and ecology have impeded a critical assessment of the potential selective advantages and actual evolutionary consequences of WGDs. Thus, the extent to which WGDs may have contributed to taxonomic "explosions" and evolutionary novelties remains controversial, especially in the case of vertebrates [26–28]. For example, the two WGDs shared by all vertebrates have given rise to four clusters of Hox genes, providing new genetic material that may underlie the evolutionary success and innovations among these animals [24, 29, 30]. However, only three WGD events have been demonstrated in animals other than vertebrates, namely one in bdelloid rotifers and possibly two in horseshoe crabs [11, 14, 31], and these events are not associated with any bursts of diversification [32, 33]. It is clear, therefore, that documenting additional examples of WGD in metazoans would significantly increase our understanding of the genomic and morphological consequences of these events.
Intriguingly, there is increasing evidence for extensive gene duplication among chelicerates other than horseshoe crabs, particularly in spiders and scorpions [
34
–
44
], indicating that large-scale gene duplications occurred during the evolution of these arachnids. However, although the genomes of some arachnids have been sequenced, including the tick
Ixodes scapularis
[
45
,
46
], the mite
Tetranychus urticae
[
47
], the Chinese scorpion
Mesobuthus martensii
[
48
], and three spiders (the velvet spider
Stegodyphus mimosarum
[
49
], the Brazilian whiteknee tarantula
Acanthoscurria geniculata
[
49
], and the golden orb-weaver
Nephila clavipes
[
50
]), a systematic analysis of genome evolution among these diverse animals has yet to be performed (Fig.
1
) [
51
].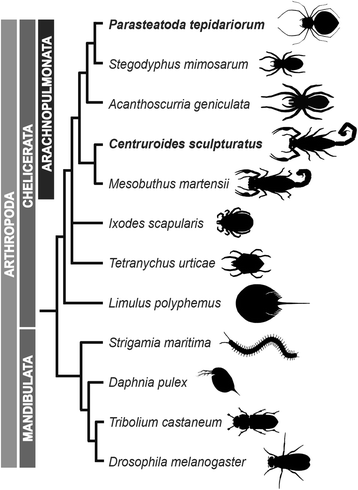 As a step towards this goal, we herein report the sequencing and analysis of the genomes of the common house spider Parasteatoda tepidariorum (C. L. Koch, 1841; formerly Achaearanea tepidariorum) [52] and the bark scorpion Centruroides sculpturatus (Wood, 1863) (Fig. 1), together with comparative genomic analyses of other available chelicerate genomes. We found that the genome of P. tepidariorum contains many paralogous genes, including two Hox gene clusters, which is also the case in other spiders and in scorpions (this work; [36]). These similar patterns of gene duplication between spiders and scorpions are consistent with recent molecular phylogenies, which support a much closer phylogenetic relationship of spiders and scorpions than previously thought, in a clade known collectively as Arachnopulmonata [53] (Fig. 1). We also document extensive divergence in the timing and location of expression of each pair of Hox gene paralogs, suggesting there may be far reaching functional consequences. Furthermore, an analysis of synteny among paralogs across the P. tepidariorum genome is consistent with a WGD. Comparison with other chelicerates suggests that this WGD took place in the common ancestor of the Arachnopulmonata and is probably independent of the WGDs in the horseshoe crab lineage.
Discussion
Signatures of an ancient WGD in the last common ancestor of spiders and scorpions
Our study of the assembly and annotation of the P. tepidariorum genome revealed a high number of duplicated genes in accordance with previous observations [34–44]. This finding is further supported by our detection of a colinearity signal across many of the largest P. tepidariorum scaffolds. The fact that we find many smaller synteny blocks across scaffolds suggests that the WGD event occurred early during spider evolution and was followed by extensive disruption of previously larger blocks, for instance, by recombination or the activity of transposable elements. Intriguingly, the comparison of the gene content of the P. tepidariorum genome with other chelicerates and other arthropods suggests that a WGD likely occurred in the lineage leading to spiders and scorpions. Our dating efforts indeed confirmed that this WGD most likely occurred after the divergence of the common ancestor of spiders and scorpions from other arachnid lineages (mites, ticks, and harvestmen) prior to 430 MYA [67, 68] (Fig. 1). Furthermore, our results suggest that this event was independent of the apparent WGDs shared by all extant horseshoe crabs [31].
Divergence in gene function after duplication
It is thought that typically large-scale duplication events such as WGD are followed by a period of gene loss (for example, only 12% of paralogs have been retained after 100 MY in Saccharomyces cerevisiae [7, 23]), in concert with major genomic rearrangements, and that those duplicated genes that are subsequently retained are enriched in developmental genes such as those encoding transcription factors and other proteins that often act in multiprotein complexes [2, 18, 24, 25, 69]. Our GO term enrichment analysis partially confirms a similar trend for P. tepidariorum, since we find, for instance, proteins related to transcriptional regulation enriched in the group of duplicates. Indeed, it is striking that vertebrates, horseshoe crabs, and arachnopulmonates have retained duplicated Hox clusters and appear to be enriched in other paralogs that encode other transcription factors, suggesting that this retention pattern after WGDs is a general trend in animals.
Our study provides evidence for possible subsequent sub-functionalization and neo-functionalization among ohnologs [19–22, 69], most likely as a result of evolutionary changes in their regulatory sequences as has been observed in the case of other WGD events [70]. This is exemplified by the diversity in the temporal and spatial expression of the P. tepidariorum Hox gene paralogs during embryogenesis (e.g., Fig. 9). Divergence in the expression patterns of duplicated Hox genes has been previously reported for the genes Dfd, Scr, and Ubx in spiders [38, 71, 72] and for the posterior Hox genes Antp, Ubx, abdA, and AbdB in the scorpion C. sculpturatus [40]. However, these previous studies only investigated a few Hox gene families and analysis of the spatial expression of these genes was limited to later developmental stages after the appearance of limb buds. Divergence in gene expression has also been previously observed for duplicated Wnt ligand genes in P. tepidariorum [37]. In addition, a recent study of the two dachshund paralogs provided possible evidence for the neo-functionalization of a duplicated gene during the evolution of a morphological novelty in spiders [41].
Gene duplication and arachnid evolution
Our findings have profound implications for the evolution of chelicerates as a whole, a group whose internal phylogeny has proven extremely difficult to resolve [53]. Focal to understanding the evolution of terrestrialization in this group are the relationships of five arachnid orders possessing book lungs. The close relationship of four of these groups, namely spiders, amblypygids, thelyphonids, and schizomids, is generally not contested and both morphological and molecular trees place them together in a monophyletic clade, the Tetrapulmonata. The position of scorpions in the chelicerate tree, however, is much more controversial. It has been argued that their terrestrial adaptations, including the book lungs, evolved convergently to those of tetrapulmonates, whereas recent phylogenomic analyses have placed scorpions (possibly a sister group to Pseudoscorpiones) as the sister group to Tetrapulmonata [53, 73]. The shared paleopolyploidization event between spiders and scorpions provides further evidence that these two groups are more closely related to each other than they are to other apulmonate and non-duplicated arachnids (e.g., mites and ticks), which is in agreement with recent molecular phylogenies. This would imply a single origin of the arachnid book lungs as has been suggested previously based on detailed ultrastructural morphological analyses [74], raising the possibility that the ancient WGD identified here can be tested using new comparative genomic data and sampling such lineages as amblypygids, thelyphonids, and schizomids.
The age of the duplication event identified here must predate the most recent common ancestor of spiders and scorpions. Molecular clock approaches vary widely on the age of arachnids, and have suggested that arachnids diversified in the Ordovician [75, 76] or in the Silurian [77], with large confidence intervals on node age estimates that often span entire geological periods. However, the earliest stem-group spiders (the extinct order Uraraneida) date to the mid-Devonian (386 MYA [78]), whereas discoveries of Paleozoic scorpions have extended the stratigraphic range of scorpions into the Silurian (430 MYA [67]). The arachnid fossil record thus suggests the mid-Silurian is a conservative floor age of the duplication event. A Paleozoic age of the duplication event at the base of Arachnopulmonata would make this event approximately contemporaneous with the two-fold WGD in the ancestral vertebrate [30].
This reconstruction is consistent with the observation that few genes retain the ancient signal of shared duplication in both arachnopulmonates and vertebrates, and those that do often tend to be developmental patterning genes. For example, when compared to the Drosophila melanogaster genome, less than 5% of homologous vertebrate genes retain the 1:4 ortholog ratio expected from the vertebrate two-fold WGD event [30]. However, included among this minority are vertebrate orthologs of Hox genes, whose duplicates have been retained and deployed for various aspects of embryonic patterning. Thus, the patterns observed in arachnopulmonate arachnids are broadly consistent with counterparts in vertebrates.
Currently, it is not possible to address the question of whether the arachnopulmonate WGD facilitated the evolution of a terrestrial life-style and the development of book lungs. Taking advantage of the annotated spider genome sequences and the practical merits of P. tepidariorum, however, future functional studies in spiders could analyze paralog sub- and neo-functionalization and gene regulatory network rewiring after duplication to clarify these questions.
Conclusions
Much has been speculated about the long-term evolutionary consequences of genome duplications, including long-standing discussions on the evolution and origin of our own lineage, the vertebrates, and the complex body plan and diverse ecological adaptations that are hallmarks of this animal group [1, 2, 79–81]. However, it has been argued that there does not appear to be an association between genome duplication and teleost diversification [82]. Furthermore, other groups that have experienced WGD, such as horseshoe crabs and bdelloid rotifers, did not exhibit any apparent diversification or obvious increase in complexity following WGD, with the caveat that there might be changes in the complexity of their physiology, behavior and life history. This suggests that a putative link between WGD and increased diversification, as suggested in vertebrates, may not be generalizable to other taxa [11, 14, 32, 33].
To help address the contribution of WGD to animal diversification, analyzing the outcomes of those independent "experiments" that have naturally occurred during evolutionary time is of paramount importance. Recurrent and independent cases of paleopolyploidization should be studied systematically to reveal commonalities of evolutionary forces experienced across disparate lineages. Our discovery of an ancient genome duplication event preceding the origin of spiders and scorpions helps to fill a crucial gap in the comparative studies of WGDs. Previously reported cases of paleopolyploid lineages in different eukaryotes, including both unicellular and multicellular taxa, only allowed an extremely reduced set of core orthologous genes to be compared across lineages. However, the biology of vertebrates and arachnopulmonates is in many respects very similar, sharing the gene toolkit common to most animal species, highly conserved developmental pathways and even the general layout of the basic bilaterian body plan.
Thus, our results will open new research avenues, allowing the formulation of specific hypotheses about the impact of WGDs on developmental gene regulatory networks and morphological diversity by making direct comparisons and extrapolations with the vertebrate case. Moreover, since P. tepidariorum is arguably the primary chelicerate model system in the field of evolutionary development biology [51, 83–85], its genome sequence will provide an excellent resource to functionally test hypotheses based on genomic inferences.
Declarations
Acknowledgements
We thank Wim Damen for all his support and mentoring, and for many productive discussions about spider genetics and development.
Funding
This work was supported by NIH grant NHGRI U54 HG003273 to RAG, the National Science Foundation (IOS-0951886 to NAA and DEB-1257053 to JHW), a Leverhulme visiting fellowship for EES (VF-2012-016), funding and PhD studentships (DJL, LG and AS) from Oxford Brookes University, and a Conselho Nacional de Desenvolvimento Científico e Tecnológico (CNPq) scholarship to CLBP. N-MP was funded by the Deutsche Forschungsgemeinschaft (grant numbers PR 1109/4-1, PR 1109/7-1 and PR 1109/6-1 to N-MP). Additional financial backing has been received from the Göttingen Graduate School for Neurosciences, Biophysics and Molecular Biosciences (GGNB), the Göttingen Center for Molecular Biosciences (GZMB), and the University of Göttingen (GAU). NT is supported by a Christiane-Nüsslein-Volhard-Foundation fellowship and a "Women in Science" Award by L'Oréal Deutschland and the Deutsche UNESCO-Kommission. NP has been funded by the Volkswagen Foundation (project number: 85 983) and the Emmy Noether Programme of the Deutsche Forschungsgemeinschaft (grant number: PO 1648/3-1). Funding to RJ was provided by the Swedish Research Council VR grant 621-2011-4703.
Authors' contributions
APM, NP, N-MP, HO, JC, and SR conceived the project. Library construction, genome sequencing and assembly: N-MP SR, SD, SLL, HC, HVD, HD, YH, JQ, SCM, DSTH, KCW, DMM, RAG, VLG, and JC. Gene duplication analyses: TC, PPS, NAA, and JFF. Hox gene analysis: EES, PPS, DJL, and CS. Parasteatoda genome data was analyzed by all authors. The manuscript was written by APM, EES, PPS, TC, IM, NAA, MS, TW, NP, N-MP, JFF, and SR with the help of all other authors. All authors read and approved the final manuscript.
Ethics approval and consent to participate
Not applicable.
Consent for publication
Not applicable.
Competing interests
The authors declare that they have no competing interests.
Publisher's Note
Springer Nature remains neutral with regard to jurisdictional claims in published maps and institutional affiliations.
Open AccessThis article is distributed under the terms of the Creative Commons Attribution 4.0 International License (http://creativecommons.org/licenses/by/4.0/), which permits unrestricted use, distribution, and reproduction in any medium, provided you give appropriate credit to the original author(s) and the source, provide a link to the Creative Commons license, and indicate if changes were made. The Creative Commons Public Domain Dedication waiver (http://creativecommons.org/publicdomain/zero/1.0/) applies to the data made available in this article, unless otherwise stated.
Authors' Affiliations
(1)
Department of Biological and Medical Sciences, Oxford Brookes University, Oxford, UK
(2)
Department of Biological Sciences, University of Massachusetts Lowell, Lowell, USA
(3)
Department of Zoology, University of Wisconsin-Madison, Madison, USA
(4)
Department of Biology, Washington and Lee University, Lexington, USA
(5)
Department of Biology, University of California, Riverside, USA
(6)
J. Craig Venter Institute, Rockville, USA
(7)
Ernst Moritz Arndt University Greifswald, Institute for Mathematics and Computer Science, Greifswald, Germany
(8)
Department for Developmental Biology, University Goettingen, Johann-Friedrich-Blumenbach-Institut for Zoology and Anthropology, GZMB Ernst-Caspari-Haus, Goettingen, Germany
(9)
Department of Developmental Biology, University of Cologne, Cologne Biocenter, Institute of Zoology, Cologne, Germany
(10)
JT Biohistory Research Hall, Takatsuki, Japan
(11)
Osaka Medical College, Takatsuki, Japan
(12)
Institute for Biodiversity Science and Sustainability, California Academy of Sciences, San Francisco, USA
(13)
Department of Bioscience, Aarhus University, Aarhus C, Denmark
(14)
Human Genome Sequencing Center, Department of Molecular and Human Genetics, Baylor College of Medicine, Houston, USA
(15)
Department of Genetics, Friedrich-Schiller-University Jena, Jena, Germany
(16)
Department of Organismic and Evolutionary Biology, Harvard University, Cambridge, USA
(17)
Smithsonian National Museum of Natural History, MRC-163, Washington, DC, USA
(18)
Faculty of Biology Medicine and Health, University of Manchester, Manchester, UK
(19)
Division of Invertebrate Zoology, American Museum of Natural History, New York, USA
(20)
Department of Earth Sciences, Palaeobiology, Uppsala University, Uppsala, Sweden
(21)
Centro Andaluz de Biología del Desarrollo (CABD), Consejo Superior de Investigaciones Científicas/Universidad Pablo de Olavide, Sevilla, Spain
(22)
Nucleo em Ecologia e Desenvolvimento SocioAmbiental de Macaé (NUPEM), Campus Macaé, Universidade Federal do Rio de Janeiro (UFRJ), Rio de Janeiro, Brazil
(23)
School of Biological and Chemical Sciences, Queen Mary University of London, London, UK
(24)
Evolution and Optics of Nanostructure group (EON), Biology Department, Ghent University, Gent, Belgium
(25)
Biology Department, University of Rochester, Rochester, USA
(26)
Humboldt-Universität of Berlin, Institut für Biologie, Berlin, Germany
(27)
Department of Evolutionary Developmental Genetics, Johann-Friedrich-Blumenbach-Institute, GZMB, Georg-August-University, Göttingen, Germany
(28)
Department of Biological Sciences, Graduate School of Science, Osaka University, Osaka, Japan
(29)
Université libre de Bruxelles (ULB), Evolutionary Biology & Ecology, Brussels, Belgium