Open questions: Tackling Darwin's "instincts": the genetic basis of behavioral evolution
Abstract
All of us have marveled at the remarkable diversity of animal behaviors in nature.
None of us has much idea of how these have evolved.
Keywords
Genome EditingBehavioral EvolutionCourtship SongMental PowerValuable Point
ᅟ
Like other inherited phenotypes, many behavioral traits of animals—predatory instincts, courtship rituals, and shelter building, to name but a few—have a genetic basis (Fig.
1
). Genes, of course, don't control behavior directly, but encode the vast array of molecules that establish the connectivity and physiology of the nervous system (to make no mention of those that form the tissues and organs in which neural circuits are embedded). What is the genetic basis by which seemingly complex behaviors have evolved?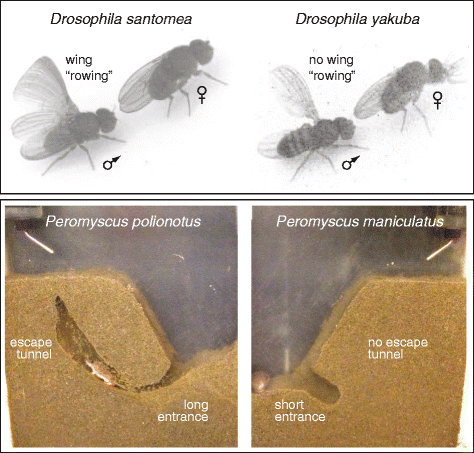 This grand question covers a multitude of issues. Is there a subset of genes that have "special" roles in dictating behavioral evolution, or does behavior evolve along many different trajectories? What is the relative contribution of structural and regulatory genetic changes (influencing protein function and gene expression, respectively) to this process? What part(s) of the nervous system do such genetic changes impact: sensory input channels, central processing circuit and/or in locomotor pathways that directly control actions? Do answers to these questions vary among taxa?
Declarations
Acknowledgements
We are grateful to Nicolas Gompel, Benjamin Prud'homme, Brant Peterson, and Hopi Hoekstra for providing images. We thank Thomas Auer, Margarida Cardoso-Moreira, Sophie Martin, and Lucia Prieto-Godino for comments on the manuscript. JRA was supported by a post-doctoral fellowship from Novartis Foundation for medical-biological Research (12A14). Research in RB's laboratory is supported by the University of Lausanne, an ERC Consolidator Grant (615094), and the Swiss National Science Foundation.
Authors' contributions
JRA and RB wrote the article. Both authors read and approved the final manuscript.
Competing interests
The authors declare that they have no competing interests.
Publisher's Note
Springer Nature remains neutral with regard to jurisdictional claims in published maps and institutional affiliations.
Open AccessThis article is distributed under the terms of the Creative Commons Attribution 4.0 International License (http://creativecommons.org/licenses/by/4.0/), which permits unrestricted use, distribution, and reproduction in any medium, provided you give appropriate credit to the original author(s) and the source, provide a link to the Creative Commons license, and indicate if changes were made. The Creative Commons Public Domain Dedication waiver (http://creativecommons.org/publicdomain/zero/1.0/) applies to the data made available in this article, unless otherwise stated.
Authors' Affiliations
(1)
Center for Integrative Genomics, Génopode Building, Faculty of Biology and Medicine, University of Lausanne, Lausanne, Switzerland