Research article
Open Access
Autophagy-independent function of Atg1 for apoptosis-induced compensatory proliferation
Received: 15 May 2016
Accepted: 8 August 2016
Published: 19 August 2016
Abstract
Background
ATG1 belongs to the Uncoordinated-51-like kinase protein family. Members of this family are best characterized for roles in macroautophagy and neuronal development. Apoptosis-induced proliferation (AiP) is a caspase-directed and JNK-dependent process which is involved in tissue repair and regeneration after massive stress-induced apoptotic cell loss. Under certain conditions, AiP can cause tissue overgrowth with implications for cancer.
Results
Here, we show that Atg1 in Drosophila (dAtg1) has a previously unrecognized function for both regenerative and overgrowth-promoting AiP in eye and wing imaginal discs. dAtg1 acts genetically downstream of and is transcriptionally induced by JNK activity, and it is required for JNK-dependent production of mitogens such as Wingless for AiP. Interestingly, this function of dAtg1 in AiP is independent of its roles in autophagy and in neuronal development.
Conclusion
In addition to a role of dAtg1 in autophagy and neuronal development, we report a third function of dAtg1 for AiP.
Keywords
Apoptosis-induced proliferationAtg1ULK1/2AutophagyJun-N-terminal kinase signaling
Background
Autophagy-related gene 1 (Atg1) in yeast, dAtg1 in Drosophila, uncoordinated-51 (unc-51) in C. elegans, and Unc-51-like kinase 1 and 2 (ULK1/2) in mammals are members of the evolutionary conserved Uncoordinated-51-like kinase (ULK) protein kinase family that play critical roles in macroautophagy (referred to as autophagy) and neuronal development (reviewed in [1, 2]). Autophagy is a catabolic process engaged under starvation and other stress conditions [3]. A critical step in autophagy is the formation of autophagosomes which trap cytosolic cargo for degradation after fusion with lysosomes [3]. Genetic studies in yeast identified Atg1 as an essential gene required for the initiation of autophagy [3–5]. This function of ULK proteins is conserved in evolution [6–9]. For this process, ATG1 forms a protein complex composed of ATG1/ULK1, ATG13, and ATG17 (FIP200), and in mammalian cells also ATG101 [10–15]. The ATG1/ULK complex phosphorylates several substrates including ATG9 [16, 17] and the Myosin light chain kinase (ZIP kinase in mammals, Sqa in Drosophila) [18], which are required for the formation of autophagosomes. Activation of the ATG1/ULK complex is also required for the recruitment of the ATG6/Beclin protein complex to the pre-autophagosomal structure (PAS) [3]. The ATG6/Beclin complex is composed of ATG6 (Beclin-1 in mammals), the type III PI3-K VPS34, as well as ATG14 and VPS15. Maturation of the PAS to autophagosomes requires lipidation of the ubiquitin-like ATG8/LC3 protein, which is mediated by two ubiquitin-like conjugation systems, ATG12 and ATG8/LC3 [3]. Critical components in these ubiquitin-like conjugation systems are ATG7 (E1), ATG10 and ATG3 (E2s), as well as another protein complex, ATG5-ATG12-ATG16, which serves as an E3 ligase for ATG8/LC3 lipidation [3, 19–21]. Finally, autophagosomes fuse with lysosomes for degradation of cargo.
In addition to a critical role in autophagy, ATG1 also has functions outside of autophagy, most notably in neuronal development. This was initially observed in mutants of the ULK ortholog unc-51 in C. elegans, which display uncoordinated movement with an underlying axonal defect [22–28]. A neuronal function of ULK orthologs was subsequently also reported in Drosophila, zebrafish and mammals [27, 29–33]. This autophagy-independent function of ULK proteins does not appear to involve other canonical autophagy proteins, including components of the ATG1/ULK protein complex such as ATG13 and FIP200 [34, 35]. Instead, the neuronal function of ULK proteins is dependent on different sets of proteins that include – depending on the organism analyzed – UNC-14, VAB-8 and PP2A (C. elegans), UNC-76 (Drosophila), and Syntenin and SynGAP (mammals) several of which are phosphorylated by ULKs [26–28, 33, 36–41]. Thus, the two known functions of ULK proteins in autophagy and neuronal processes involve different sets of proteins.
Apoptosis-induced proliferation (AiP) is a specialized form of compensatory proliferation that occurs after massive cell loss due to stress-induced apoptosis [42–45]. Initially described in Drosophila where it can compensate for the apoptotic loss of up to 60 % of imaginal disc cells [46], AiP has since been observed in many organisms, including classical regeneration models such as hydra, planarians, zebrafish, xenopus, and mouse [47–50]. Interestingly, AiP is directly dependent on a non-apoptotic function of caspases that otherwise execute the apoptotic program in the dying cell. In Drosophila, the initiator caspase Dronc triggers activation of Jun-N-terminal kinase (JNK) signaling, which leads to the production of mitogens including Wingless (Wg), Decaplentaplegic (Dpp), and the EGF ligand Spitz for AiP [51–59].
However, many mechanistic details of AiP are still unknown. Therefore, we and others have developed several AiP models in eye and wing imaginal discs in
Drosophila
[
52
,
57
,
58
,
60
–
64
]. In the first set of AiP models, apoptosis is induced upstream by expression of cell death-inducing factors such as
hid
or
reaper
, but blocked downstream by co-expression of the effector caspase inhibitor
p35
, generating 'undead' cells [
52
,
55
,
56
,
62
]. Because undead cells do not die and P35 does not inhibit the initiator caspase Dronc, Dronc continues to generate the signals for AiP, which causes tissue overgrowth. For example,
ey-Gal4
-driven
UAS-hid
and
UAS-p35
(
ey > hid-p35
) cause overgrowth of head capsules with ectopic sensory organs such as bristles and ocelli, and in severe cases forms amorphic head tissue (Fig.
1a–d
) [
52
]. The
ey > hid-p35
undead model is the only known overgrowth-promoting AiP model in which adult animals survive [
52
]. Other undead AiP models, mostly in the wing, such as
nub > hid-p35
or
hh > hid-p35
produce enlarged larval wing imaginal discs, but do not allow adult animals to eclose. Thus, the
ey > hid-p35
undead AiP model is a convenient tool for genetic screening to identify genes involved in AiP by scoring adult flies.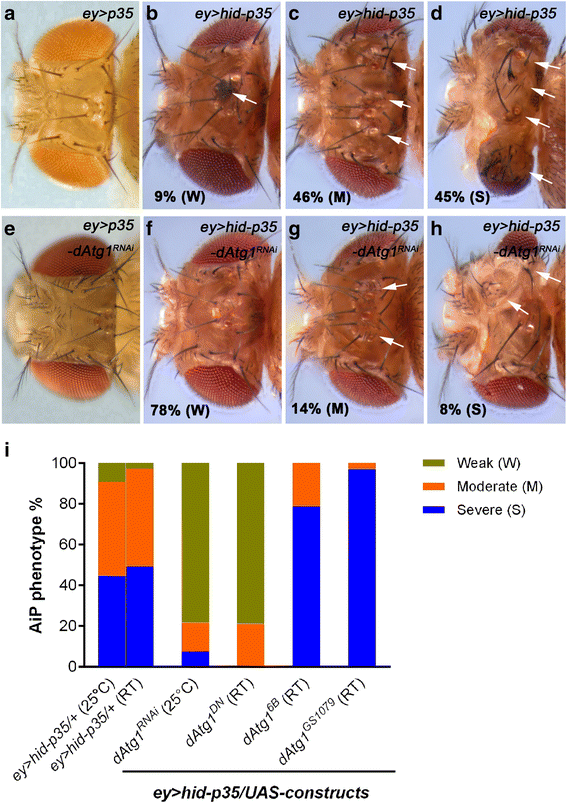 The second type of AiP models does not involve the use of p35 and has been referred to as genuine or regenerative AiP [43, 52, 60, 61, 63]. These models take advantage of Gal80ts, a temperature-sensitive inhibitor of Gal4, which allows temporal control of UAS-transgene expression by a temperature shift to 29 °C [65]. Because these AiP models are p35-independent, cells complete the apoptotic program and we score the ability of the affected tissue to regenerate the lost cells by new proliferation. In our genuine/regenerative AiP model, we express the pro-apoptotic factor hid for 12 h under control of dorsal-eye-Gal4 [66] (referred to as DE ts -hid) in eye imaginal discs during second or early third larval instar [52]. This treatment causes massive tissue loss which is regenerated by AiP within 72 h after tissue loss.
Here, we report the identification of dAtg1 as a suppressor of the overgrowth phenotype of the undead ey > hid-p35 AiP model. dAtg1 is also required for complete regeneration in the DE ts -hid AiP model. Furthermore, we show that dAtg1 is genetically acting downstream of JNK activation, but upstream of mitogen production such as Wg. Consistently, dAtg1 is transcriptionally induced by JNK activity during AiP. Interestingly, the involvement of dAtg1 in AiP is independent of other dAtg genes, including dAtg13, dAtg17/Fip200, dAtg6, vps15, vps34, dAtg7, and dAtg8. These findings suggest that dAtg1 has an autophagy-independent function in AiP. Finally, dAtg1 is not employing the mechanism used during neuronal development as targeting unc-76 did not affect AiP. Therefore, in addition to a role of dAtg1 in autophagy and neuronal development, we define a third function of dAtg1 for AiP.
Discussion
In this paper, we show that the sole ULK ortholog in Drosophila, dAtg1, is required for AiP both in undead and regenerative models. We demonstrated that dAtg1 acts downstream of JNK activity in AiP and is transcriptionally induced by JNK, consistent with a previous study on oxidation response [72]. Furthermore, dAtg1 is required for the expression of Wg, a mitogen associated with AiP [51, 52, 54–56, 81]. Finally, our data provide evidence that the role of dAtg1 in AiP is independent on its role in canonical autophagy.
It is generally assumed that the secreted mitogens Wg, Dpp, and Spitz promote the proliferation of surviving cells during AiP [43, 45]. The expression of these genes is under control of JNK activity. Until recently, it was unknown how JNK signaling promotes expression of these genes. However, very recently, it was reported that an enhancer element in the wg gene that drives expression of wg under regenerative conditions contains three AP-1 binding sites required for regeneration [81]. AP-1 is composed of the transcription factors Jun and Fos (Kayak in Drosophila), which are controlled by JNK activity. This observation suggests a direct way of wg expression by JNK-dependent AP-1.
How does dATG1 fit into the AiP network? Our genetic data suggest that dAtg1 acts downstream of or in parallel to JNK. Furthermore, we placed dAtg1 genetically upstream of wg expression. Therefore, dAtg1 may act in at least two different ways in the AiP network. It may directly modulate the activity of the AP-1 transcriptional complex. An indirect mode of action is also possible in which dATG1 provides a permissive environment for AP-1 activity. However, dAtg1 does not control all AP-1 activities. Expression of puc-lacZ and MMP-1 are not affected by dAtg1 RNAi and dAtg1 mutants, respectively (Figs. 3 and 4). In contrast, wg expression is suppressed under these conditions. Therefore, of the known transcriptional targets of JNK and AP-1 during AiP (puc-lacZ, MMP-1, dAtg1, and wg), dAtg1 affects only wg expression. Future work will address the mechanistic role of dATG1 for the control of AiP.
Although dAtg1 is required for AiP, it is not sufficient. Overexpression of dAtg1 using DE ts -Gal4 for 12 h followed by 24 h recovery does not trigger AiP markers such as wg-lacZ, dpp-lacZ, or kek-lacZ (Additional file 4: Figure S4). Expression of hid under the same conditions is able to induce these markers ectopically. These observations suggest that, in addition to dAtg1 expression, apoptotic signaling triggers an additional activity required for wg expression and AiP.
The best characterized function of dATG1 and of ULKs in general is the initiation of autophagy under starvation or stress conditions [1, 2, 5, 10, 72]. Autophagy requires a total of 36 Atg genes [3]. Although we did not test all 36 dAtg genes for a role in AiP, we tested several genes which are critical for autophagy, including dAtg3, dAtg6, dAtg7, dAtg8, dAtg9, dAtg13, dAtg17, and vps34. dAtg13 and dAtg17 (aka Fip200) encode subunits of the ATG1/ULK complex [10–12]. ATG6 and VPS34 are subunits of the ATG6/Beclin complex, which is activated by ATG1 during autophagy. Phosphorylation of ATG9, the mammalian ortholog of dATG9, by ULK1 is required for autophagy [16, 17]. Finally, lipidation of ATG8, which is essential for formation of autophagosomes requires the function of ATG3 and ATG7 [3, 20, 21]. In contrast to dAtg1, inactivation of any of these genes does not suppress the overgrowth phenotype of ey > hid-p35 animals. Furthermore, although we detect the formation of ATG8a-containing particles in undead eye imaginal discs, these particles are not dependent on dAtg1 and do not contribute to AiP and overgrowth (Additional file 6: Figure S6). Combined, these data suggest that dATG1 does not trigger canonical autophagy in an AiP context.
In addition to autophagy, ULK proteins have also been implicated in neuronal development, most notably axon guidance and axonal growth [27, 30]. However, we also exclude a neuronal function of dAtg1 in AiP because inactivation of unc-76, a mediator of dAtg1 for neuronal development [27], does not suppress overgrowth induced by ey > hid-p35.
Conclusions
We revealed a third function of dAtg1 in Drosophila for the control of regenerative proliferation after massive apoptotic cell loss. Future work will address if this role of dAtg1 in regenerative proliferation is also conserved in other organisms, the molecular mechanism of this function, and whether it is potentially misregulated in pathological conditions such as cancer.
Declarations
Acknowledgements
We would like to thank Eric Baehrecke, Georg Halder, Anne-Claire Jacomin, Ioannis Nezis, Jun Hee Lee, the Bloomington Stock Center, the Drosophila Genomics Resource Center in Indiana, the VDRC stock center in Vienna, the NIG-FLY stock center in Kyoto and the Developmental Studies Hybridoma Bank (DSHB) in Iowa for fly stocks and reagents.
Funding
ML is supported by the China Scholarship Council (CSC)-Birmingham joint PhD program. AB is supported by MIRA grant R35 GM118330 from the National Institute of General Medicine Science (NIGMS), USA. YF is supported by Marie Curie Career Integration Grant (CIG) 630846 from the European Union's Seventh Framework Programme (FP7) and Grant BB/M010880/1 from the Biotechnology and Biological Sciences Research Council (BBSRC), UK. The funders had no role in the study design, data collection and analysis, decision to publish, or preparation of the manuscript.
Availability of data and materials
All data generated or analyzed during this study are included in this published article (and its supplementary information files). Requests for material should be made to the corresponding authors.
Authors' contributions
ML, JL, EP and YF carried out the experiments. ML, AB and YF discussed and interpreted the results. AB and YF supervised the project and wrote the manuscript. All authors read and approved the final manuscript.
Competing interests
The authors declare that they have no competing interests.
Consent for publication
Not applicable.
Ethics approval and consent to participate
Not applicable.
Open AccessThis article is distributed under the terms of the Creative Commons Attribution 4.0 International License (http://creativecommons.org/licenses/by/4.0/), which permits unrestricted use, distribution, and reproduction in any medium, provided you give appropriate credit to the original author(s) and the source, provide a link to the Creative Commons license, and indicate if changes were made. The Creative Commons Public Domain Dedication waiver (http://creativecommons.org/publicdomain/zero/1.0/) applies to the data made available in this article, unless otherwise stated.
Authors' Affiliations
(1)
University of Birmingham, School of Biosciences, Birmingham, UK
(2)
Department of Molecular, Cell and Cancer Biology, University of Massachusetts Medical School, Worcester, USA