Research article
Open Access
On the reversibility of parasitism: adaptation to a free-living lifestyle via gene acquisitions in the diplomonad Trepomonas sp. PC1
Received: 20 May 2016
Accepted: 13 July 2016
Published: 1 August 2016
The Erratum to this article has been published in BMC Biology 2016 14:77
Abstract
Background
It is generally thought that the evolutionary transition to parasitism is irreversible because it is associated with the loss of functions needed for a free-living lifestyle. Nevertheless, free-living taxa are sometimes nested within parasite clades in phylogenetic trees, which could indicate that they are secondarily free-living. Herein, we test this hypothesis by studying the genomic basis for evolutionary transitions between lifestyles in diplomonads, a group of anaerobic eukaryotes. Most described diplomonads are intestinal parasites or commensals of various animals, but there are also free-living diplomonads found in oxygen-poor environments such as marine and freshwater sediments. All these nest well within groups of parasitic diplomonads in phylogenetic trees, suggesting that they could be secondarily free-living.
Results
We present a transcriptome study of Trepomonas sp. PC1, a diplomonad isolated from marine sediment. Analysis of the metabolic genes revealed a number of proteins involved in degradation of the bacterial membrane and cell wall, as well as an extended set of enzymes involved in carbohydrate degradation and nucleotide metabolism. Phylogenetic analyses showed that most of the differences in metabolic capacity between free-living Trepomonas and the parasitic diplomonads are due to recent acquisitions of bacterial genes via gene transfer. Interestingly, one of the acquired genes encodes a ribonucleotide reductase, which frees Trepomonas from the need to scavenge deoxyribonucleosides. The transcriptome included a gene encoding squalene-tetrahymanol cyclase. This enzyme synthesizes the sterol substitute tetrahymanol in the absence of oxygen, potentially allowing Trepomonas to thrive under anaerobic conditions as a free-living bacterivore, without depending on sterols from other eukaryotes.
Conclusions
Our findings are consistent with the phylogenetic evidence that the last common ancestor of diplomonads was dependent on a host and that Trepomonas has adapted secondarily to a free-living lifestyle. We believe that similar studies of other groups where free-living taxa are nested within parasites could reveal more examples of secondarily free-living eukaryotes.
Keywords
Free-livingParasiteDiplomonadDollo's lawReversibility Trepomonas Horizontal gene transferRibonucleotide reductase
Background
The word parasite originates from Greek parasitos meaning "a person who eats at the table of another". In biology, the word is used for a relationship where an organism (the parasite) uses resources of another organism (the host), and lives on or inside that organism. The historical view of parasites is that they are simplified versions of free-living organisms. This view is, however, outdated, as it has become increasingly clear that parasites are organisms highly adapted to their specific niches [1]. The transition from a free-living to a parasitic lifestyle is an evolutionary process that includes the loss of some existing functions as well as the gain of new functions needed to survive on or within the host, transmit between hosts and exploit the resources from the host [2]. It is often argued that this evolutionary transition from a free-living state to parasitism is irreversible. The rationale is that parasites take advantage of resources from the host, leading to specialized and reductive evolution including, often, a simplified metabolism [2–6]. Once such dependence has evolved, it would seem to be nearly impossible to revert to a more complex metabolism as was found in free-living ancestors. This has sometimes been taken as an example of Dollo's law, which states that a complex trait cannot re-evolve in the same form [7, 8].
The idea of irreversibility of parasitism is widespread; in an overview of 15 parasitology books, only four mentioned reversals to a free-living state as a possible, but unlikely, evolutionary path [8]. However, this paradigm in biology has been questioned [8]. Free-living house dust mites and certain nematodes have been proposed to have evolved from parasitic ancestors [9, 10]. There is strong phylogenetic support for house dust mites being secondarily free-living [10], but the genetics behind this lifestyle transition remains unknown. Diplomonads are another group in which free-living members may have evolved from host-associated ancestors, based on phylogenetic analyses [1, 8, 11]. Herein, we examine the hypothesis of a parasitic ancestry for free-living diplomonads using a transcriptome sequencing approach, with the aim of revealing the genomic basis and evolutionary origins of the lifestyle differences within the group.
Diplomonads are a group of flagellated protists belonging to the taxon Excavata [
12
,
13
]. Their closest relatives within the group are Retortamonads,
Carpediemonas
, and a range of poorly-studied lineages collectively known as
Carpediemonas
-like organisms (Fig.
1
). Most diplomonads have a characteristic 'double karyomastigont'; the presence of two identical nuclei and two flagellar apparatuses per cell [
12
]. Diplomonads are characteristically found in oxygen-poor environments such as sediments and the intestinal tract of animals [
12
]. Most described diplomonads are associated with various hosts as parasites or commensals. The best studied is
Giardia intestinalis
, an enteric parasite that infects a wide range of animals [
14
]. In humans,
G. intestinalis
cause diarrhea and other symptoms. The prevalence of
Giardia
in humans is high in some regions, and there are hundreds of millions of infections per year worldwide [
15
].
Spironucleus salmonicida
was the first diplomonad outside of
Giardia
to be studied on the genome level.
S. salmonicida
, previously known as
Spironucleus barkhanus
[
16
], is an intestinal parasite of fish that can also cause systemic infection, invading the blood stream and different organs of its host [
17
,
18
].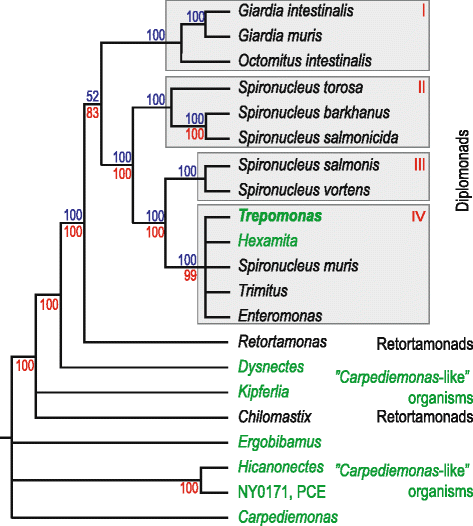 G. intestinalis and S. salmonicida share adaptations to a parasitic lifestyle such as a large family of cysteine-rich proteins that likely provide antigenic variation to escape the host immune system and an encystation pathway that enables them to transmit between hosts [19, 20]. They are dependent on scavenging of metabolites from the host, exemplified by the absence of a ribonucleotide reductase (RNR) needed for synthesis of deoxyribonucleotides [21]. These similarities indicate that they could share a common parasitic ancestor. Comparison between G. intestinalis and S. salmonicida also revealed differences. For example, the latter has an extended metabolic repertoire with more potential for gene regulation. This difference is likely a result of their different habitats, as Giardia lives in a stable gut environment, while S. salmonicida is adapted to a fluctuating environment [20].
The diplomonads studied with molecular methods can be tentatively divided into four monophyletic groups based on molecular data (Fig. 1) [22, 23]. Three of the groups (I–III) only contain taxa described as parasites or commensals (Fig. 1). Group I includes G. intestinalis, a parasite adapted to the environment of the intestine of humans and other mammals [19, 24, 25]. Groups II and III contain members of the genus Spironucleus, which are mostly dependent on fish for their survival as parasites or commensals [26]. S. vortens is the causative agent of hole-in-the-head disease in ornamental fish [27, 28], S. barkhanus, S. salmonicida and S. salmonis are associated with wild and farmed salmonid fish [16, 18, 29–31], and S. torosa is associated with gadidae [32]. Group IV contains both diplomonads found in association with host species, such as S. muris [33], and free-living diplomonads, for example (most representatives of) the genera Trepomonas and Hexamita [12]. The fact that free-living diplomonads are exclusively found in group IV, nested within host-associated lineages with strong statistical support (Fig. 1), has invited two possible explanations: (1) that diplomonads have adapted to life within a host several times independently, or (2) that the free-living lifestyle of diplomonads such as Trepomonas and Hexamita is a secondary adaptation from a host-associated ancestor [11, 34]. If diplomonads were ancestrally free-living, we expect genomic features associated with this lifestyle, such as enzymes for degradation of bacterial prey, to be shared with free-living eukaryotes. If, on the other hand, Trepomonas recently adapted to life outside an animal host, these features should have evolved after the divergence from the lineages leading to G. intestinalis and S. salmonicida. We could annotate almost 8000 gene fragments in the Trepomonas transcriptome and among these found hundreds of genes recently acquired from various sources. Many of the laterally transferred genes are associated with degradation of phagocytosed bacteria, an important trait for a free-living heterotrophic protist.
Discussion
We have used a transcriptomics approach to examine the hypothesis that the free-living lifestyle of Trepomonas is a secondary adaptation. Our analyses show that this diplomonad encodes a large number of enzymes potentially involved in degradation of prey, including several enzyme families that degrade various parts of the bacterial cell walls and that are missing from the studied parasitic diplomonads (Fig. 2). Phylogenetic analyses showed that most prey-degradation enzymes were introduced recently into the Trepomonas genome via gene transfer, as expected if the organism is secondarily free-living (Fig. 3). The increased capacity of degradation of prey is complemented with a general increase of the metabolic capacity of Trepomonas compared to parasitic diplomonads, making it capable of utilizing more metabolites (Table 2 and Additional file 2: Table S1). This evolutionary path is indeed the reverse of what has been observed for the transition from a free-living to a parasitic lifestyle; the largest differences in the coding potential of the genome of the free-living Bodo saltans compared to parasitic kinetoplastids were shown to be within macromolecular degradation and catabolism of various metabolites from bacterial pray [5].
The increased metabolic capability in Trepomonas compared to parasitic diplomonads is especially striking for nucleotide metabolism, where the presence of nine additional enzymes, including an RNR, indicates that Trepomonas has adapted to a life less dependent on a host association than its ancestors (Fig. 4). In addition, we detected a homolog of the gene encoding STC, the enzyme required for the synthesis of tetrahymanol, a sterol surrogate [64]. This hallmark protein of free-living anaerobic phagotrophs possibly originated via eukaryote-to-eukaryote gene transfer (Fig. 5). We conclude that the transcriptome data favor the hypothesis that Trepomonas has adapted secondarily to a free-living lifestyle, over the alternative that the ancestral diplomonad was a free-living organism. This is supported by the organismal phylogeny where Trepomonas free-living diplomonads are nested within host-associated species (Fig. 1). However, there could exist free-living diplomonads within groups I–III, and a diplomonad normally found within a host could, in principle, have a cryptic free-living stage in its life cycle. To our knowledge, no such diplomonad has been observed. Only 10 diplomonad ribosomal RNA sequences from culture-independent surveys of environmental samples are present in the Silva ribosomal RNA gene database [65]. All of these belong to group IV (Additional file 6: Figure S4). This is in agreement with the view that group I–III diplomonads are parasites in the sense that they are taking resources from another organism, although they do not necessarily cause their host any negative effect.
The results challenge the assumption that parasitism is irreversible. Our data suggest that the adaptation to a free-living lifestyle occurred at least partly by acquisition of bacterial genes coding for prey-degrading enzymes needed by a free-living phagotroph. Such genes could have been acquired stepwise, and may have had a selective advantage also in the intestine of a host, if the diplomonad was able to ingest bacteria. Once the diplomonad has acquired some of the genes associated with a free-living lifestyle, it may be able to grow outside the host as trophozoites for short periods. The order of the events leading to adaptation to a free-living lifestyle in the ancestors of Trepomonas sp. PC1 could be deciphered by studying additional free-living diplomonads together with their closest host-associated relatives.
Adaptation by acquisition of prokaryotic genes is common in parasitic diplomonads [19, 45], suggesting that the ancestor of Trepomonas was exposed to bacterial genes. Such frequent lateral gene transfer probably was a precondition for the evolution of secondary free-living diplomonads. Lateral gene transfer has been proposed to be important in other parasites [66–69], which hints that evolution of secondary free-living taxa by gene acquisition could be a general phenomenon. There could, indeed, be examples of secondary free-living lineages in protist groups that include important human parasites such as Entamoeba (i.e., Entamoebidae) and Trichomonas (i.e., Parabasalia). Free-living lineages are nested within parasites in the phylogenetic trees of these groups [70–72], and lateral gene transfer has been shaping the metabolism of the parasites in the groups [66]. Interestingly, RNR, an essential enzyme for life independent of a host, has been lost in the human parasite Entamoeba histolytica [21], whereas we identified homologs of RNR of bacterial origins in three divergent Entamoeba species (Fig. 4b), including E. terrapinae, which is considered to be free-living [71]. This lineage might have adapted to a free-living lifestyle secondarily, similar to Trepomonas. If so, E. terrapinae is expected to harbor more recently acquired genes associated with a free-living lifestyle. This prediction could be tested by comparative studies of Entamoeba genomes.
Transitions from parasitic to free-living lifestyles might not be restricted to protist parasites. There are strong phylogenetic indications that it has happened at least once in the evolution of dust mites [10], and it has been suggested that the nematode genus Rhabditophanes is secondarily free-living [9]. Nematodes include both free-living taxa and members that are parasitic on animals or plants. The different lifestyles are admixed in the nematode phylogeny and it is estimated that parasitism has arisen at least 15 times independently [73]. Lateral gene transfer has contributed to parasitism in nematodes [67, 74], and it is reasonable to assume that it has also contributed to adaptation in free-living nematodes. Genomic studies are needed to understand the genetic basis and evolutionary history of the different lifestyles in this animal group.
Conclusions
The argument against reversibility of parasitism is that it is improbable that an organism regains the same traits that were lost during the evolution to parasitism. Our study has shown that adaptation to a free-living lifestyle can occur via introduction of 'foreign' genes that the pre-parasitism free-living ancestor probably never encoded, thereby resolving the paradox. We believe that diplomonads and their closest relatives are a suitable group of organisms for future studies of evolutionary transitions between parasitic and free-living lifestyles.
Declarations
Acknowledgements
We thank Katarina Roxström-Lindquist for assistance with the polyA selection and cDNA library construction.
Funding
This work was supported by a grant from The Swedish Research Council Formas (www.formas.se; 2010-899). Illumina data was sequenced at SNP SEQ Technology Platform in Uppsala, which is supported by Uppsala University (www.uu.se), Uppsala University Hospital (www.akademiska.se), Science for Life Laboratory (www.scilifelab.se) and the Swedish Research Council (www.vr.se). The funders had no role in study design, data collection and analysis, decision to publish, or preparation of the manuscript.
Availability of data and materials
Raw RNA sequence reads were deposited at NCBI Sequence Read Archive (SRA) under accession number SRR2079337. This Transcriptome Shotgun Assembly project has been deposited at DDBJ/EMBL/GenBank under the accession GDID00000000. The version described in this paper is the first version, GDID01000000.
Authors' contributions
FX, JJH, MK, SGS, and JOA conceived and designed the experiments. MK, AGBS and AJR isolated the organism and prepared nucleic acids. JJH prepared mRNA for sequencing. FX performed the bioinformatics analyses. FX, JJH, SGS, and JOA analyzed the data. FX, JJH, AGBS, SGS, and JOA wrote the paper. All authors read and approved the final manuscript.
Competing interests
The authors declare that they have no competing interests.
Open AccessThis article is distributed under the terms of the Creative Commons Attribution 4.0 International License (http://creativecommons.org/licenses/by/4.0/), which permits unrestricted use, distribution, and reproduction in any medium, provided you give appropriate credit to the original author(s) and the source, provide a link to the Creative Commons license, and indicate if changes were made. The Creative Commons Public Domain Dedication waiver (http://creativecommons.org/publicdomain/zero/1.0/) applies to the data made available in this article, unless otherwise stated.
Authors' Affiliations
(1)
Department of Cell and Molecular Biology, Science for Life Laboratory, Uppsala University, Uppsala, Sweden
(2)
Department of Biology, Dalhousie University, Halifax, Canada
(3)
Department of Biochemistry and Molecular Biology, Dalhousie University, Halifax, Canada
(4)
Canadian Institute for Advanced Research, Integrated Microbial Biodiversity Program, Toronto, Canada
(5)
Present address: Department of Medical Biochemistry and Microbiology, Uppsala University, Uppsala, Sweden
(6)
Present address: Botany Department, University of British Columbia, Vancouver, Canada