Research article
Open Access
Generation and filtering of gene expression noise by the bacterial cell cycle
Received: 24 September 2015
Accepted: 21 January 2016
Published: 11 February 2016
Abstract
Background
Gene expression within cells is known to fluctuate stochastically in time. However, the origins of gene expression noise remain incompletely understood. The bacterial cell cycle has been suggested as one source, involving chromosome replication, exponential volume growth, and various other changes in cellular composition. Elucidating how these factors give rise to expression variations is important to models of cellular homeostasis, fidelity of signal transmission, and cell-fate decisions.
Results
Using single-cell time-lapse microscopy, we measured cellular growth as well as fluctuations in the expression rate of a fluorescent protein and its concentration. We found that, within the population, the mean expression rate doubles throughout the cell cycle with a characteristic cell cycle phase dependent shape which is different for slow and fast growth rates. At low growth rate, we find the mean expression rate was initially flat, and then rose approximately linearly by a factor two until the end of the cell cycle. The mean concentration fluctuated at low amplitude with sinusoidal-like dependence on cell cycle phase. Traces of individual cells were consistent with a sudden two-fold increase in expression rate, together with other non-cell cycle noise. A model was used to relate the findings and to explain the cell cycle-induced variations for different chromosomal positions.
Conclusions
We found that the bacterial cell cycle contribution to expression noise consists of two parts: a deterministic oscillation in synchrony with the cell cycle and a stochastic component caused by variable timing of gene replication. Together, they cause half of the expression rate noise. Concentration fluctuations are partially suppressed by a noise cancelling mechanism that involves the exponential growth of cellular volume. A model explains how the functional form of the concentration oscillations depends on chromosome position.
Keywords
Cell cycleGene expressionGrowthNoiseSingle-cell microscopy
Background
Single-cell experiments have shown gene expression to fluctuate randomly under constant conditions [1–7], which can have key consequences for the fidelity of signal propagation [8], cell fate decisions [9, 10], and fitness [4, 11–16]. Noise in gene expression is often quantified by the observed cell-to-cell variability in the production rate or concentration of a protein when observing many cells in an isogenic population [1, 17]. Fluctuations in gene expression can be caused by many local and global factors such as random binding events of RNA polymerase [18], fluctuating concentration of ribosomes, or availability of amino acids [4, 19]. The cell cycle has been suggested as a general source of gene expression noise [17, 19], meaning that, in a snapshot of a population, two cells can differ in protein production rate or concentration because they are in different phases of their cell cycle. Alternatively, two cells at the same cell cycle phase can differ because of cell cycle-independent effects. The key aim of this study is to quantify and disentangle these effects in Escherichia coli, and to mechanistically understand cell cycle contributions.
Eukaryotes exhibit distinct cell cycle phases that display different levels of growth activity and of DNA replication, which in turn can result in varying expression levels as the cell cycle progresses. Single-cell investigations of Saccharomyces cerevisiae have indeed shown quasi-periodic fluctuations of protein expression rates [20] and concentrations [21] in synchrony with the cell cycle. The prokaryotic cell cycle does not display such distinct replication and growth phases. E. coli, for instance, grows and replicates DNA continuously throughout its cell cycle, though for slow growth there are periods without replication activity [22, 23]. Expression activity can be dependent on the cell cycle nonetheless, for example because the replication of a gene may double the transcriptional activity at a specific moment in time, as suggested by recent single-cell studies [17, 24, 25]. That doubling would then in turn affect enzyme concentration and could cause quasi-periodic fluctuations. However, at the same time, cells may exploit specific regulatory mechanisms to filter such perturbations [26, 27]. Direct experimental investigations of the impact of the bacterial cell cycle on expression variability are lacking. Elucidating this question is important to understand the origins of gene expression noise, modeling of genetic circuits, and resulting impact on growth variability [28] as well as other forms of cellular heterogeneity [10].
To address these questions, we followed a single-cell approach. We imaged E. coli cells as they grew into micro-colonies and measured gene expression as the fluorescence signal of chromosomally encoded fluorescent proteins (Additional file 1: movie S1). As shown herein, understanding the temporal dynamics requires detailed information on cellular volume increases in time, as protein concentrations are affected both by time-dependent expression and dilution. Thus, we accurately determined protein expression and cell size at sub-cell cycle resolution. We further developed a model to predict the cell cycle dependence and amplitude of these quasi-periodic fluctuations in expression rate and concentration. The model predicted their dependence on chromosomal position, which we tested with genetic constructs.
Conclusions
In summary, we found that the cell cycle can be a major causal factor of observed noise in the rate of gene expression (52 %), with the rest coming from other sources such as metabolism [
28
,
42
,
43
], transcription factors [
8
], or expression machinery [
18
] (Fig.
5a
). Within the cell cycle contribution, the data suggests two components: a deterministic mean determined by the cell phase (29 %), and a stochastic contribution caused by variability in the timing of replication (23 %) (Fig.
5b
). The initially flat production rate suggested gene copy number is the main factor in cell cycle-induced expression rate variations, though alternative factors, such as cell cycle-induced variations in transcription factor concentrations, could also contribute.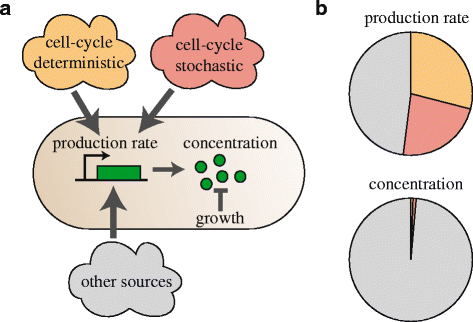 The analysis indicated a noise-cancelling mechanism: even sudden two-fold production rate increases caused by replication of the gene are effectively compensated for by an acceleration of dilution due to exponential growth [26, 27] (Fig. 5b). The observed minor effect of the cell cycle on the protein concentration is thus due to a passive homeostasis mechanism that exploits the balance between synthesis and dilution. When proteins are actively degraded, this noise cancelling mechanism would be less efficient. We note that a similar, but likely active, balancing between synthesis and dilution was observed in mammalian cells where transcription rate is adjusted to cell size [44, 45]. The homeostatic mechanism we observed does not necessarily act on noise from other sources, such as fluctuations in RNA polymerase availability [18] or transcription factors [2], if they are not synchronized with exponential volume growth. Indeed, concentrations do display significant noise intensities (0.15 for slow growth, 0.10 for fast growth). We note that other cancelling mechanisms can act on non-cell cycle expression noise. For instance, metabolic noise that causes expression noise is partially compensated for by increased growth [28].
Our findings provide insight into how elementary processes, such as gene replication events and volume growth, can cause and filter noise in bacterial cells. Elucidating the sources of gene expression noise is important to obtaining a bottom-up understanding of cellular heterogeneity, cellular homeostasis, and cell cycle regulation, and to providing input for mathematical models of gene expression networks. Our results confirm previous demonstrations that variance decomposition can be a useful tool in disentangling different noise sources within cells.
Declarations
Acknowledgements
This work is part of the research program of the Foundation for Fundamental Research on Matter (FOM), which is part of the Netherlands Organization for Scientific Research (NWO).
Open AccessThis article is distributed under the terms of the Creative Commons Attribution 4.0 International License (http://creativecommons.org/licenses/by/4.0/), which permits unrestricted use, distribution, and reproduction in any medium, provided you give appropriate credit to the original author(s) and the source, provide a link to the Creative Commons license, and indicate if changes were made. The Creative Commons Public Domain Dedication waiver (http://creativecommons.org/publicdomain/zero/1.0/) applies to the data made available in this article, unless otherwise stated.
Authors' Affiliations
(1)
FOM Institute AMOLF, Amsterdam, The Netherlands