Research article

Open Access
Dissection of jasmonate functions in tomato stamen development by transcriptome and metabolome analyses
Received: 11 March 2015
Accepted: 25 March 2015
Published: 21 April 2015
Abstract
Background
Jasmonates are well known plant signaling components required for stress responses and development. A prominent feature of jasmonate biosynthesis or signaling mutants is the loss of fertility. In contrast to the male sterile phenotype of Arabidopsis mutants, the tomato mutant jai1-1 exhibits female sterility with additional severe effects on stamen and pollen development. Its senescence phenotype suggests a function of jasmonates in regulation of processes known to be mediated by ethylene. To test the hypothesis that ethylene involved in tomato stamen development is regulated by jasmonates, a temporal profiling of hormone content, transcriptome and metabolome of tomato stamens was performed using wild type and jai1-1.
Results
Wild type stamens showed a transient increase of jasmonates that is absent in jai1-1. Comparative transcriptome analyses revealed a diminished expression of genes involved in pollen nutrition at early developmental stages of jai1-1 stamens, but an enhanced expression of ethylene-related genes at late developmental stages. This finding coincides with an early increase of the ethylene precursor 1-aminocyclopropane-1-carboxylic acid (ACC) in jai1-1 and a premature pollen release from stamens, a phenotype similarly visible in an ethylene overproducing mutant. Application of jasmonates to flowers of transgenic plants affected in jasmonate biosynthesis diminished expression of ethylene-related genes, whereas the double mutant jai1-1 NeverRipe (ethylene insensitive) showed a complementation of jai1-1 phenotype in terms of dehiscence and pollen release.
Conclusions
Our data suggest an essential role of jasmonates in the temporal inhibition of ethylene production to prevent premature desiccation of stamens and to ensure proper timing in flower development.
Keywords
Array hybridizationDesiccationEthyleneFlower developmentJasmonic acidJasmonic acid-insensitiveMetabolite profilingPollen development
Background
Jasmonic acid (JA) and its metabolites, such as its methyl ester (JAME) or amino acid conjugates, all of them commonly named jasmonates, are ubiquitously occurring signaling compounds in plants and are formed in response to biotic and abiotic stress as well as in development [1]. Jasmonates are lipid-derived compounds synthesized from α-linolenic acid released from plastid membranes and are synthesized by one of seven different branches of the lipoxygenase (LOX) pathway [2,3]. LOX and the two following enzymatic steps are located in the plastids and involve the action of an ALLENE OXIDE SYNTHASE and an ALLENE OXIDE CYCLASE (AOC) leading to formation of the intermediate cyclopentenone cis-12-oxo-phytodienoic acid (OPDA). Further reactions occur in peroxisomes and include the OPDA REDUCTASE 3 (OPR3) and three cycles of fatty acid β-oxidation. Within the JA pathway the AOC-catalyzed step is regarded as the crucial step as here the exclusive formation of the enantiomeric form occurring in natural cyclopentanones like JA is facilitated [4,5]. JA can be enzymatically converted into numerous conjugates and derivatives, some of which are biologically active, such as JAME [6], cis-jasmone [7,8] and JA-amino acid conjugates [8,9]. Among the latter, (+)-7-iso-jasmonoyl isoleucine (JA-Ile) was demonstrated to be the biologically active form of jasmonates by mediating binding of the co-receptor proteins CORONATINE INSENSITIVE1 (COI1) and JASMONATE ZIM DOMAIN (JAZ) [10-13].
JA-Ile is involved in most JA-dependent processes mediated by the F-box protein COI1 in a proteasome-dependent manner [1]. As evidenced by phenotypic analyses of Arabidopsis mutants, jasmonates are involved in various developmental processes, one of them being flower development. The coronatine- and jasmonate-insensitive mutant coi1 [14] as well as the JA biosynthesis mutants fad3-2fad7-2fad8 [15], dad1 [16], opr3 [17], and dde1 [18] cannot produce viable pollen. All of these mutants exhibit an identical male-sterile phenotype: (1) anther filaments do not elongate sufficiently to position the locules above the stigma at anthesis, (2) anthers lack the proper dehiscence of the stomium at the time of flower opening, and (3) pollen is produced in a smaller amount than in the wild type and does not germinate [19,20]. Combining these phenotypic features with the fact that mutants defective in JA perception and/or synthesis have much less water loss in anther tissue than wild type plants, JA has been thought to control dehiscence by regulating water transport into the filament and out of the anthers of Arabidopsis [16,21]. Moreover, it has been assumed that JA is required for the expression of genes involved in water transport in anthers [16].
Similar to the Arabidopsis mutant coi1, a mutant impaired in the tomato ortholog of COI1 was isolated in a genetic screen for plants that are unable to accumulate defense-related proteins in response to JAME application [22]. This mutant, called jasmonic acid-insensitive1-1 (jai1-1) and identified in a screen of a fast-neutron-mutagenized population of Micro-Tom plants, exhibits a 6.2-kb deletion in SlCOI1, is deficient in all JA-Ile mediated responses and fails to set seeds [23]. Reciprocal crosses revealed that jai1-1 plants are male fertile, but female sterile [22]. This is in agreement with data showing that not only JA perception but also JA formation is required for female development: AOC protein occurs specifically in ovules, and OPDA, JA, and JA-Ile accumulate preferentially in the ovary of flower buds, where the levels markedly exceed those detected in non-stressed leaves [24]. The organ-specific accumulation of JA and – most importantly – of JA-Ile may result in organ-specific regulation of gene expression. Indeed, a number of JA-induced genes are specifically expressed within ovules [24], but their regulation by JA in gametophytic organs has not yet been proven.
The ability of jai1-1 pollen to induce normal seed set when crossed to a wild type pistillate flower indicates that JA perception and downstream signaling events might not be essential for the production of viable pollen in tomato [23]. However, jai1-1 plants also exhibit defects in male reproductive function, such as a reduction in pollen viability and germination, tissue collapse and browning of the anther cones, and a protrusion of the stigma from the anther cone of mature flowers [23]. Therefore, a role of JA in male gametophyte development in tomato is suggested, especially in controlling anther senescence and dehiscence.
Dehiscence is typical for maturing stamen [25,26] and represents a coordinated process occurring in specialized cells of the anther that determine the site of anther opening (for review see [27]). This multistage process involves localized cellular differentiation and degeneration to facilitate complete anther opening and pollen release [26]. In tobacco, another Solanaceae species, the final events of dehiscence, such as degeneration of the stomium cells and dehydration are affected by ethylene (ET) [27,28]. Treatment of nearly mature anthers with ET accelerated dehiscence, whereas an ET-perception inhibitor retarded dehiscence, and ET-insensitive plants exhibited a loss of anther dehiscence synchrony with flower opening [28]. In tomato, overexpression of SlERF.B3 encoding a dominant repressor variant of the tomato ET-response factor (ERF), led to a constitutive ET response and sensitivity, which was accompanied by the protrusion of stigma from the stamen cone [29]. These data suggest a scenario where ET acts in stamen development of Solanaceae species by regulating stamen dehiscence and pollen release. Whether ET biosynthesis and function might be changed due to JA insensitivity in jai1-1 is an open question and is addressed by this work.
To get insights into the putative role of jasmonates and the mechanisms involved in stamen development, we performed comparative analyses of stamen development in tomato wild type and jai1-1 mutant plants in terms of profiling of jasmonates as well as transcript and metabolite profiling. We show that JA levels increased transiently peaking at a middle-bud stage in wild type stamens, whereas they were constantly low in jai1-1 stamens. Jai1-1 stamens are characterized by an enhanced expression of ET-regulated genes, higher levels of desiccation-related metabolites and a premature rise of the ET precursor 1-aminocyclopropane-1-carboxylic acid (ACC) starting at the developmental stage of highest JA level in wild type. To further prove these results, application of JA to transgenic plants, which are unable to synthesize JA, and a cross of jai1-1 with an ET-insensitive mutant (Never Ripe, NR) were performed. The data suggest a role of JA as inhibitor of a premature function of ET, which itself regulates anther dehiscence and pollen release.
Discussion
Jasmonates, known as stress hormones, are also involved in the regulation of various developmental processes of plants. Jasmonates are crucial for plant fertility, since JA deficiency or insensitivity in A. thaliana results in male sterility characterized by delayed anther dehiscence, insufficient filament elongation and production of unviable pollen [20,35]. In contrast, JA insensitivity in tomato leads to a female sterile phenotype, although the development of stamen and pollen is also affected [23]. Therefore, jai1-1 stamens provide a useful tool for identifying JA and COI1-dependent processes that operate in male reproductive tissues of tomato. Comparing jai1-1 and WT stamens in terms of gene expression and metabolite accumulation, this study revealed that jasmonates regulate pollen nutrition and thereby pollen development, but most obviously they are an important regulator of the proper timing of stamen dehiscence via a temporal repression of ET biosynthesis and action.
In developing stamens of WT plants, JA and JA-Ile levels exhibited a maximum at an intermediate developmental stage (Figure 1), which was defined as buds of maximal size with opened sepals, but white petals. At this stage, stamens undergo a switch between the two developmental phases characterized as the histodifferentiation program (phase l of stamen development) and cell degeneration and dehiscence program (phase II of stamen development) [36]. Up to flower bud stage 3, developing pollen grains finished pollen mitosis, took up water and sugars from locular fluid and started to accumulate starch (Figure 3). The maximum jasmonate level coincided with the number of differentially accumulating transcripts in WT and jai1-1 stamens. In stages before reaching the JA maximum, that is, during phase I of stamen development, most of the differentially regulated genes exhibited higher transcript accumulation in WT than in jai1-1 stamens (Figure 2), indicating a positive regulatory role of jasmonates in phase I. Additionally, gene expression analysis revealed that positive regulation by JA appeared to be stronger in stages before reaching jasmonate maximum. Interestingly, this group contains genes, whose putative gene products might be responsible for pollen nutrition and water homeostasis in pollen and anther tissue. These alterations in expression pattern of jai1-1 stamens were accompanied by reduced metabolite levels, but also by a premature degradation of the tapetum, a high number of aborted pollen and the absence of locular fluid (Figures 3, 5 and 6).
Formation of viable pollen within the locules of the anther is dependent on nutritive contributions from the surrounding sporophytic tissue, and pollen development relies on the nutritive support of neighboring tapetal cells [21,37]. Developing microspores obtain their carbohydrate supply from the tapetum [38] and from degradation of callose surrounding the microspore tetrads [39]. During maturation, pollen grains receive their sugars directly from the locular fluid, since at the later stages of anther development the tapetum no longer exists [40]. The locular fluid contains large amounts of soluble compounds as a result of polysaccharide degradation [41]. However, premature death of tapetal cells results usually in the disruption of the nutrient supply to the microgametophytes, leading to their death [42,43]. Therefore, the premature degradation of the tapetum and the absence of the locular fluid in jai1-1 stamens may contribute to an inefficient pollen nutrition followed by abortion of microspores as well as by an accelerated and inefficient maturation of the remaining pollen. The diminished formation of vacuoles in pollen of jai1-1 plants (see Figure 3) might point to such an insufficient water and sugar uptake since both processes are assumed to be linked [41].
A different scenario was obtained upon transcript and metabolite profiling of stamens in phase II of development. In stages after the JA maximum, most of the differentially regulated genes appeared to be expressed at higher levels in jai1-1 than in WT stamen implicating a negative regulatory role of JA. Most prominently, transcripts of genes involved in ET biosynthesis (ACC synthase, ACC oxidase), ET signaling (transcription factors such as RIN, FRUITFULL, AP2/ERF, and receptors such as ETR6) and ET-response genes (AOX1B, Pirin-like, DEHYDRIN) exhibited higher levels in jai1-1. This was accompanied by a higher content in the ET precursor ACC, whose levels increased at least one stage earlier in jai1-1 than in WT stamens. Accordingly, some of the genes were down-regulated by application of JA to flower buds of a SlAOC-RNAi line (Figure 9) supporting the hypothesis that jasmonates control biosynthesis and function of ET in a negative way.
Among the ET response genes were genes encoding polysaccharide degrading enzymes, such as endoglucanase 1 (Figure 4). This is in line with the fact that hydrolytic enzymes and proteins linked to cell wall loosening are thought to be involved in anther dehiscence [27]. Along with that, osmotic active metabolites, such as proline, non-reducing sugars, such as sucrose, trehalose and 1-kestose, as well as protective proteins, such as dehydrin, were found to be accumulating in higher amounts in jai1-1 than in wild type stamen (Figures S4 and S5 in Additional file 2). The higher hexose levels in jai1-1 stamens might arise from an insufficient conversion of starch from sugars. Indeed, less starch was found in the anther tissues of jai1-1 stamens than in anthers of WT stamens, where a maximum of starch accumulation was detected in stage 3 and possibly resulted in a chemical formation of water (Figure 6). In turn, higher glucose and fructose contents in the jai1-1 might also function as osmoprotectants to compensate the loss of water released upon starch biosynthesis. Together, this could result in an increased dehydration within specific cell types and regions of the anther (Bonner and Dickinson, 1990). Certainly, the stomia of jai1-1 stamens exhibited a premature rupture (Figure S7 in Additional file 2) contributing to the early pollen release.
The enhanced expression of ET-related genes and the early accumulation of ACC in jai1-1 stamens suggest that a premature rise and action of ET occur in stamens of jai1-1 and leads to dehiscence and pollen release. This is consistent with the delayed and premature pollen release observed in stamen of the tomato mutants NR and epi, respectively (Figure 9), thereby supporting the role of ET in dehiscence and pollen release (Scott et al., [26]). Most importantly, the genetic proof by creating the double mutant jai1-1 NR showed unequivocally that ET insensitivity led to a rescue of the phenotype of jai1-1 stamen at late developmental stages (Figure 9), but not at early stages (Figure S7 in Additional file 2). This supports the hypothesis that jasmonates have a positive regulatory role at phase I of stamen development, which is not related to ET, whereas jasmonates are necessary to prevent the early rise and action of ET in phase II regulating senescence and dehiscence.
ET and JA are found to be coordinately (cooperatively or antagonistically) regulated or exhibit opposite effects on many plant responses [1,44,45]. A synergistic cross-talk between JA and ET is known to occur preferentially for the response to necrotrophic pathogens [46], whereas they act antagonistically in regulation of the expression of wound-responsive genes [47,48] and metabolite biosynthetic genes [49]. Furthermore, jasmonates repress apical hook formation [50], while ET has the opposite effect [51]. In Arabidopsis, JA and ET act in parallel to regulate timing of floral organ abscission [52]. Depending on developmental stages and physiological responses, JA affects ET signaling downstream of the ET receptors, since reduced JA levels might cause ET sensitivity in originally ET insensitive ein2 mutants [53]. Recently, a model for the molecular mechanism for the antagonism between JA and ET signaling in the apical hook formation in A. thaliana was presented [44,54]: on the one hand, MYC2, a prominent member of the MYC-transcription factor-family activated by JA, can physically interact with the ET-activated transcription factor ETHYLENE INSENSITIVE3 (EIN3) to directly inhibit its transcriptional activity. On the other hand, MYC2 positively regulates expression of EIN3 BINDING F-BOX PROTEIN1 (EBF1) by directly binding to its promoter leading to an increase in EBF1-promoted EIN3 degradation. However, applying strong statistical criteria neither MYC2 nor EBF1 were found among the differentially regulated genes in our dataset from tomato stamen.
Conclusions
The characteristic phenotypic feature of
jai1-1
flowers is a premature dehiscence and senescence of stamens visible by browning of the cone tip [
23
] leading to the hypothesis that function of the senescence-promoting hormone ET might be deregulated in this mutant. Obtained by global transcript and metabolite profiling, the presented data reveal a new scenario for the function of jasmonates and ET in the stamen development of tomato (Figure
10
). During early stamen development jasmonates seem to promote processes related to pollen nutrition and water supply. In the later developmental stages, JA insensitivity in the
jai1-1
mutant leads to a premature expression of some of the well-known master regulators in ET signaling, thereby leading to premature biosynthesis and action of ET.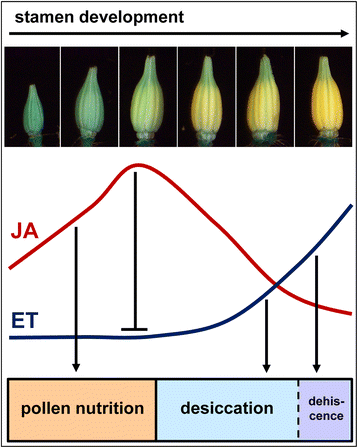 The premature dehiscence of jai1-1 stamen is in contrast to the known effects of JA deficiency or insensitivity in A. thaliana, where in the corresponding mutants dehiscence of anthers appears to be delayed. In developing flowers of Arabidopsis WT plants, the highest JA levels occurred in the mature flower [55], and JA is absolutely required in stamen of flower stage 12 to enable filament elongation in the subsequent developmental stage [17]. This confirms a function of JA as a positive regulator in Arabidopsis to trigger the developmental switch that initiates the program for final stamen maturation and dehiscence. In tomato, however, the JA/JA-Ile content already started to decline at a stage before the desiccation process starts. Therefore, it is likely that jasmonates are not directly involved in the regulation of dehiscence of tomato anthers, but fulfill a regulatory role by controlling the dehiscence-promoting hormone ET to prevent a premature occurrence of this process. With this model, a new form of cross-talk between JA and ET in a plant developmental process becomes obvious. The elucidation of regulatory components that mediate this cross-talk will deliver new insights into the regulatory role of JA and ET in the development of tomato stamen.
Abbreviations
ACC:

1-aminocyclopropane-1-carboxylic acid
AOC:

ALLENE OXIDE CYCLASE
COI1:

CORONATINE INSENSITIVE 1
epi :

epinastic
ET:

ethylene
GC-MS:

gas chromatography-mass spectroscopy
JA:

jasmonic acid
JA-Ile:

JA isoleucine
jail-1 :

jasmonic acid-insensitive-1
JAZ:

jasmonate ZIM domain protein
OPDA:

cis-12-oxo-phytodienoic acid
NR :

Never Ripe
RT-qPCR:

reverse transcriptase quantitative polymerase chain reaction
TF:

transcription factor
WT:

wild type
Declarations
Acknowledgements
We thank Birgit Ortel and Maria Pogoda (IPB Halle) for help in ACC quantification and experiments with AOC-RNAi plants, respectively, Gregg Howe (Michigan State University) for providing seeds of jai1-1 and Lázaro E. P. Peres (University of São Paulo, Brazil) for providing seeds of never ripe and epinastic, Alexander Erban (MPI Golm) for help in primary data analysis of metabolites and Benedikt Athmer (IPB Halle) for help in transcript data processing. Claus Wasternack, Carolin Delker and Alain Tissier (IPB Halle) are highly acknowledged for critical reading of the manuscript. The authors thank the Deutsche Forschungsgemeinschaft (DFG, HA2655/12-1,2) for financial support.
Authors' Affiliations
(1)
Leibniz Institute of Plant Biochemistry, Halle, Germany
(2)
Martin Luther University Halle Wittenberg, Halle, Germany
(3)
Max Planck Institute of Molecular Plant Physiology, Potsdam, (OT) Golm, Germany
(4)
Present address: Department of Botany I, University of Würzburg, Würzburg, Germany
Copyright
© Dobritzsch et al.; licensee BioMed Central. 2015
This is an Open Access article distributed under the terms of the Creative Commons Attribution License (http://creativecommons.org/licenses/by/4.0), which permits unrestricted use, distribution, and reproduction in any medium, provided the original work is properly credited. The Creative Commons Public Domain Dedication waiver (http://creativecommons.org/publicdomain/zero/1.0/) applies to the data made available in this article, unless otherwise stated.