Research article
Open Access
Adaptive developmental plasticity: Compartmentalized responses to environmental cues and to corresponding internal signals provide phenotypic flexibility
Received: 5 September 2014
Accepted: 4 November 2014
Published: 21 November 2014
Abstract
Background
The environmental regulation of development can result in the production of distinct phenotypes from the same genotype and provide the means for organisms to cope with environmental heterogeneity. The effect of the environment on developmental outcomes is typically mediated by hormonal signals which convey information about external cues to the developing tissues. While such plasticity is a wide-spread property of development, not all developing tissues are equally plastic. To understand how organisms integrate environmental input into coherent adult phenotypes, we must know how different body parts respond, independently or in concert, to external cues and to the corresponding internal signals.
Results
We quantified the effect of temperature and ecdysone hormone manipulations on post-growth tissue patterning in an experimental model of adaptive developmental plasticity, the butterfly Bicyclus anynana. Following a suite of traits evolving by natural or sexual selection, we found that different groups of cells within the same tissue have sensitivities and patterns of response that are surprisingly distinct for the external environmental cue and for the internal hormonal signal. All but those wing traits presumably involved in mate choice responded to developmental temperature and, of those, all but the wing traits not exposed to predators responded to hormone manipulations. On the other hand, while patterns of significant response to temperature contrasted traits on autonomously-developing wings, significant response to hormone manipulations contrasted neighboring groups of cells with distinct color fates. We also showed that the spatial compartmentalization of these responses cannot be explained by the spatial or temporal compartmentalization of the hormone receptor protein.
Conclusions
Our results unravel the integration of different aspects of the adult phenotype into developmental and functional units which both reflect and impact evolutionary change. Importantly, our findings underscore the complexity of the interactions between environment and physiology in shaping the development of different body parts.
Keywords
Bicyclus anynanaDevelopmental recombinationEcdysoneEnvironmental inputModularityPhenotypic flexibilityPhysiologySeasonal polyphenismThermal plasticityTrait-specific sensitivities
Background
In numerous species, the external environment can affect development and lead to the production of distinct phenotypes from the same genotype [1]. This phenomenon is called developmental plasticity. The resulting alternative phenotypes can be as dramatically different as the nutrition-induced differences between workers and queens in social insects (for example, [2]-[4]) and the seasonal forms of many insects (for example, [5]-[7]). All organisms have traits that are plastic. However, not all body parts of plastic organisms are equally flexible (for example, [8]-[10]). The ability of tissue development to both resist and integrate environmental input is crucial for organismal fitness in heterogeneous environments. An important step towards understanding how organisms can adaptively respond to the environment by expressing alternative phenotypes, and organize this response across body parts and traits, is to determine to which degree and by what mechanism body parts are integrated into coordinated modules that correspond to functional, evolutionary and/or developmental units [11],[12]. This will include understanding how different body parts respond to external environmental cues, as well as to the internal signals that convey information about those cues to the developing tissues.
In insects, ecdysteroid hormones work as internal signals that mediate key developmental transitions, such as molting and metamorphosis, and can also mediate developmental plasticity [7]. The external environment typically affects systemic hormone titers which, in turn, affect developing tissues. So that different traits which respond to the same hormone signal can develop and evolve independently, hormone effects need to be compartmentalized in time and space [7],[13]. This type of compartmentalization has been characterized in relation to the environmental regulation, mostly by nutrition, of the growth of different organs during insect larval development [10],[14],[15]. Much less is known about the compartmentalization of hormone effects for different groups of cells within the same tissue, and during post-growth tissue patterning. We investigate this process here for an evolutionary ecology model of developmental plasticity.
The butterfly
Bicyclus anynana
has become a textbook example of adaptive developmental plasticity [
1
],[
16
]-[
19
]. Its study combines knowledge about the ecological and evolutionary significance of plasticity with the analysis of its genetic and physiological underpinnings [
1
],[
20
]. In natural populations, butterflies developing in the dry versus the wet season have cryptic versus conspicuous ventral wing patterns, each associated with different seasonal strategies to avoid predation [
1
]. The wing phenotypes encompass a whole suite of pattern elements which differ between the seasons. In the laboratory, the development of wet- versus dry-like phenotypes can be induced by the temperature experienced during pre-adult stages [
1
]: warmer temperatures induce wet-like wing patterns, while cooler temperatures induce dry-like phenotypes. Previous studies showed differences between warm- versus cool-reared pupae in the dynamics of ecdysone levels [
21
] (Figure
1
A) and established these as a cause for changes in wing pattern [
21
]. Various studies of
B. anynana
wing pattern plasticity characterized the effects of the temperature and/or ecdysteroid levels on a few indicative pattern traits [
22
]-[
25
]. Limiting these analyses to only a few traits has precluded an assessment of how the effects of external and internal signals are compartmentalized in the developing wings. A systematic analysis of both types of cues on multiple aspects of wing patterns is lacking.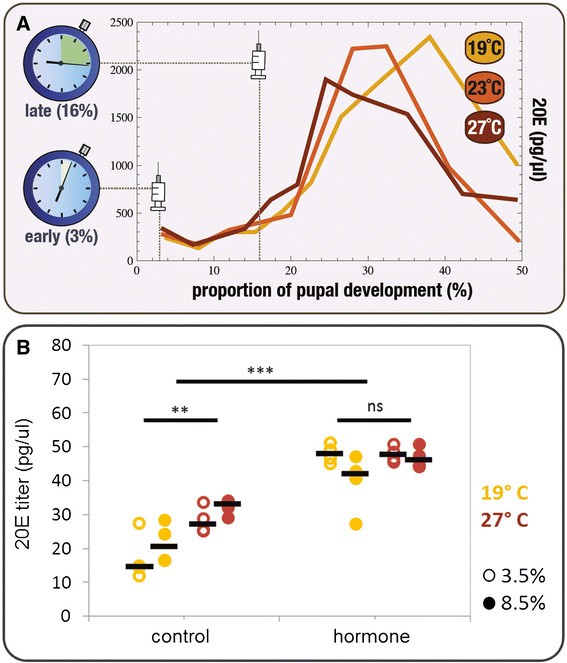 To characterize the effects of external cues and internal signals on tissue patterning, we manipulated temperature during pre-adult development and manipulated the levels of active ecdysone in the pupal hemolymph (Figure
1
). We then compared the suite of adult wing traits that constitute the seasonal wing phenotype. The traits we chose (Figure
2
) reflect increasing levels of spatial resolution in the analysis of the compartmentalization of plasticity. They allow comparisons between: 1) different wings derived from autonomously-developing imaginal discs (fore- and hindwing); 2) different surfaces of the same wing that correspond to distinct cell sheets (dorsal and ventral surfaces) and evolve under different selection regimes [
26
]; 3) different types of pattern elements (eyespots and band) displaying weak genetic correlations between them; 4) different repeats of the same type of pattern element (anterior and posterior eyespots on the same wing surface) with stronger correlations between them [
19
],[
27
]; and 5) different rings of the same eyespot (central white focus, middle black disc, and external golden ring) that correspond to groups of neighboring cells responding to a morphogen signal originated at each presumptive eyespot center [
19
],[
28
]-[
31
]. Our data on this extensive set of traits allow us to investigate the coordination of responses to external cues and internal signals across groups of wing epidermal cells and the mechanism for the spatial compartmentalization of the sensitivities to those signals. We discuss our results in terms of whether tighter or looser integration between traits might be adaptive and/or might represent (constrained) properties of the development in response to environmental variation.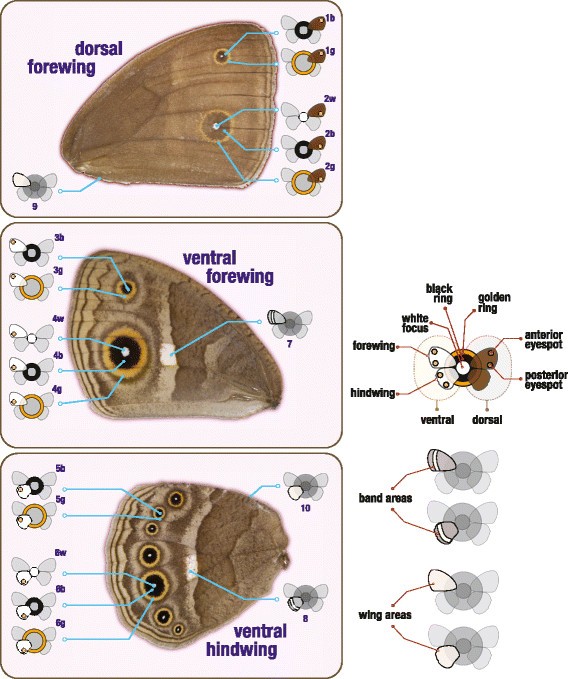 Results and discussion
Our results show that different groups of cells on the developing wing epidermis, which correspond to different aspects of the color pattern on adult female wings, have characteristic sensitivities to changes in temperature during pre-adult development (Figure
3
), as well as to changes in ecdysone levels during the pupal stage (Figure
4
). We could identify not only which traits are, and are not, responsive to manipulations of the external cue and internal signal, but also identify groups of sensitive traits that display distinct patterns of coordinated responses (Figure
5
). Finally, we show that the spatial compartmentalization of hormone sensitivities is not due to the spatial or temporal compartmentalization of the hormone receptor protein (Figure
6
).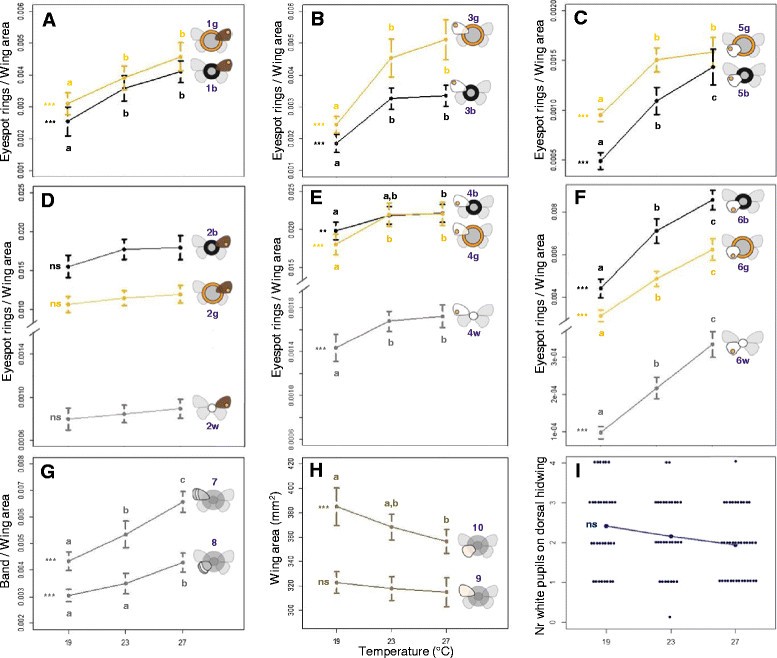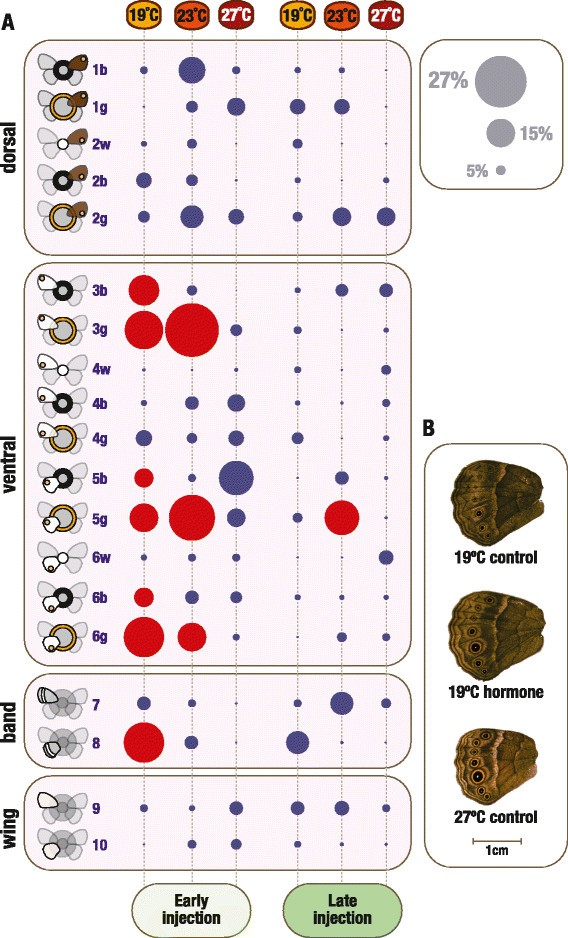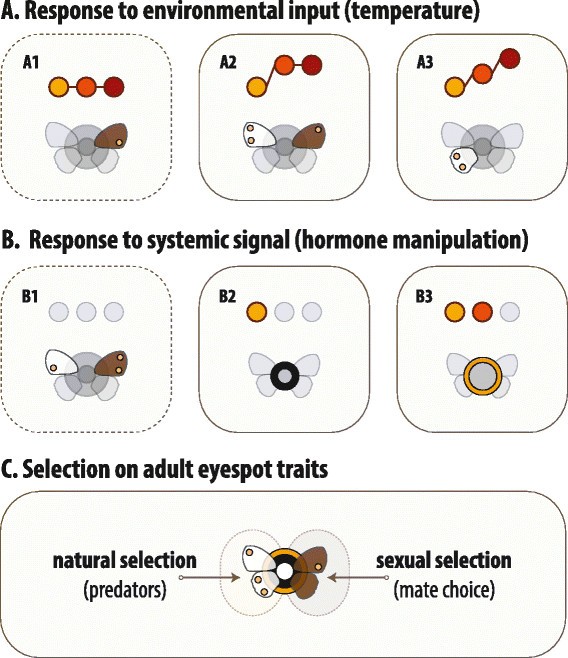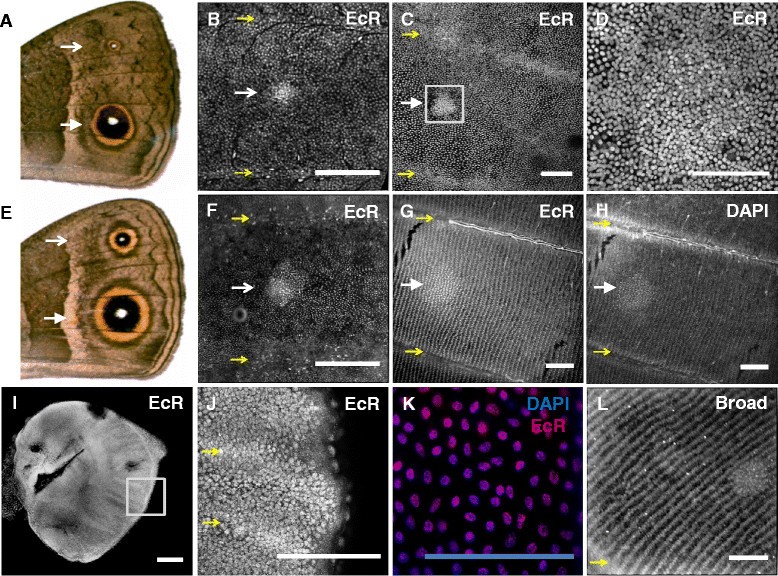 Conclusions
Environmental cues can have systemic effects but also localized effects in developing organisms. These are typically mediated by hormone signals in the circulating hemolymph which carry the information about the external environment to the developing tissues. However, not all organs and groups of cells within organs have equal sensitivities to the external cues and internal signals. The compartmentalization of these effects reflects what has been called phenotypic integration to imply tight connections between traits or phenotypic independence to refer to connections that are readily uncoupled (discussed in [13]). The present study identified such differing modes of connections for different aspects of butterfly wing patterns in relation to external temperature and to internal levels of ecdysone. With our systematic analysis of multiple traits in different temperature and hormone contexts (Figures 1 and 2), we have: 1) identified which traits are, and which are not, responsive to temperature during development (Figure 3), and to changes in ecdysone levels in early pupal life (Figure 4); 2) identified which of the sensitive traits respond in concert to each of the cues, and shown that these groupings are not the same for both types of cues (Figure 5); and, finally, 3) revealed that the mechanism for spatial compartmentalization of the responses does not reflect the spatial or temporal compartmentalization of the receptor for the internal signal (Figure 6).
Overview of the effects of developmental temperature and ecdysone manipulations on plastic wing patterning
We found unexpected differences between sensitivity to temperature and to hormone, both in terms of traits that are responsive versus those that are unresponsive, and also in terms of the traits that respond in a coordinated manner (Figure 5). In relation to the effects of external temperature on wing patterning, we showed that all color traits increase in size with increasing temperature (Figure 3) with the exception of the rings of a single eyespot (Figure 3D; Figure 5A1 and C) previously shown to be under sexual selection in males [25]. Among the temperature-sensitive eyespot traits, we found that all color elements on the forewing respond in the same fashion and differently from all but one color element on the hindwing [see Additional file 5: Figure S2A, summarized in Figure 5A]. The contrast between fore- and hindwing is consistent with the hypothesis that traits on autonomously-developing organs are more loosely integrated than traits on the same organ.
In relation to the effect of increasing hormone levels in early pupal life, we showed that only ventral color patterns, known to be associated with seasonally-plastic strategies for avoiding predators, responded (Figure 4; Figure 5B and C). Among the hormone-responsive eyespot traits, we found that rings of the same color respond in concert and in a pattern distinct from rings of another color [see Additional file 5: Figure S2B, summarized in Figure 5B]. This contrast is not consistent with the hypothesis that all rings of the same eyespot show similar sensitivity to hormone levels because they are all specified by a morphogen gradient originating from the eyespot center expressing hormone receptor [41]. We further show that the spatial compartmentalization of hormone effects is not due to the spatial compartmentalization of the levels of hormone receptor protein (Figure 6), as had been suggested [22]. Overall, our results point to complex interactions between the environmental cues that induce developmental plasticity and the internal signals that carry information about those cues to the developing tissues.
Sensitivities to external cues and internal signals are shaped by and impact phenotypic evolution
The coordinated trait sensitivities are properties of development that may have been favored by selection; for example, because it is important for fitness that traits change in concert. However, they may also be properties of development that are selectively neutral (that is, it is irrelevant whether or not traits develop in concerted fashion) or even evolutionarily constrained (that is, it could be advantageous for traits to change independently but the way they develop makes that difficult [45]). The integration between traits can be a factor constraining future responses to selection if integrated traits are selected to change in opposite ways (evolutionary constraint hypothesis [13],[46]). On the other hand, having traits responding independently to systemic hormone or external input can allow more rapid evolution of new arrangements of traits (evolutionary potential hypothesis [46]). It has been proposed that trait 'reorganization' produced by exposure to novel environmental conditions can lead to the production of new phenotypic variants and differences between species, through a process that has been called developmental recombination [47].
To understand fully this type of phenomenon it will be necessary to expand on studies such as ours. It is fundamental to combine the analysis of how different traits are integrated in their response to internal and external cues with an analysis of the mechanisms of differences in response to those cues and the ecological implications of changes in individual traits. In nature, the integration of all levels of information is further complicated by the fact that the developmental environment is more complex than one single changing cue, the phenotype is more than one particular trait, and the selective environment presents more than one ecological challenge.
Declarations
Acknowledgements
We thank E. van Bergen, T. Piessens, M. van Eijk and K. Koops for help processing butterflies; P. Almada for help with image analysis; S. Dickinson, D. Duneau and N. Martins for guidance on statistical analyses; T. Koyama and C. K. Mirth for advice about measuring 20H titers; L. Riddiford for providing antibodies against Manduca sexta EcR and its downstream targets; K. Tanaka for help with immunohistochemistry; D. Duneau for comments on the manuscript. We also thank the helpful suggestions of two anonymous reviewers. The authors wish to acknowledge funding from the Portuguese Foundation for Science and Technology FCT (fellowships SFRH/BD/45486/2008 to ARA Mateus and PTDC/EIA-CCO/114108/2009 to M. Marques-Pita, and research grant PTDC/BIA-BDE/100243/2008 to P. Beldade), and from the EU FP6 (Network of Excellence LifeSpan FP6 036894) and FP7 (IDEAL FP7/2007-2011/259679) to B.J. Zwaan and V. Oostra and the Netherlands Organization for Scientific Research NWO.
Authors' Affiliations
(1)
Instituto Gulbenkian de Ciência, Oeiras, Portugal
(2)
Institute of Biology, Leiden University, BE Leiden, The Netherlands
(3)
School of Informatics and Computing, Indiana University, Bloomington, USA
(4)
Department of Zoology, Cambridge University, Cambridge, UK
(5)
Laboratory of Genetics, Wageningen University, PB Wageningen, The Netherlands
Copyright
© Mateus et al.; licensee BioMed Central Ltd. 2014
This article is published under license to BioMed Central Ltd. This is an Open Access article distributed under the terms of the Creative Commons Attribution License (http://creativecommons.org/licenses/by/4.0), which permits unrestricted use, distribution, and reproduction in any medium, provided the original work is properly credited. The Creative Commons Public Domain Dedication waiver (http://creativecommons.org/publicdomain/zero/1.0/) applies to the data made available in this article, unless otherwise stated.