Research article

Open Access
2R and remodeling of vertebrate signal transduction engine
Received: 10 November 2010
Accepted: 13 December 2010
Published: 13 December 2010
Abstract
Background
Whole genome duplication (WGD) is a special case of gene duplication, observed rarely in animals, whereby all genes duplicate simultaneously through polyploidisation. Two rounds of WGD (2R-WGD) occurred at the base of vertebrates, giving rise to an enormous wave of genetic novelty, but a systematic analysis of functional consequences of this event has not yet been performed.
Results
We show that 2R-WGD affected an overwhelming majority (74%) of signalling genes, in particular developmental pathways involving receptor tyrosine kinases, Wnt and transforming growth factor-β ligands, G protein-coupled receptors and the apoptosis pathway. 2R-retained genes, in contrast to tandem duplicates, were enriched in protein interaction domains and multifunctional signalling modules of Ras and mitogen-activated protein kinase cascades. 2R-WGD had a fundamental impact on the cell-cycle machinery, redefined molecular building blocks of the neuronal synapse, and was formative for vertebrate brains. We investigated 2R-associated nodes in the context of the human signalling network, as well as in an inferred ancestral pre-2R (AP2R) network, and found that hubs (particularly involving negative regulation) were preferentially retained, with high connectivity driving retention. Finally, microarrays and proteomics demonstrated a trend for gradual paralog expression divergence independent of the duplication mechanism, but inferred ancestral expression states suggested preferential subfunctionalisation among 2R-ohnologs (2ROs).
Conclusions
The 2R event left an indelible imprint on vertebrate signalling and the cell cycle. We show that 2R-WGD preferentially retained genes are associated with higher organismal complexity (for example, locomotion, nervous system, morphogenesis), while genes associated with basic cellular functions (for example, translation, replication, splicing, recombination; with the notable exception of cell cycle) tended to be excluded. 2R-WGD set the stage for the emergence of key vertebrate functional novelties (such as complex brains, circulatory system, heart, bone, cartilage, musculature and adipose tissue). A full explanation of the impact of 2R on evolution, function and the flow of information in vertebrate signalling networks is likely to have practical consequences for regenerative medicine, stem cell therapies and cancer treatment.
Keywords
Gene Ontology
Gene Duplication
Betweenness Centrality
Segmental Duplication
Whole Genome Duplication
Background
Most genes belong to gene families which are derived through consecutive cycles of gene duplication. In animals, in the absence of horizontal gene transfer, gene duplication is the most important source of evolutionary novelty. While most duplications are of single genes, predominantly in tandem arrangements, whole genome duplication (WGD) is a special case whereby all genes duplicate simultaneously through polyploidisation. A WGD is followed by the loss of the majority of duplicated genes in the process of rediploidisation. Over large evolutionary time scales, rediploidisation results in the formation of a paleopolyploid species such as Saccharomyces cerevisiae. S. cerevisiae was shown in a pioneering study to derive from a WGD which took place after the divergence of Saccharomyces from Kluyveromyces [1]. Pairs of genes derived from this WGD were shown to constitute about 13% of the yeast coding gene set [1].
Evidence has accumulated that single-gene duplications and WGDs result in preferential retention of different functional gene classes. In particular, WGDs may facilitate coevolution of interacting proteins, which are likely to resist single-gene duplication because of sensitivity to gene dosage [2, 3]. Ohnologs, which are defined as paralogs derived from a WGD, were shown to be enriched in transcription factors (TFs) and signalling genes in animals, plants, yeast and Paramecium (reviewed in [4]). However, no detailed analysis of the consequences of these trends for functionality of signal transduction pathways and signalling networks has been undertaken for any of the known WGD events in plants, animals or protozoans.
The modern version of the two rounds (2R) hypothesis (recently reviewed in [5]) proposes that two WGDs occurred at the base of vertebrates after the divergence of urochordates and before the radiation of gnathostomes, most likely even before the cyclostome-gnathostome split [6]. Recent genomic studies have provided overwhelming support for the 2R hypothesis. In particular, strong evidence was derived through sequencing and analysis of genomes of the human [7], the fish Tetraodon nigroviridis [8] and the lancelet Branchiostoma floridae [9]. An important methodological advance was made by Dehal and Boore [10], who used an ingenious approach of mapping 2R paralogons by first identifying descendants of gene duplications mapping to the base of vertebrates by phylogenetic timing. Furthermore, successful attempts have been made recently at the reconstruction of the ancestral vertebrate genome before 2R-WGD [11].
Herein we present the first systematic analysis of the functional consequences of 2R-WGD using state-of-the-art methods for inference of orthology and duplications. We establish a gene retention percentage for each WGD, analyse preferences in types of retained genes and tissue expression signatures, contrast trends detected for 2R-WGD with those observed for tandem or segmental duplications and view gene family data through the lens of signalling network evolution.
Discussion
2R-WGD occurred more than 450 million years ago, and most resulting gene duplicates were lost, leading to rediploidisation. Here we set out to functionally characterize retained 2ROs. First, we found that signal transduction was the most enriched GO term (in stark contrast to tandem or segmental duplications, where this term was underrepresented). In total, 74% of human signalling genes were descendants of 2ROs. Foreshadowing later findings, several GO terms were associated with the nervous system: neurogenesis, synaptic transmission, axon guidance, nervous system development and neuron differentiation (Additional file 2, Table S2_bp). Next, we searched for protein domains enriched among 2ROs and found many classic signalling domains, as well as well-known protein interaction (PI) domains, such as Src homology 2 (SH2), Src homology 3 (SH3), phosphotyrosine-binding domain (PTB) and PDZ (reviewed in [24]). The PI domains aid signalling by enabling dynamic formation of signalling protein complexes. For example, SH2 and PTB selectively recognise phosphorylated tyrosines, while SH3 binds proline-rich sequences with a characteristic motif Pro-X-X-Pro. SH2 proteins frequently form membrane-attached signal-processing complexes at autophosphorylated receptors and participate in positive and negative feedback loops of phosphorylation cascades. PTB-bearing proteins, in turn, are predominantly adaptors and docking stations, frequently anchored in the cell membrane (sometimes by means of a lipid-binding PH domain), and promoting assembly of large signalling complexes at autophosphorylated tyrosine kinases. Finally, PDZ domains recognise internal valine or leucine residues and are abundant in synapses, serving as scaffolds for the assembly of large signalling complexes involved in neurotransmission.
To better understand the evolutionary dynamics of 2R-WGD, we investigated the relationship between relative timing of gene duplication and spatial expression domain of progeny genes. The heatmap in Figure 1 revealed 2R's expression signature in the broader context of animal evolution. Significantly, a trend could be observed for brain and nervous tissue expression (amygdala, thalamus, caudate nucleus, corpus callosum, spinal cord, fetal brain, cerebellum, cortex and whole brain) to map to the taxonomic cluster (b), Bilateria, Chordata and Vertebrata, while being excluded from younger clusters (c) and (d). These expression patterns, taken together with the results of GO analysis, suggested that the molecular machinery of the vertebrate neuron was defined in the 2R event and strongly conserved thereafter. A previous focused study of fly and mouse noted that vertebrate synapses were far more complex than those of invertebrates [25], but the scale, the mechanism and the precise timing of this key evolutionary transition was hitherto unknown.
Development of large multicompartmentalised vertebrate brains is shaped by three layers of control [26]: (1) establishment of patterning centres that secrete diffusible signalling ligands, such as WNTs, BMPs and soluble bone morphogenetic protein (BMP) antagonists; (2) brain-specific transcriptional regulatory networks involving TFs such as paired box proteins (PAX) and forkhead box protein (FOXP); and (3) extensive neuronal apoptosis shaping the fine detail of brain structures and compartments. For example, in a direct mechanistic demonstration, mice deficient in cysteine-aspartic acid protease 3 (CASP3) exhibited decreased neuronal apoptosis and hyperplasia, resulting in gross brain abnormalities [27]. How important was 2R-WGD for the definition of this developmental toolkit? We found that multiple WNT ligands (TF105310), PAX2/5/8 and PAX1/9 (TF315397), FOXP1/2/3/4 (TF326978) and CASP3/7 (TF102023) were 2ROs. Previously, we showed that the evolution of the BMP/TGF-β pathway was guided almost entirely by 2R-WGD [28]. In conclusion, we identified most of the vertebrate brain developmental toolkit as 2ROs.
The exclusion of nervous tissue from the expression domain of newly formed mammalian and primate genes contradicts intuition. However, anatomical differences between vertebrate nervous systems can be sufficiently explained by changes in developmental expression patterns of existing regulatory and structural genes of the neuron. Higher complexity of mental functions in certain vertebrate lineages (for example, in primates, some birds, and dolphins) is likely to stem from these anatomical differences, as well as more complex ways in which neurons are connected, as demonstrated by the rising area of connectomics.
Uniquely in animal evolution, and in stark contrast to other basic cellular functions, 2R-WGD expanded the cell cycle machinery, in particular cyclins A and B, and the interface with signalling made up by cyclins D1-D3, CDK4/6, p21/p27 and p18/p19. Cyclin D levels (unlike cyclins A and B) do not correlate with cell-cycle phases but with extracellular mitogens, cytokines, hormones and juxtacrine ligands. Signalling pathways induce expression of cyclin D, which pairs with cyclin-dependent kinases (CDKs) of types 4 and 6, stimulating the cell to enter the cycle from G1. (This progression can be inhibited by cyclin-dependent kinase inhibitors p21/p27 and p18/p19.) We identify all four sets of genes involved (that is, cyclins D1-D3, CDK4/6, p21/p27 and p18/p19) as 2ROs.
Arguably, the cyclin/CDK engine might be a relatively late evolutionary invention, taking over from ancient kinases [29], and with the inherent tendency for redundancy characteristic of an integrating system [30]. However, cyclin/CDK signalling is very well documented in yeast. Regardless of the controversy regarding the nature of primordial cell-cycle regulators, the results presented here suggest that control over cell cycles became more important in large and long-lived animals and that expansion of the cyclin/CDK network, which occurred through genome duplication, facilitated fine-tuning of that control. No such regulatory upgrade was required for other basic cellular functions (such as translation, replication, splicing and recombination). We hope to open a new area of investigation into the differences of cell-cycle control between vertebrates and model species such as fly, worm and yeast, with important consequences for both basic and applied science. As cyclin D1-D3/CDK4/6 complexes have at least partially overlapping phosphorylation targets, the apparent functional redundancy serves to integrate multiple upstream signals. In other words, 2R-WGD most likely resulted in retention of duplicates with different signalling inputs but similar outputs. Kinetic modeling, protein interaction and target screens focused on differences between invertebrate and vertebrate cyclin/CDK networks should yield the first clues.
The next question we decided to ask was whether signalling network nodes linked with 2ROs exhibited some characteristic features, such as the degree (that is, the number of interaction partners) or betweenness centrality (that is, the amount of network traffic, or information, flowing through a given node). The degree of human 2RO nodes was significantly increased, with the strongest effect on outdegree of negative regulation (Table 6). This suggested that highly connected nodes, that is, network hubs, in particular those involving negative regulators, were preferentially retained. Enrichment of 2ROs in PI domains, as shown by PFAM analysis, also suggested higher interconnectedness of the post-2R network. The likely biological result of this trend towards greater network complexity was increased signalling robustness and cross-talk. Negative feedback loops, on the other hand, were likely to mediate inducible and temporary biological responses invoked by external stimuli or network oscillations facilitating spatiotemporal patterning during vertebrate development.
However, was high connectedness driving preferential retention, or was it merely a consequence of rediploidisation? If only we could sequence the genome of the AP2R animal! This is, of course, impossible, but some features can be inferred from extant species. To this end, we compared fly and human and found that hubs were already enriched in genes ancestral to 2ROs. High connectedness was therefore a factor contributing towards preferential retention. Interestingly, ancestral nodes associated with mammalian and chordate duplications exhibited even higher connectivity biases, but the progeny of these genes were not associated with human hubs. This could be explained by the evolutionary model in which all duplications preferentially target highly connected nodes but WGDs preserve their status as hubs, while tandem and segmental duplications remodel them towards reduced connectivity.
Do gene duplications conserve interactions or rewire duplicates with novel interaction partners? We must first define a few concepts which will help us approach network topology from the evolutionary perspective, with a focus on gene duplication. Let us define shared edges as a pair of edges extending between two nodes and an identical third node. A conserved edge, on the other hand, corresponds to an ancestral interaction in the ancestral network, which is still present in the extant network. We can see that shared edges between a pair of 2ROs are parsimoniously explained as conserved edges (derived from an ancestral interaction in the AP2R network), as the probability of gaining shared edges through convergent evolution is extremely low. Finally, a bridging edge is an edge directly linking the paralogous node pair, suggesting sophisticated forms of regulatory feedback and information processing between duplicates [31]. The bridging edge is an evolutionary novelty created as a consequence of duplication, possibly but not necessarily associated with ancestral proteins prone to homodimerisation.
When the concepts of shared, conserved and bridging edges are applied to HCSM (Table
7
), a number of observations emerge: (1) the fraction of conserved edges is higher for 2ROs than for paralogs mapping to Chordates or Bilaterians, (2) the fraction of conserved regulatory edges with negative impact is higher than those with positive impact, and (3) complex novel network motifs are formed by bridged hubs (Figure
5
). Figure
5
shows a graph representation of a HCSM subnetwork focusing on the apoptosis pathway featuring three bridged 2RO pairs. Overall, bridged pairs are extremely rich in signalling hubs, with twice the average number of interacting partners. In terms of the broader evolutionary impact, we propose that 450 million years ago, at the time of 2R, instantaneous doubling of the signalling network through WGD not only immediately expanded the available space of network states but also kick-started rapid coevolution of nodes into novel topologies. The cumulative effect was that of greatly increased phenotype space, enabling adaptation to an expanded range of physiological parameters, such as temperature, osmotic pressure, availability of nutrients and growth factors. Greater organismal adaptability facilitated, in turn, colonisation of novel environments or ecological niches. 2R-WGD was most likely an instantaneous speciation, in itself an extraordinary evolutionary event, somewhat contrary to the classic Darwinian view of gradual evolution. It probably took place under stress conditions on the fringes of the normal ecological range of the parental species. Few "hopeful monsters", with duplicated genomes, must have had an instant adaptability advantage to compete with AP2R parental populations, despite the increased costs of DNA replication, chromatin remodeling and chromosome segregation associated with polyploidy. For example, Conant and Wolfe [
32
] proposed that yeast WGD conferred an immediate selective advantage for growth in high-glucose environments through the increase of dosage of genes in the glycolytic pathway. In the longer term, as proven by our GO analysis, 2R-WGD likely also provided a drive for increased morphological complexity [
33
] and conferred greater evolvability, facilitating the emergence of vertebrate novelties.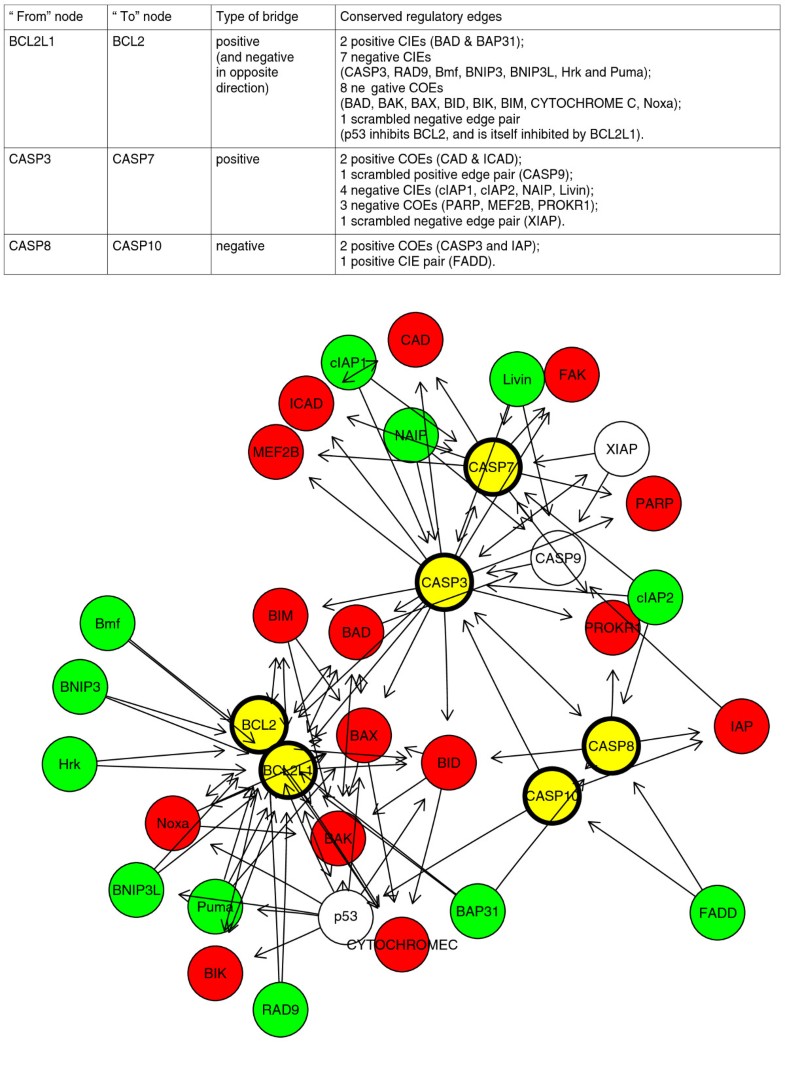 Conclusions
Herein we present the first global analysis of functional trends among 2R-WGD-retained genes using state-of-the-art methodology and a high-quality data set verified through manual curation. In a methodological advance, 2R ohnologs were identified using detailed phylogenetic trees on the basis of a tree-merging algorithm implemented in the TreeFam database. We found that 2R-WGD was the paramount source of novelty in vertebrate evolution, affecting an overwhelming majority (74%) of signalling genes, in particular developmental pathways involving receptor tyrosine kinases, Wnt and TGF-β ligands, GPCRs and apoptosis pathway. Moreover, 2R-WGD redefined vertebrate synapses and facilitated the formation of centralised brains. We show that 2R-WGD preferentially retained genes associated with higher organismal complexity (for example, locomotion, nervous system, morphogenesis), while genes associated with basic cellular functions (for example, translation, replication, splicing and recombination, with the notable exception of cell cycle) tended to be excluded. In conclusion, 2R-WGD left an indelible imprint on the vertebrate signalling network (including the interface with cell-cycle machinery) and set the stage for the emergence of key vertebrate functional novelties, facilitating the evolutionary success of this taxonomic group. Finally, we link observed functional trends to signalling network and expression evolution, investigating the human signalling network and the inferred AP2R network, a comparison that has never previously been performed.
Authors' information
LH is a senior postdoctoral fellow in evolutionary systems biology at Ludwig Institute for Cancer Research, Uppsala Branch (LICR-UPP), funded by the ENFIN Network of Excellence for Systems Biology to conduct interdisciplinary research on the molecular evolution of animal signalling. CHH is a molecular biologist, director of LICR-UPP, and Swedish representative to the European Research Council.
Abbreviations
2R-WGD:

two rounds of whole genome duplication at the base of vertebrates
2ROs:

2R-ohnologs
AP2R:

ancestral pre-2R
GPCRs:

G protein-coupled receptors
RTKs:

receptor tyrosine kinases
WGD:

whole genome duplication.
Declarations
Acknowledgements
This work was supported by ENFIN, a Network of Excellence funded by the European Commission FP6 Programme, under the thematic area "Life sciences, genomics and biotechnology for health", contract number LSHG-CT-2005-518254.
Authors' Affiliations
(1)
Ludwig Institute for Cancer Research, Uppsala University, Uppsala, Sweden
(2)
Evolutionary Systems Biology, Department of Cell and Molecular Biology (CMB), Karolinska Institutet, Stockholm, Sweden
Copyright
© Huminiecki and Heldin, licensee BioMed Central Ltd. 2010
This article is published under license to BioMed Central Ltd. This is an Open Access article distributed under the terms of the Creative Commons Attribution License (http://creativecommons.org/licenses/by/2.0), which permits unrestricted use, distribution, and reproduction in any medium, provided the original work is properly cited.