Research article

Open Access
TBP2 is a substitute for TBP in Xenopus oocyte transcription
Received: 9 March 2009
Accepted: 3 August 2009
Published: 3 August 2009
Abstract
Background
TATA-box-binding protein 2 (TBP2/TRF3) is a vertebrate-specific paralog of TBP that shares with TBP a highly conserved carboxy-terminal domain and the ability to bind the TATA box. TBP2 is highly expressed in oocytes whereas TBP is more abundant in embryos.
Results
We find that TBP2 is proteolytically degraded upon meiotic maturation; after germinal vesicle breakdown relatively low levels of TBP2 expression persist. Furthermore, TBP2 localizes to the transcriptionally active loops of lampbrush chromosomes and is recruited to a number of injected promoters in oocyte nuclei. Using an altered binding specificity mutant reporter system we show that TBP2 promotes RNA polymerase II transcription in vivo. Intriguingly, TBP, which in oocytes is undetectable at the protein level, can functionally replace TBP2 when ectopically expressed in oocytes, showing that switching of initiation factors can be driven by changes in their expression. Proteolytic degradation of TBP2 is not required for repression of transcription during meiotic maturation, suggesting a redundant role in this repression or a role in initiation factor switching between oocytes and embryos.
Conclusion
The expression and transcriptional activity of TBP2 in oocytes show that TBP2 is the predominant initiation factor in oocytes, which is substituted by TBP on a subset of promoters in embryos as a result of proteolytic degradation of TBP2 during meiotic maturation.
Keywords
Germinal Vesicle
Lampbrush Chromosome
Meiotic Maturation
Germinal Vesicle Break Down
Cytoplasmic Polyadenylation Element Binding Protein
Background
A key regulatory step in eukaryotic transcription initiation is the assembly of basal transcription apparatus at the core promoter. This apparatus includes RNA polymerase II (pol-II) and a set of basal transcription factors. For a long time the basal transcriptional machinery was thought to be universal and mainly invariant across different promoters. However, a growing body of evidence points towards a more dynamic and regulatory role for this machinery (reviewed in [1–4]). TATA-box binding protein (TBP) was once thought to be the general transcription factor involved in all transcription in eukaryotic cells. In higher eukaryotes, however, a number of TBP paralogs are present and there is clear evidence for TBP-independent transcription in a variety of model organisms [5–12]. So far three TBP paralogs have been described in metazoans; the insect-specific TBP-related factor 1 (TRF1) [13], the metazoan-specific TBP-like factor (TLF, also known as TRF2, TLP or TBPL1) [1] and the vertebrate-specific factor TBP2 (also known as TRF3 or TBPL2) [8, 12, 14].
TBP2 is the most closely related TBP paralog, sharing 95% sequence identity in the core domain [8, 12, 14]. It can bind to TATA box, interacts with TFIIA and TFIIB and promotes basal transcription in vitro. In addition, knockdown studies in fish and frogs showed that TBP2 is indispensable for embryonic development [8, 12] and is preferentially required for the transcription of embryonic vertebrate-specific genes and those involved in ventral specification during gastrulation in Xenopus [9]. TBP2 is also essential in differentiation pathways in zebrafish and mouse [10, 11]. Although some TBP2 is present and required in early Xenopus embryos, it is most abundant in oocytes, suggesting that TBP2 has an important role in oocyte transcription [8]. Here we provide functional evidence for the role of TBP2 in pol-II transcription by examining its binding to oocyte chromosomes and pol-II promoters, and by employing in vivo transcriptional assays involving an altered binding specificity mutant reporter system. We show that TBP2 is localized to active promoters in oocytes and can promote pol-II transcription. TBP2 is degraded during meiotic maturation. Surprisingly, TBP, when exogenously expressed in oocytes, can substitute for TBP2, which is indicative of dynamic and rapidly adaptable nature of core transcription machinery. Together, these observations establish the involvement of TBP2 in transcription initiation of oocytes. Moreover the proteolytic degradation of TBP2 during meiotic maturation is relevant for the initiation factor switching that occurs during the course of early development.
Discussion
TBP2: the major TATA binding factor in oocyte transcription
In the present study we show that Xenopus oocytes lack any detectable TBP, whereas TBP2 is abundant in oocytes. In eggs and early embryos relatively low levels of TBP2 are present. TBP starts to accumulate after meiotic maturation and during cleavage stages of development (Figure 1A). A similar expression profile of TBP and TBP2 has been observed in mouse oocytes [22], which suggests a major role for TBP2 in oocyte transcription. Indeed, TBP2 is recruited to the transcriptionally active loops of lampbrush chromosomes (Figure 2). In addition, TBP2 also appears to be a part of CBs and BSs, which are considered to be involved in preassembly of transcription complexes [18]. The association of TBP2 with active promoters was further confirmed by ChIP on GV-injected promoters and on endogenous 5S rRNA (Figure 3). Surrounding follicle cells outnumber the oocytes; therefore it is not possible to perform ChIP on single copy loci in oocytes. Due to this limitation, injected promoter constructs were used to model oocyte transcription. This system has been used effectively to study the biochemistry of chromatin assembly and transcription during oogenesis and early embryogenesis [28]. In order to examine the activity of TBP2 in oocytes, we utilized an altered binding specificity (abs) mutant reporter system [26]. It cannot be ruled out that endogenous TBP2 behaves differently compared with its overexpressed abs mutant. However, the involvement of TBP2 in pol-II mediated transcription in oocytes may be inferred from the ability of abs-TBP2 to rescue the deleterious effects of TGTA promoter mutations, probably due to binding of abs-TBP2 to the TGTA sequence to which the endogenous TBP2 cannot bind (see Figure 4). These findings are congruous with the observation that only TBP2 is present in frog and mouse oocytes with no detectable TBP, which reinforces the notion that germ cell transcription is different from that of somatic cells [29].
TBP2 degradation and its biological significance
We have found that during later stages of meiotic maturation TBP2 protein is actively degraded (Figure 1C). This could potentially achieve two biological goals. First, it might be essential for proper shutdown of global transcription. In early embryos, transcriptional repression can be perturbed by premature accumulation of TBP together with disruption of chromatin assembly [15, 27]. Second, this degradation of TBP2 in combination with the translational upregulation of TBP in embryos might be a mechanism to achieve switching of TATA binding factors between the oocyte and embryonic and/or somatic transcription machineries. The results of our experiments do not support a role for TBP2 degradation in the shutdown of transcription as it occurs even in the presence of abundant TBP2 (Figure 5), although a redundant role in transcriptional repression cannot be excluded. Furthermore, transcriptional repression is already established before TBP2 is degraded (Figure 6). TBP2 degradation is likely to be a mechanism that brings about the switching of TATA binding core transcription factors, facilitating the transition from a germ cell transcription apparatus to a somatic transcription machinery. However, this switching is not yet complete in early embryos because of low levels of TBP2, as discussed below.
The transcription machinery is highly flexible
The altered binding specificity mutant of TBP, when expressed in the oocytes, could also promote transcription from the hsp-70 and ZFP36L2 promoters (Figure 4). Earlier observations indicated that TBP and TBP2 can replace each other in initiating basal transcription in vitro as well as in complexes with TFIIA/ALF and DNA [8, 30, 31]. Intriguingly, many promoters that exclusively require TBP in embryos are also maternally expressed [9]. TBP protein, however, is not present in oocytes where these maternal transcripts were initially made, implying an initiation factor switching on these promoters between oocytes and early embryos. Furthermore, TBP2 overexpression in TBP knockdown embryos significantly, although not completely, rescued the phenotype of TBP ablation [8]. On a similar note, it has been proposed that in cells heterozygous for TBP (tbp +/-), elevated levels of TBP2 compensate abnormally low levels of TBP at some but not all promoters [32]. This shows that on many promoters the two TATA binding proteins can act redundantly.
A complicating matter is that both TBP and TBP2 are required for early development in fish and frog [5, 6, 8, 12], and promoters that strictly require either TBP or TBP2 in embryos have been identified [9, 10]. The molecular basis of TBP-TBP2 selectivity remains to be elucidated. The embryonic transcription machinery (abundant TBP, low levels of TBP2) is not yet fully switched to the common somatic machinery (abundant TBP, no TBP2), effectively leaving TBP and TBP2 to compete for interactions with embryonic activators and promoter elements. Paradoxically, despite the relatively low levels of TBP2 in embryos, many genes depend on this factor, whereas ablation of TBP causes relatively moderate effects on gene expression [9]. TBP2 may be competitive in embryonic gene regulation because of preferential interactions with embryonic activators or other maternal factors that – like TBP2 – still persist in early development; such preferential interactions would be analogous to the preference of the Caudal activator for a promoter nucleoprotein architecture with the downstream promoter element [33]. For example, TBP2 preferentially accommodates activation of vertebrate-specific embryonic and ventral-specific genes [9]. During later development, core factor switching may be completed when TBP2 levels further decline [31].
On the limited number of promoters tested in this study, TBP and TBP2 could replace each other depending on their relative expression levels, providing an experimental model for initiation factor switching. Our data suggest that the core transcription machinery is highly flexible and that changes in relative expression levels of TATA binding factors between oocytes and embryos can drive core factor switching. Based on these observations we propose a model (Figure
7
) according to which the core factor switching that occurs at many maternal-embryonic promoters is brought about by active degradation of TBP2 (Figures
1
and
2
) followed by regulated translation of maternal stores of TBP mRNA before the onset of embryonic transcription at the mid-blastula transition (MBT) [
15
].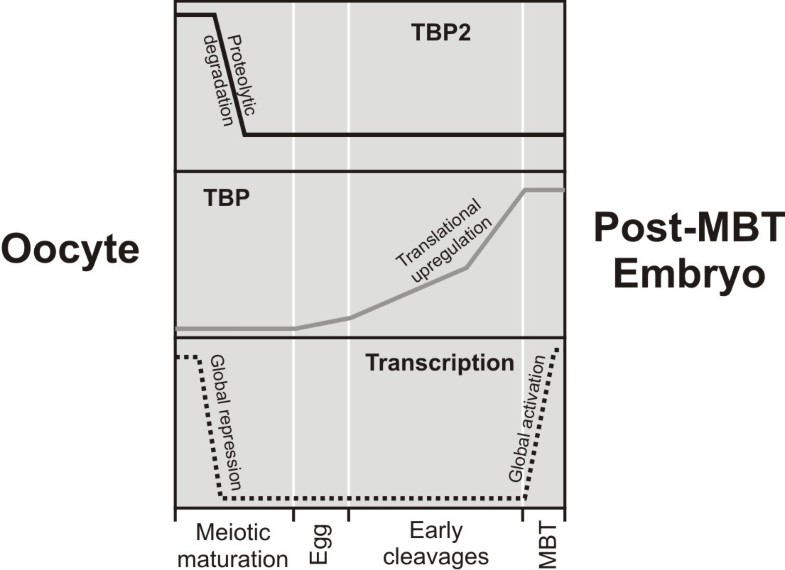 Conclusion
Our observations not only establish an important role of TBP2 in transcription of a highly specialized cell type which lacks any detectable TBP, but also provide evidence that the basal transcription machinery is highly flexible and can rapidly exchange factors depending on their expression. This leads to initiation factor switching on a subset of promoters that are active both in oocytes and embryos, whereas other promoters show factor selectivity, which accounts for their non-redundant function in early embryos [8].
Declarations
Acknowledgements
This work was supported by Higher Education Commission of Pakistan with a PhD fellowship to WA and by NWO-ALW (Netherlands Organization for Scientific Research-Research Council for Earth and Life Sciences) with grant number 864.03.002 to GJVC. We thank B Scheijen and M Koeppel for critical reading of the manuscript, and RC Akkers, U Jacobi, E Jansen, N van Bakel and R Engels for help with frogs and animal care.
Authors' Affiliations
(1)
Department of Molecular Biology, Faculty of Science, Nijmegen Centre for Molecular Life Sciences, Radboud University Nijmegen, The Netherlands
Copyright
© Akhtar and Veenstra; licensee BioMed Central Ltd. 2009
This article is published under license to BioMed Central Ltd. This is an Open Access article distributed under the terms of the Creative Commons Attribution License (http://creativecommons.org/licenses/by/2.0), which permits unrestricted use, distribution, and reproduction in any medium, provided the original work is properly cited.