Research article

Open Access
Strong mitochondrial DNA support for a Cretaceous origin of modern avian lineages
Received: 02 January 2008
Accepted: 28 January 2008
Published: 28 January 2008
Abstract
Background
Determining an absolute timescale for avian evolutionary history has proven contentious. The two sources of information available, paleontological data and inference from extant molecular genetic sequences (colloquially, 'rocks' and 'clocks'), have appeared irreconcilable; the fossil record supports a Cenozoic origin for most modern lineages, whereas molecular genetic estimates suggest that these same lineages originated deep within the Cretaceous and survived the K-Pg (Cretaceous-Paleogene; formerly Cretaceous-Tertiary or K-T) mass-extinction event. These two sources of data therefore appear to support fundamentally different models of avian evolution. The paradox has been speculated to reflect deficiencies in the fossil record, unrecognized biases in the treatment of genetic data or both. Here we attempt to explore uncertainty and limit bias entering into molecular divergence time estimates through: (i) improved taxon (n = 135) and character (n = 4594 bp mtDNA) sampling; (ii) inclusion of multiple cladistically tested internal fossil calibration points (n = 18); (iii) correction for lineage-specific rate heterogeneity using a variety of methods (n = 5); (iv) accommodation of uncertainty in tree topology; and (v) testing for possible effects of episodic evolution.
Results
The various 'relaxed clock' methods all indicate that the major (basal) lineages of modern birds originated deep within the Cretaceous, although temporal intraordinal diversification patterns differ across methods. We find that topological uncertainty had a systematic but minor influence on date estimates for the origins of major clades, and Bayesian analyses assuming fixed topologies deliver similar results to analyses with unconstrained topologies. We also find that, contrary to expectation, rates of substitution are not autocorrelated across the tree in an ancestor-descendent fashion. Finally, we find no signature of episodic molecular evolution related to either speciation events or the K-Pg boundary that could systematically mislead inferences from genetic data.
Conclusion
The 'rock-clock' gap has been interpreted by some to be a result of the vagaries of molecular genetic divergence time estimates. However, despite measures to explore different forms of uncertainty in several key parameters, we fail to reconcile molecular genetic divergence time estimates with dates taken from the fossil record; instead, we find strong support for an ancient origin of modern bird lineages, with many extant orders and families arising in the mid-Cretaceous, consistent with previous molecular estimates. Although there is ample room for improvement on both sides of the 'rock-clock' divide (e.g. accounting for 'ghost' lineages in the fossil record and developing more realistic models of rate evolution for molecular genetic sequences), the consistent and conspicuous disagreement between these two sources of data more likely reflects a genuine difference between estimated ages of (i) stem-group origins and (ii) crown-group morphological diversifications, respectively. Further progress on this problem will benefit from greater communication between paleontologists and molecular phylogeneticists in accounting for error in avian lineage age estimates.
Keywords
Markov Chain Monte Carlo
Substitution Rate
Fossil Record
Branch Length
Divergence Time Estimate
Background
Many evolutionary models [1–4] are tightly linked to absolute timescales. A reliable temporal framework is therefore required for understanding the tempo (and, through correlation with geophysical phenomena, mechanisms) of biological evolution. There are two complementary sources of information for dating ancient biological divergences: (1) physical historical remains (either paleontological or ichnological); and (2) molecular sequence differences among extant taxa, the analysis of which requires assumptions about the processes and rates of sequence evolution. Unfortunately, these two sources of information ('rocks' and 'clocks', respectively) often yield starkly disparate estimates of the timing of major biological divergences [5].
Of course, some discrepancy is expected, as these two sources of data concern different stages during the process of cladogenesis (δ
True MA-FA
; Figure
1
). As fossils document products of evolution, they necessarily post-date speciation events. The underestimation of speciation times from fossil data (δ
Fossil error
) can be partitioned into two components: (i) the interval, following speciation, required for diagnostic characters to evolve (δ
Diagnostic character
); and (ii) the time, following the evolution of diagnostic characters, realized for the deposition of a sampled fossil (δ
Oldest fossil
). Here, δ
Diagnostic character
can be regarded as a fixed value (although different for every node), however δ
Oldest fossil
can be reduced with subsequently older fossil finds. In contrast to fossils, molecular data instead reflect genetic divergence, which must predate speciation events because genetic lineages present in two newly evolved sister lineages coalesce (on average) 2N
e
generations prior to speciation [
6
]. However, the errors associated with molecular age estimates (δ
Coalescence
and δ
Clock error
) are more complex than analogous fossil errors. For example, if no polymorphism exists for a particular locus at speciation, then inferred genetic divergence times based on that locus will actually post-date speciation, as no information exists to trace the underlying genealogy. Furthermore, molecular data may overestimate or underestimate the true speciation time because of stochastic errors associated with divergence time estimation (δ
Clock error
), and this uncertainty will increase as one extrapolates backwards through time, even with an infinite amount of data [
7
]. Regardless, for a given node with a minimum age constraint derived from the fossil record, the realized discrepancy between the two estimates (δ
Realized MA-FA
= MA - FA = δ
Molecular error
+ δ
Fossil error
) will always be positive, and is a parameter that both paleontologists and molecular biologists are working to minimize [
5
].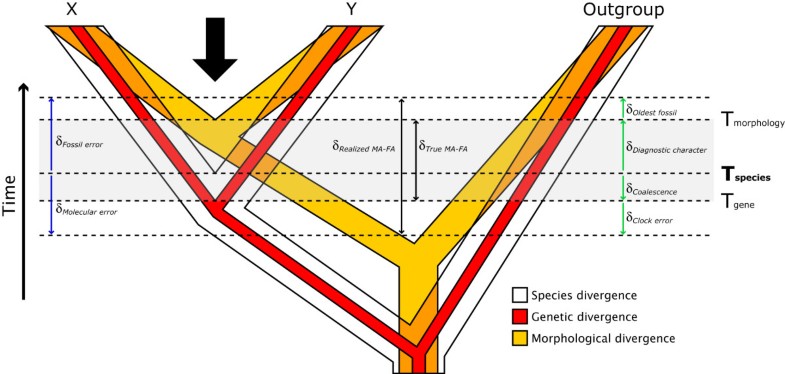 Strictly speaking, any molecular estimate that generates a positive value of δ Realized MA-FA is consistent with the fossil record. It is instead the magnitude of δ Realized MA-FA that suggests conflict, and distressingly large values sometimes exist. Conflict between the two sources of information is especially evident with respect to the ages of extant avian lineages (Neornithes). Based on a strict interpretation of the fossil record (i.e. insignificant δ Fossil error ), Feduccia [8, 9] proposed an explosive Cenozoic origin for most modern avian lineages, presumably a result of open niches left by newly extinct non-avian dinosaurs and other taxa. Although a recent fossil find [10] forces a minimum of five of the earliest Neornithes divergences into the late Cretaceous, the fossil record generally supports the view that most modern lineages originated in the Cenozoic [8, 9, 11–15]. In contrast, molecular estimates all indicate that these same lineages are considerably older, sometimes as much as twice as old as analogous paleontological estimates [4, 16–26]. Between these two extremes lies the Cretaceous-Paleogene (K-Pg; formerly Cretaceous-Tertiary or K-T) boundary, a period when as many as 50% of land-dwelling species went extinct [27]. The conflicting age estimates thus have different implications regarding the influence of the K-Pg mass extinctions on the evolutionary radiation of modern birds.
Although resolution of this conflict is clearly important for understanding avian diversification, it is hindered by compelling arguments from both sides. The supposition that the quality of the fossil record deteriorates backwards in time, for example, is contradicted by the observed congruence between stratigraphic and phylogenetic ordering of taxa [28]. Sophisticated stratigraphic analyses indicate that fossils of the antiquity necessary to produce congruence with molecular studies are extremely improbable [11, 29, 30] (but see [31, 32]). Furthermore, of the known Mesozoic avian fossils [12, 14, 33, 34], the vast majority unambiguously lay outside Neornithes [35]. Although a few Cretaceous fossils putatively represent modern lineages (e.g. parrot [36], loon [37] and others [12, 14]) these have largely been dismissed as fragmentary and inconclusive [9, 12, 38, 39]. One the molecular side, the recognition that rates of molecular evolution are often not clock-like (including birds [23, 40–42]), and that lineage-specific heterogeneity is common [43], has spurred the development of numerous 'relaxed' molecular clock methods (see reviews in [44–46]). In support of molecular genetic data, these methods perform well in simulation [47, 48] and, when applied to empirical data, deliver Cretaceous ages for the origin of modern birds [16, 23].
Given these arguments, the paleontological and molecular phylogenetic communities are currently at an impasse regarding the application of an absolute temporal axis for early organismal evolution [33, 49], and a range of evolutionary models [1–4] remain viable for birds. Here we endeavour to determine whether a more rigorous treatment of molecular genetic data lessens the 'rock-clock' discrepancy (δ Realized MA-FA ). In particular, we incorporate large fossil and taxon data sets, two components of molecular dating that have been shown to have a strong impact on the resulting divergence time estimates [50, 51]. In addition, we accommodate and explore the impact of uncertainty in both tree topology and molecular dating strategy. Finally, we test for signals of episodic molecular evolution related to both speciation events and absolute geologic time, processes that could potentially mislead molecular-based age estimates by systematically inflating branch lengths within speciose clades [52].
Results
Phylogenetic inference
Our optimal phylogenetic reconstruction (
T
Optimal
; AIC
c
= 414160.2536) is a significantly better fit to the mtDNA matrix than a recent consensus topology derived from the literature (
T
Consensus
; AIC
c
= 421460.9166; see the methods section and Figure
2
). Nevertheless, the two topologies agree in many instances. For example, several traditional orders identified as having little support for monophyly (e.g. Coraciiformes, Ciconiiformes, Caprimulgiformes and Falconiformes [
53
]) were also polyphyletic in our analyses. However, the two trees also differ in many respects, most notably in the placement of Passeriformes. In
T
Consensus
, the clade is relatively derived in the tree, whereas in
T
Optimal
it forms the basal-most clade in Neoaves. Several traditionally hard-to-classify lineages (e.g. Pteroclidae, Opisthocomidae, Phaethontidae, Podargidae and Steatornithidae) are of suspect placement in
T
Optimal
. These and other uncertainties tend to be localized and do not (as we report below) overly influence date estimates for the basal nodes in the avian tree. Some of the topological differences, however, are of operational importance, as they cause either redundancy or obsolescence of some fossil constraints used in estimating divergence times. Overall, of the 18 total internal fossil calibrations considered, 16 were used on
T
Consensus
, and 17 on
T
Optimal
(Figure
2
).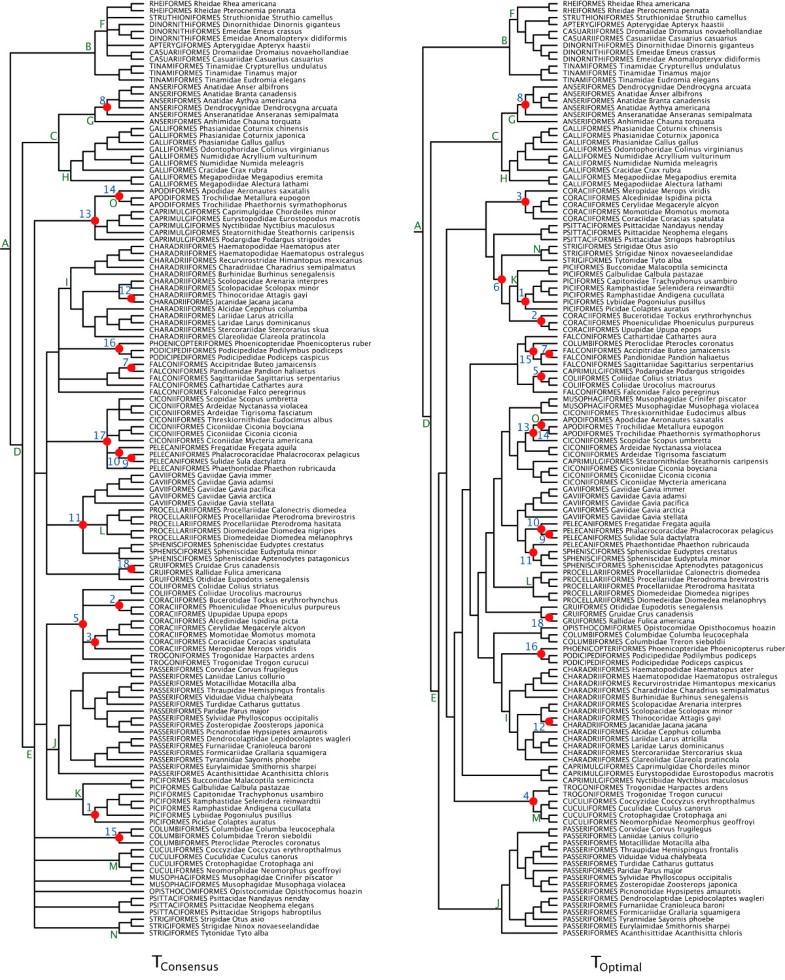 Divergence time estimation
A substantial signal was present for both a departure from a molecular clock and a lack of ancestor-descendant autocorrelation of substitution rates. Using penalized likelihood in r8s, both topologies
T
Consensus
and
T
Optimal
were found to be unclock-like, with optimal smoothing values (log
10λ
) of 1.0 and 0.4, respectively. Analyses in Dating5 clearly rejected the constant-rate Poisson model (-ln
L
= 63214.8; χ
2
= 8051.61, df = 271,
p
= 0.000) but could not reject the stationary (high variance) rate model (-ln
L
= 2123.01; χ
2
= 268.352, df = 269,
p
= 0.482) which produced a large index of dispersion
R
= 469.782. Bayesian analyses in Multidivtime delivered positive but very small values for the degree of autocorrelation of substitution rates across both topologies (Table
1
). Finally, analyses of
T
Consensus
using BEAST indicated that non-autocorrelated models of rate variation fit the data significantly better than a molecular clock (Table
2
). Of the non-autocorrelated models, the lognormal distribution (UCLN) had a much better harmonic mean model likelihood than the exponential distribution (UCED), and relaxation (
T
Flexible
) of a fixed topology further increased fit. Using each of these uncorrelated models, the covariance of substitution rates between ancestor and descendent branches across the tree was not significantly different from zero.
Table 1
Degree of autocorrelation in rates of molecular evolution by partition and tree topology as calculated in Multidivtime
| Topology | Genetic partition | Autocorrelation (95% CI) |
| --- | --- | --- |
| T Consensus | First positions | 0.00197 (0.00127, 0.00290) |
| | Second positions | 0.00437 (0.00258, 0.00685) |
| | Third positions | 0.00452 (0.00288, 0.00680) |
| | RNA | 0.00566 (0.00343, 0.00874) |
| T Optimal | First positions | 0.00177 (0.00112, 0.00263) |
| | Second positions | 0.00344 (0.00197, 0.00548) |
| | Third positions | 0.00380 (0.00241, 0.00571) |
| | RNA | 0.00414 (0.00206, 0.00744) |
Table 2
Model comparisons for analyses relaxing the assumption of autocorrelation of rates across the tree. Harmonic mean model likelihoods were calculated from post-burnin MCMC samples generated in BEAST. For these model comparisons, the topology was fixed as T Consensus. The strict clock model serves as a base comparison. The tree T Flexible refers to analyses where topology is not fixed. Covariance indicates the degree of substitution rate autocorrelation between ancestor and descendent branches. 95% HPDs are given in parentheses.
| Model | Model likelihood | Covariance |
| --- | --- | --- |
| T Consensus | | |
|    CLOCK | -212231 | N/A |
|    UCED | -210459 | 0.039 (-0.103, 0.175) |
|    UCLN | -207226 | 0.066 (-0.061, 0.193) |
| T Flexible | | |
|    UCLN | -206812 | 0.042 (-0.071, 0.161) |
Given the extensive phylogenetic uncertainty within Neornithes, we focus on divergence times of clades for which monophyly is not contentious (Table
3
). Two key trends are recognized. First, for a given dating method, differences in topology tended to have a minor but systematic influence on inferred ages. In general,
T
Optimal
delivered older average date estimates than
T
Consensus
using r8s (8.9 MY) and Multidivtime (3.6 MY), but the opposite trend was found with PATHd8 (-8.2 MY). When confidence/credibility intervals are considered, however, topology did not significantly influence most individual date estimates. Overall, in terms of the degree of discrepancy between fossil and molecular dates on a whole-tree basis (average δ
Realized MA-FA
), topology had a noticeable (> 5 MY) influence on divergence estimates for only the PATHd8 analyses (Table
3
).
Table 3
Estimated divergence times for major avian clades compared across methods and topologies. Estimated time to most recent common ancestor (tMRCA) of clades of non-controversial monophyletic status. Standard deviations are given in parentheses (for Dating5 and BEAST, standard deviations were calculated from 95% confidence/credibility intervals using a normal approximation). For r8s, PATHd8 and Multidivtime ages were estimated on each of the two fixed topologies (T Consensus and T Optimal). For BEAST, divergence times were estimated simultaneously with phylogeny (T Flexible). For each method an estimate of the magnitude of disagreement between fossil and molecular estimates of divergence times (δ Realized MA-FA ) is calculated as an average of MA-FA (the molecular age minus the fossil age) for those 18 internal nodes with calibration points.
r8s

PATHd8

Multidivtime

Dating5

BEAST

Node

tMRCA

T Consensus

T Optimal

T Consensus

T Optimal

T Consensus

T Optimal

T Optimal

T Flexible

A

Neognaths-Paleognaths

125.7 (12.4)

131.1 (10.7)

114.3 (6.9)

102.8 (6.1)

129.9 (11.0)

132.4 (10.7)

132.9 (11.6)

133.2 (8.1)

B

Paleognaths

98.1 (10.6)

104.8 (10.7)

72.8 (5.0)

66.3 (4.6)

107.6 (11.2)

110.1 (11.2)

80 (6.8)

105.9 (11.7)

C

Galloanserae

93.6 (10.7)

100.7 (10.1)

86.4 (5.5)

78.7 (4.7)

97.3 (9.9)

100.6 (9.5)

89.3 (3.2)

110.4 (7.8)

D

Galloanserae-Neoaves

114.6 (12.1)

121.9 (10.5)

103.1 (6.0)

93.1 (5.4)

116.1 (11.0)

120.8 (10.5)

126.8 (6.1)

126.0 (7.1)

E

Neoaves

104.5 (11.4)

116.6 (9.9)

90.4 (5.1)

86.1 (5.0)

101.3 (10.1)

113.4 (10.1)

123.9 (5.3)

118.5 (6.8)

F

Ratites

67.4 (9.6)

89.3 (12.1)

49.5 (3.5)

46.7 (3.2)

92.1 (10.3)

97.3 (10.4)

40.6 (12.3)

91.5 (12.0)

G

Galliformes

82.1 (9.7)

88.4 (9.4)

82.2 (6.0)

73.2 (5.4)

87.4 (9.5)

87.2 (9.2)

67.3 (11.3)

99.0 (8.4)

H

Anseriformes

82.7 (10.1)

89.1 (10.7)

70.6 (4.0)

67.1 (2.8)

88.5 (9.3)

91.5 (9.0)

85.4 (4.1)

100.5. (8.3)

I

Charadriiformes

81.8 (11.5)

94.0 (9.2)

55.4 (3.6)

49.9 (3.1)

80.2 (8.5)

80.6 (7.8)

41.9 (4.5)

81.7 (6.3)

J

Passeriformes

85.4 (9.1)

99.5 (8.2)

89.0 (5.5)

85.5 (5.2)

78.4 (8.5)

97.8 (9.3)

84.9 (12.5)

106.6 (7.2)

K

Piciformes

90.9 (10.1)

99.6 (9.0)

89.0 (5.5)

79.0 (4.8)

83.0 (9.2)

91.1 (9.1)

101.0 (8.8)

93.6 (6.8)

L

Procellariiformes

73.8 (10.8)

89.9 (9.1)

55.6 (2.2)

38.1 (2.8)

80.0 (8.7)

78.5 (7.8)

38.8 (12.4)

74.7 (7.3)

M

Cuculiformes

73.9 (8.3)

79.5 (7.4)

65.0 (4.4)

60.1 (4.1)

68.3 (8.0)

74.3 (8.0)

52.5 (6.7)

74.1 (8.6)

N

Strigiformes

88.2 (9.9)

94.7 (8.6)

89.0 (5.9)

79.0 (5.1)

82.5 (9.7)

88.5 (9.4)

93.2 (11.5)

84.2 (9.1)

O

Apodiformes

77.4 (9.3)

75.1 (7.4)

70.0 (5.6)

53.5 (1.9)

77.3 (9.0)

63.4 (7.2)

55.8 (9.1)

80.5 (9.9)

δ Realized MA-FA

39.8

44.6

24.2

16.9

36.8

36.1

24.8

36.5
Second, the choice of the relaxed clock method had a strong influence on inferred ages. R8s, Multidivtime and BEAST tended to deliver similar estimates for most clades of interest (Table 3). In contrast, PATHd8 generated considerably younger dates with much smaller confidence intervals, despite using the same bootstrapped phylograms and fossil constraints as r8s. Dating5 tended to produce the most extreme results, with inferred basal split estimates similar to those from Multidivtime, but some derived split estimates younger than those from PATHd8. Most significantly, PATHd8 and Dating5 together identified five of these major clades as having crown diversification restricted to the Cenozoic (Ratites, Charadriiformes, Procellariiformes, Cuculiformes and Apodiformes), although the remaining methods generate estimates for these same nodes that are on average more than 50% older. In terms of comparing molecular and fossil age estimates (average δ Realized MA-FA ), r8s, Multidivtime and BEAST all show considerable discordance between the two sources of data, with the average molecular estimates for the major nodes (Table 3) being 36–45 MY older than corresponding fossil ages. PATHd8 and Dating5, in contrast, exhibit greater agreement between estimates from 'rocks' and 'clocks', with an average discrepancy of 17–25 MY.
Despite these differences, all methods agree that the basal splits within Neornithes occurred deep within the Cretaceous (Table
3
, nodes A-E). The youngest estimate for the root of Neornithes (PATHd8,
T
Optimal
) is of Early Cretaceous age, 37 MY older than the oldest undisputed neornithean fossil [
10
]. Conflict among methods instead involves the diversification of derived lineages (Figures
3
and
4
). Two patterns can be discerned. First, PATHd8 and Dating5 support bursts of speciation (many lineages arising almost simultaneously), whereas the remaining methods generally support more gradual diversification. Second, and more germane to the 'rock-clock' problem, PATHd8 alone supports an extensive post-K-Pg radiation of Neoaves. For example, from results of the non-autocorrelated rate models in BEAST allowing topological uncertainty (
T
Flexible
; see Figure
4
), not only are the basal splits inferred to have occurred in the Cretaceous, but 37 credibility intervals (green bars) do not overlap the K-Pg boundary. Finally, no support is shown for episodic evolution, either correlated with speciation events ([
52
]; no effect) or an increase in inferred substitution rate either during early diversification or following the K-Pg mass extinction (Figure
5
).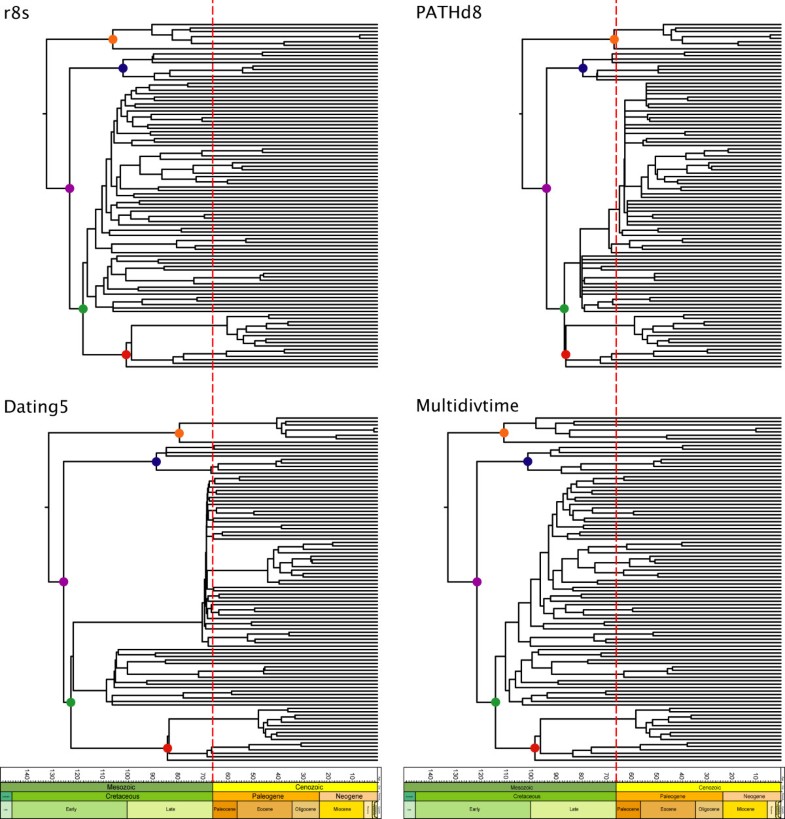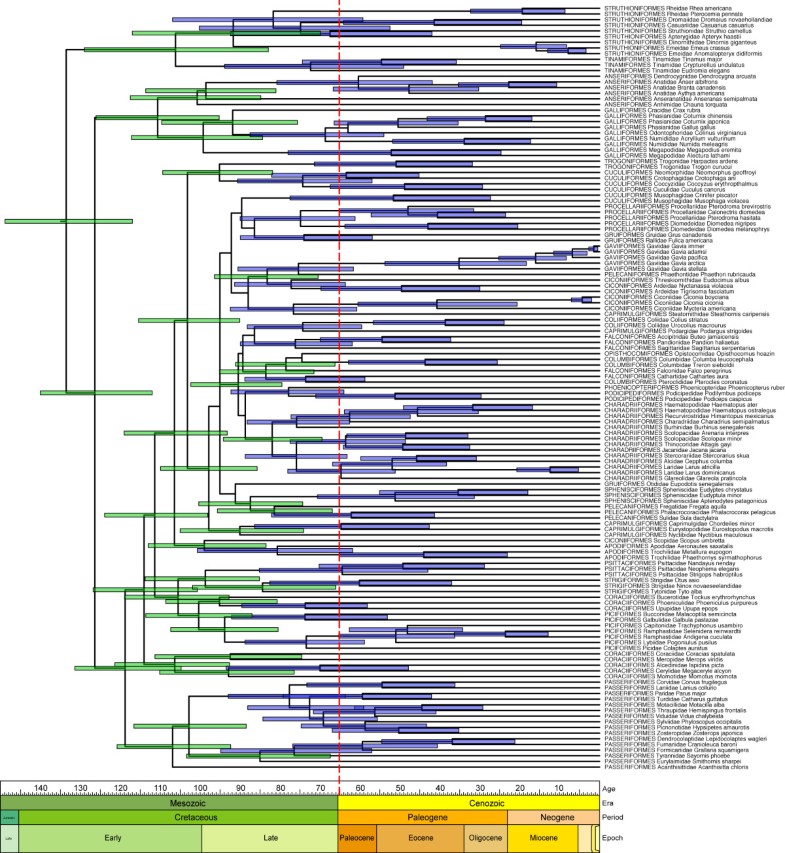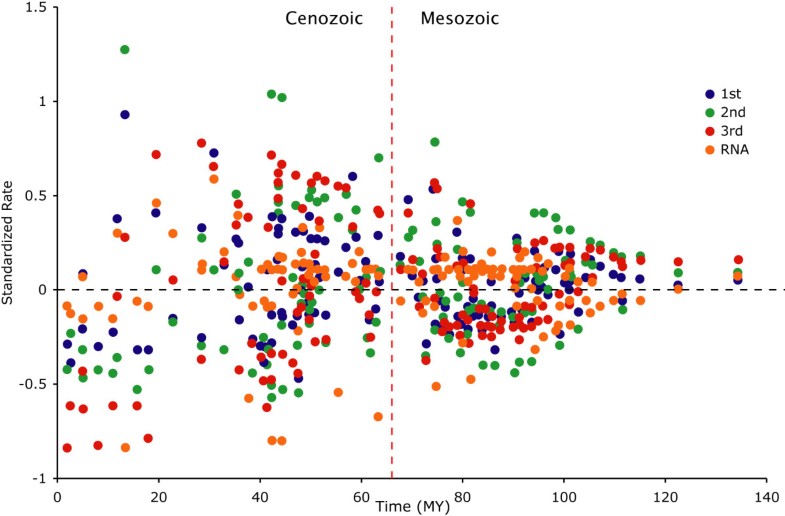 Conclusion
One possible explanation for the discrepancy between molecular and fossil data in dating early divergences of avian lineages has been that the genetic data have been misinterpreted. In this vein, the ancient age estimates reported from previous molecular studies are seen as artefacts of oversimplified or improperly executed methods. Here we have examined this conjecture by accommodating uncertainty in genetic divergence time estimates. Through analyses of a large mtDNA matrix using multiple cladistically tested calibrations, alterative tree topologies and several sophisticated relaxed clock methods we have found that the molecular estimates are robust to varying assumptions about the evolution of evolutionary rates and consistent with those from previous studies. Our findings thus strongly support pre-K-Pg genetic origins for multiple modern bird lineages, including various extant orders and families, in contrast to the model of post-K-Pg diversification derived from a narrow interpretation of the fossil record.
Abbreviations
AIC c :

corrected Akaike Information Criterion
bp:

base pairs
CLOCK:

strict molecular clock
CV:

cross validation
FA:

fossil age
HPD:

highest posterior density
K-Pg:

Cretaceous-Paleogene boundary
MA:

molecular age
MCC:

maximum clade credibility
MCMC:

Markov chain Monte Carlo
MLE:

maximum likelihood estimate
mtDNA:

mitochondrial DNA
MY:

millions years
PL:

penalized likelihood
tMRCA:

time to the most recent common ancestor
UCED:

uncorrelated exponential distribution
UCLN:

uncorrelated lognormal distribution.
Declarations
Acknowledgements
We thank A Stamatakis (RAxML), J Thorne (MULTIDISTRIBUTE) and D Cutler (Dating5) for assistance with their respective software packages, and S Ho for assistance with the new methods available in BEAST. M van Tuinen offered indispensable advice regarding an initial set of fossil constraints and RB Payne provided essential comments on an earlier (encyclopaedic) draft of this manuscript. Three anonymous reviewers offered critical suggestions to improve the manuscript. JWB thanks R Pollard for sustained encouragement throughout. We thank A Baker and A Lindsay for assistance with laboratory work. Funding was provided by the National Science Foundation and the University of Michigan.
Authors' Affiliations
(1)
University of Michigan Museum of Zoology and Department of Ecology and Evolutionary Biology, Ann Arbor, USA
(2)
Department of Ecology and Evolution, University of Chicago, Chicago, USA
(3)
Centre for Biodiversity Conservation Mexico and Central America, Conservation International, Apdo, Costa Rica
(4)
Department of Biology, Boston University, Boston, USA
Copyright
© Brown et al; licensee BioMed Central Ltd. 2008
This article is published under license to BioMed Central Ltd. This is an Open Access article distributed under the terms of the Creative Commons Attribution License (http://creativecommons.org/licenses/by/2.0), which permits unrestricted use, distribution, and reproduction in any medium, provided the original work is properly cited.