Research article
Open Access
Evolution of a polymodal sensory response network
Received: 26 September 2008
Accepted: 15 December 2008
Published: 15 December 2008
Abstract
Background
Avoidance of noxious stimuli is essential for the survival of an animal in its natural habitat. Some avoidance responses require polymodal sensory neurons, which sense a range of diverse stimuli, whereas other stimuli require a unimodal sensory neuron, which senses a single stimulus. Polymodality might have evolved to help animals quickly detect and respond to diverse noxious stimuli. Nematodes inhabit diverse habitats and most nematode nervous systems are composed of a small number of neurons, despite a wide assortment in nematode sizes. Given this observation, we speculated that cellular contribution to stereotyped avoidance behaviors would also be conserved between nematode species. The ASH neuron mediates avoidance of three classes of noxious stimuli in Caenorhabditis elegans. Two species of parasitic nematodes also utilize the ASH neuron to avoid certain stimuli. We wanted to extend our knowledge of avoidance behaviors by comparing multiple stimuli in a set of free-living nematode species.
Results
We used comparative behavioral analysis and laser microsurgery to examine three avoidance behaviors in six diverse species of free-living nematodes. We found that all species tested exhibit avoidance of chemo-, mechano- and osmosensory stimuli. In C. elegans, the bilaterally symmetric polymodal ASH neurons detect all three classes of repellant. We identified the putative ASH neurons in different nematode species by their anatomical positions and showed that in all six species ablation of the ASH neurons resulted in an inability to avoid noxious stimuli. However, in the nematode Pristionchus pacificus, the ADL neuron in addition to the ASH neuron contributed to osmosensation. In the species Caenorhabditis sp. 3, only the ASH neuron was required to mediate nose touch avoidance instead of three neurons in C. elegans. These data suggest that different species can increase or decrease the contribution of additional, non-ASH sensory neurons mediating osmosensation and mechanosensation.
Conclusion
The overall conservation of ASH mediated polymodal nociception suggests that it is an ancestral evolutionarily stable feature of sensation. However, the finding that contribution from non-ASH sensory neurons mediates polymodal nociception in some nematode species suggests that even in conserved sensory behaviors, the cellular response network is dynamic over evolutionary time, perhaps shaped by adaptation of each species to its environment.
Keywords
Sensory NeuronAvoidance BehaviorAvoidance ResponseParasitic NematodeNematode Species
Background
Despite a more than 1000-fold range in the sizes of different nematode species, nematode nervous systems are composed of a small number of neurons: Caenorhabditis elegans, which is 1 mm long, has 302 neurons [1], whereas the parasite Ascaris lumbricoides, which grows to be 20 cm long, has 298 neurons [2]. This constancy in number of neurons suggests a constraint in the nervous system of nematodes.
Free-living nematodes use amphids and phasmids as sensory structures to seek food and avoid harmful stimuli [3, 4]. In C. elegans, the functions of several of the amphidial neurons and their roles in various behaviors have been characterized in detail [3–5]. Parasitic nematodes, on the other hand, use amphids to either actively seek the host (Strongyloides stercoralis) [6, 7] or passively seek the host (Haemonchus contortus) [8, 9]. Electron microscopic reconstruction of the amphids of the free-living nematode C. elegans and several parasitic nematodes such as H. contortus and Ancylostoma caninum, have shown that the sensory neuroanatomy is remarkably similar between the different species [1, 6, 7, 10, 11]. For instance, the amphid sensilla in H. contortus, a passively ingested parasite of sheep, shows the presence of 12 sensory neurons just like in C. elegans [1, 8, 9, 11]. This conservation of neuroanatomy between H. contortus and C. elegans is in perfect correlation with the current phylogeny wherein this parasitic nematode is in the same order as C. elegans [12, 13]. However, it is surprising that even in the distantly related nematode parasite S. stercoralis, there is remarkable similarity of the amphid structure with C. elegans [6, 7, 10]. Given this similarity, it is highly likely that similar cells would mediate the same behaviors across these diverse nematode species.
Studies by Schad and colleagues on the role of homologous neurons mediating chemotaxis, thermotaxis and development in parasitic nematodes have shown that positionally homologous neurons perform similar functions in these species, suggesting that neuronal function is conserved between free-living and parasitic nematodes [10, 14, 15]. Infective juveniles in parasitic nematodes use chemical, physical and thermal signals to find their host and resume development [14, 16, 17]. For instance, the finger cell AFD neurons in H. contortus and the dog hookworm A. caninum act as thermosensors just as in C. elegans [17, 18]. Even in a more distantly related nematode S. stercoralis, ablation of the ASE neuron and ASH neuron resulted in loss of attraction to sodium chloride at lower concentrations and avoidance of high salt concentration respectively [19, 20]. These results suggest that C. elegans can serve as a useful model in understanding the role of different sensory neurons in diverse nematode species.
Involvement of other amphidial neurons such as the ADL neuron in chemorepulsion to SDS in
A. caninum
suggested that the sensory repertoire could change in nematodes [
21
]. We have now extended the work of Schad and colleagues by comparing multiple avoidance behaviors in diverse free-living nematode species to further investigate sensory response evolution. In particular, we studied avoidance responses to aversive stimuli mediated by the polymodal neuron ASH. In
C. elegans
, the bilaterally symmetric pair of 'polymodal nociceptive' ASH neurons mediates stereotyped avoidance to high osmotic strength, certain odorants, nose touch, acidic pH, heavy metals, and alkaloids [
5
,
22
–
25
]. Avoidance of these stimuli involves a highly stereotyped withdrawal response that is well characterized in
C. elegans
[
5
,
26
,
27
] (Figure
1A
). The ASH neuron is also involved in mediating avoidance of high salt concentrations and the detergent sodium dodecyl sulfate (SDS) in the parasitic nematode
S. stercoralis
[
20
,
21
].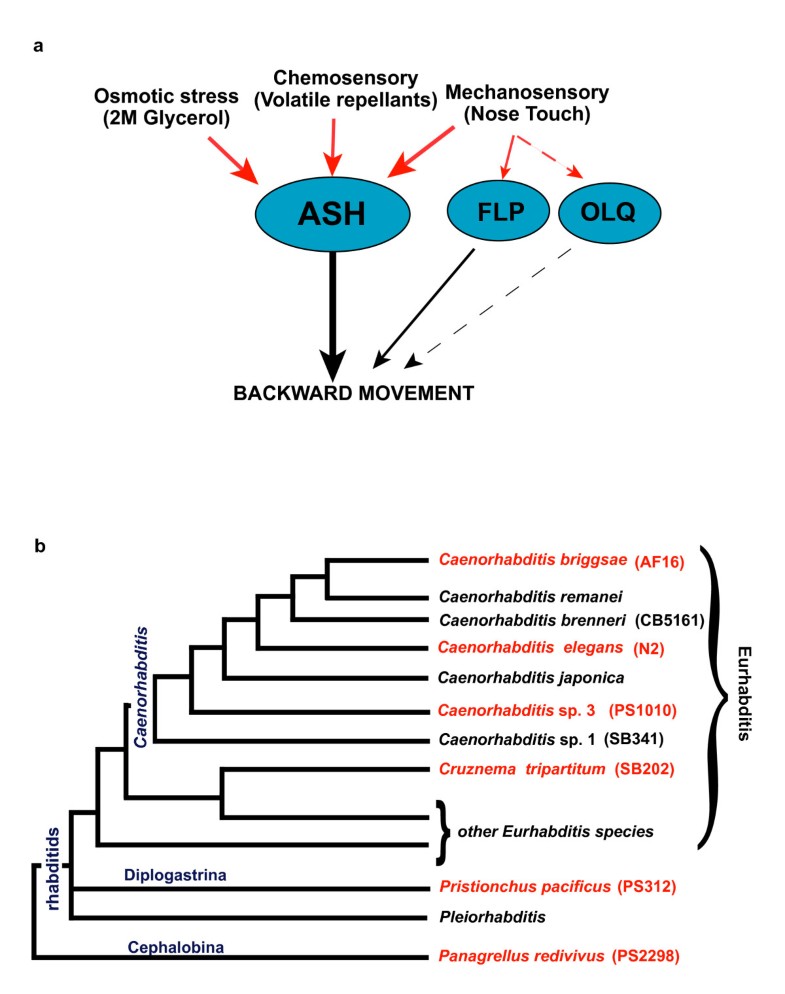 For our comparative analysis, we chose six representative free-living species from different groups of rhabditids with a range of phylogenetic distances to C. elegans (Figure 1B). Based on molecular data, rhabditids can be distinguished into two major clades: the Eurhabditis and the Pleiorhabditis [13]. C. elegans, along with other members of the Caenorhabditis genus, belongs to the Eurhabditis clade [13]. From the genus Caenorhabditis, we chose C. elegans (N2), Ceanorhabditis briggsae (AF16), and the less closely related Caenorhabditis sp. 3 (PS1010) [12, 13]. C. elegans and C. briggsae were isolated from compost and Caenorhabditis sp. 3 (PS1010) was isolated from galleries of palm and sugarcane weevils [28]. Cruznema tripartitum (SB202) is also a member of Eurhabditis but belongs to a different branch than Caenorhabditis [13]. This species has been isolated from different kinds of rotting organic material, and also from garden soil and compost [29]. From the group of diplogastrids, we chose the satellite model system Pristionchus pacificus (PS312) [30, 31], which belongs to a genus that associates with beetles [32]. Panagrellus redivivus (PS2298) was chosen as a representative of the outgroup and has been isolated from sugar-rich environments such as sap of rubber trees and brewery mash [33] (Figure 1B). The choice of nematode species provided a broad phylogenetic spectrum for our comparative analysis.
Conclusion
By comparing multiple aversive behaviors in many nematode species at a cellular level, we demonstrate the relative flexibility of the sensory system of nematodes. This suggests that the sensory architecture mediating certain polymodal behaviors can evolve (Table
2
). We observed that all species tested in our analysis avoided the three different aversive stimuli with the exception of the nematode
C. tripartitum
, which showed a high degree of adaptation to nose touch. Similarly, parasitic nematodes also avoided several aversive stimuli [
14
,
18
,
34
,
47
]. Such conservation of avoidance behaviors in the different nematode species suggests that natural selection maintains these behaviors [
48
,
49
].
Table 2
Comparison of sensory response networks in free-living nematodes
Stimulus

Contributing cells

Species

Caenorhabditis elegans

Caenorhabditissp. 3

Pristionchus pacificus

Octanol

ASH

+++

+++

+++

Nose touch

ASH

++

+++

++

FLP

+

--

ND

OLQ

(+)

--

ND

Osmotic

ASH

+++

+++

++

stress

ADL

--

--

+
At a cellular level, avoidance response to the chemical 1-octanol was mediated by the ASH neuron in all species. In parasitic nematodes, avoidance of high salt concentration and sodium dodecylsulfate is also mediated by the ASH neuron [20, 21]. However, for nose touch response behavior, we observed a reduction in the number of sensory neurons relative to C. elegans, with only the ASH neuron mediating this response in Caenorhabditis sp. 3 as compared with three neurons in C. elegans (ASH, FLP, and OLQ). On the other hand, we see an increase in the set of sensory neurons mediating osmotic stress with the ADL neuron partially mediating osmotic avoidance in P. pacificus along with the ASH neuron (Table 2). We also observed that sensory sensitivity to certain stimuli varied between the different species tested. These differential responses could be attributed to adaptation of the species to their respective niches. For example, P. redivivus has a slower response time in response to 1-octanol and is highly resistant to high osmotic conditions (Figures 4 and 6). Since P. redivivus was isolated from the sap of rubber trees and brewery mash, these responses could be attributed to adaptation to sugar-rich environments.
The conservation of several properties of a multi-functional neuron across diverse lifestyles is not surprising, given the constancy of neuron number in these nematodes. However, to understand how sensory responses evolve, comparison of closely related species is an essential prerequisite. Such studies can uncover selection pressures that act within a shared evolutionary history to cause either differences in their behavior or changes in cellular contribution to these behaviors [50]. These changes may evolve by alterations in the number and type of sensory receptors each neuron expresses, by the efficacy of signal transduction in sensory neurons, or by the strength of connectivity of the neuron to its postsynaptic partners. Our results provide a clear demonstration of change in the relative contributions of nociceptive neurons in a sensory network in diverse free-living nematode species. These studies allow inference of ways in which sensory responses in free-living nematodes might evolve, and suggest how such evolution might occur in medically and agriculturally relevant nematodes.
Declarations
Acknowledgements
We thank the Bargmann Lab and the Hart Lab for advice, and Krisha Begalla and Dorota Korta for help with the behavioral assays, Alon Zaslaver for suggesting the cluster analysis and help in generating Figure 7. We thank Karin Kiontke for the C. tripartitum (SB202) strain and advice on phylogeny. Some nematode strains were provided by the Caenorhabditis Genetics Center. We also thank Cori Bargmann, Ryan Baugh, Takao Inoue, Elissa Hallem, Marie-Anne Felix, Ralf J. Sommer and Karin Kiontke for discussions and comments on the manuscript. JS is an Associate and PWS is an Investigator of the Howard Hughes Medical Institute, which supported this research. OD was supported in part by a Summer Undergraduate Fellowship from Caltech.
Authors' Affiliations
(1)
Howard Hughes Medical Institute, Division of Biology, California Institute of Technology, Pasadena, USA
Copyright
© Srinivasan et al; licensee BioMed Central Ltd. 2008
This article is published under license to BioMed Central Ltd. This is an Open Access article distributed under the terms of the Creative Commons Attribution License (http://creativecommons.org/licenses/by/2.0), which permits unrestricted use, distribution, and reproduction in any medium, provided the original work is properly cited.