Research article
Open Access
Duplicate gene expression in allopolyploid Gossypiumreveals two temporally distinct phases of expression evolution
Received: 12 March 2008
Accepted: 16 April 2008
Published: 16 April 2008
Abstract
Background
Polyploidy has played a prominent role in shaping the genomic architecture of the angiosperms. Through allopolyploidization, several modern Gossypium (cotton) species contain two divergent, although largely redundant genomes. Owing to this redundancy, these genomes can play host to an array of evolutionary processes that act on duplicate genes.
Results
We compared homoeolog (genes duplicated by polyploidy) contributions to the transcriptome of a natural allopolyploid and a synthetic interspecific F1 hybrid, both derived from a merger between diploid species from the Gossypium A-genome and D-genome groups. Relative levels of A- and D-genome contributions to the petal transcriptome were determined for 1,383 gene pairs. This comparison permitted partitioning of homoeolog expression biases into those arising from genomic merger and those resulting from polyploidy. Within allopolyploid Gossypium, approximately 24% of the genes with biased (unequal contributions from the two homoeologous copies) expression patterns are inferred to have arisen as a consequence of genomic merger, indicating that a substantial fraction of homoeolog expression biases occur instantaneously with hybridization. The remaining 76% of biased homoeologs reflect long-term evolutionary forces, such as duplicate gene neofunctionalization and subfunctionalization. Finally, we observed a greater number of genes biased toward the paternal D-genome and that expression biases have tended to increases during allopolyploid evolution.
Conclusion
Our results indicate that allopolyploidization entails significant homoeolog expression modulation, both immediately as a consequence of genomic merger, and secondarily as a result of long-term evolutionary transformations in duplicate gene expression.
Keywords
Diploid ProgenitorDuplicate Gene PairExpression BiasAllotetraploid CottonExpression Evolution
Background
A hallmark of angiosperm genome organization is gene redundancy. Redundant genome segments have been identified in the composition and architecture of modern-day angiosperm genomes suggesting one or more ancient genome duplication events [1–3]. This has led to considerable interest in the evolution of the resulting duplicated genes. A key issue has been the identification of factors that enhance the retention of duplicate gene pairs and their potential for adaptive diversification or subfunctionalization (the partitioning of ancestral function). Mechanisms such as the maintenance of gene dosage and epistatic interactions [4, 5] and epigenetically regulated expression subfunctionalization [6, 7] have been implicated in aiding duplicate gene retention. These processes describe mechanisms of retention for ancient duplicate genes and naturally lead to questions about the evolutionary behavior of duplicate gene pairs in more recently formed polyploid species.
Members of the cotton genus provide a phylogenetic framework to study the evolution of duplicate gene expression in recent polyploids because five diverse allopolyploid species are thought to have diverged from a single allopolyploidization event [
8
], and models of the ancestral diploid progenitor species (denoted by A
2
and D
5
) have been identified (Figure
1A
). In addition, extensive genomic resources, such as comprehensive expressed sequence tag (EST) libraries [
9
], microarray platforms [
10
,
11
], and BAC libraries [
12
] have greatly extended research capabilities. Synthesis of an F
1
hybrid, combining the A- and D-genome diploid model species, offers the opportunity to untangle the effects of genomic merger from those arising from genome doubling and subsequent evolutionary change. This phylogenetic framework facilitates the study of gene expression from co-resident genomes on two temporal scales, from the onset of hybridization to a longer-term evolutionary timeframe encompassed by the natural allotetraploid species.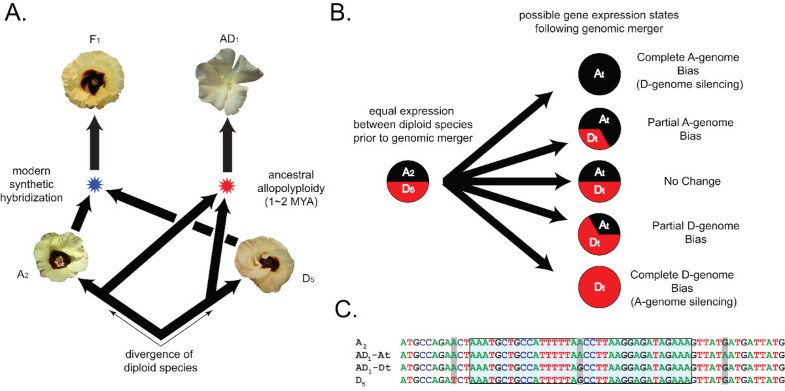 Adams et al [6] demonstrated that homoeolog expression in allotetraploid cotton has been strongly influenced by developmentally regulated, organ-specific silencing, resulting in subfunctionalization of the aggregate ancestral expression profile. This subfunctionalization may occur immediately after polyploidization or may arise over a longer period of evolutionary resolution [13, 14]. The net effect is a process that appears to impose a form of selective retention on both homoeologs. Thus, expression subfunctionalization leads to prolonged duplicate gene retention, which may in turn enhance the potential for spatial, temporal, or functional divergence of duplicated genes.
Here we employ a novel microarray technology, which uses homoeolog specific probe sets, to assess the relative contribution of 1,383 homoeologous gene pairs to the transcriptome of natural allopolyploid Gossypium hirsutum and a synthetic, diploid F1 hybrid (denoted as AD1 and F1, respectively). We show that the two genomes contribute unequally to the total transcriptome of the allopolyploid. By comparing these entities we demonstrate that, for a substantial fraction of the genome, homoeolog expression biases occur immediately with the onset of genomic merger. In addition, a greater number of homoeolog expression biases appear in allopolyploid cotton that likely were not instigated by genomic merger. These findings indicate that upon allopolyploid formation, homoeolog expression biases happen in two, distinct temporal phases.
Results
Assessment of microarray quality
We analyzed the relative A- and D-genome contributions to the transcriptome of a synthetic F1 hybrid and AD1 allotetraploid cotton. This was done by comparing these mixed transcriptomes with the A2 and D5 model progenitors as well as with a 1:1 mix of A2 and D5 (Figure 1A). In total, 7,574 homoeolog-specific probe sets (around 33% of all possible) representing 1,383 unique EST contigs (hereafter referred to as genes) were identified as being reciprocally diagnostic with respect to identifying A- and D-genome specific expression in the F1 hybrid and allotetraploid cotton. Thus, using conservative measures (false discovery rate (FDR) ≤ 0.05), we recovered 1,383 diagnostic genes, representing 2.6% (see [15]) to 4% (J Hawkins, personal communication) of the genic content of the cotton genome. As expected, a principal component analysis on the natural log differences of A- and D-genome expression distinguished among all accessions, placing the AD1, F1, and 1:1 mix values intermediate between A2 and D5 along the first axis (see Figure S1 in Additional file 1). This indicates that the homoeolog-specific probes have performed as designed, and can be expected to yield useful estimates of A- and D-genome contributions to the transcriptome. Furthermore, quantitative mass-spectrometry validation of 12 homoeologous gene pairs from AD1 and 13 homoeologous gene pairs from F1 indicate that our findings regarding homoeolog-specific expression are reproducible (comparisons between platforms yielded R 2 values of 0.37 and 0.39 and p-values of 0.035 and 0.022, for AD1 and F1, respectively; see Figure S2 in Additional file 1).
Detection of genome expression biases in polyploid and F1 Gossypium
For each gene, a linear model was fit to the three replicate measures of relative A- and D-genome contributions. Using FDR corrected
p
-values (FDR ≤ 0.15) from this model, each gene from the AD
1
and F
1
samples was categorized as 'A-biased' (log ratio ((ln(A
probe
) – ln(D
probe
)) statistically greater than 1:1 mix), 'D-biased' (log ratio statistically less than 1:1 mix) or 'Equivalent' (log ratio not statistically different from 1:1 mix); see Figure
2A
. This categorization system is a rudimentary representation of the spectrum of homoeolog expression values, however, all categorizations presented here are based on known reference samples, which mitigates the effects of differential hybridization among homoeolog-specific probe pairs. In addition, this categorization is a
statistical
description of genome-specific transcript ratios and not a declaration of biological relevance (as pertaining to phenotype) of biases, which are unknown at present. Using this approach, many diagnostic gene pairs (29.9% (414 out of 1,383) of AD
1
and 69.5% (961 out of 1,383) of F
1
) were inferred to be equivalently expressed in petals. We infer that these gene pairs showed no statistically significant change in homoeologous (or allelic for the F
1
hybrid) contribution to the transcriptome relative to the
in vitro
mid-parent value. Among those genes exhibiting biased expression, there was an approximately 1.3
x
and 2.5
x
overrepresentation of the D-genome biased genes in petal tissues of AD
1
and F
1
, respectively (Figure
2A, B
). In addition, we detected 46 AD
1
and 6 F
1
genes that appear to be A-genome silenced and 69 AD
1
and 5 F
1
genes that are D-genome silenced, indicating a significant increase in silencing in the AD
1
allopolyploid in both the A- and D-genomes. For a limited sampling of genes, expression biases comparable to those above have been demonstrated previously in cotton [
6
,
13
,
14
,
16
].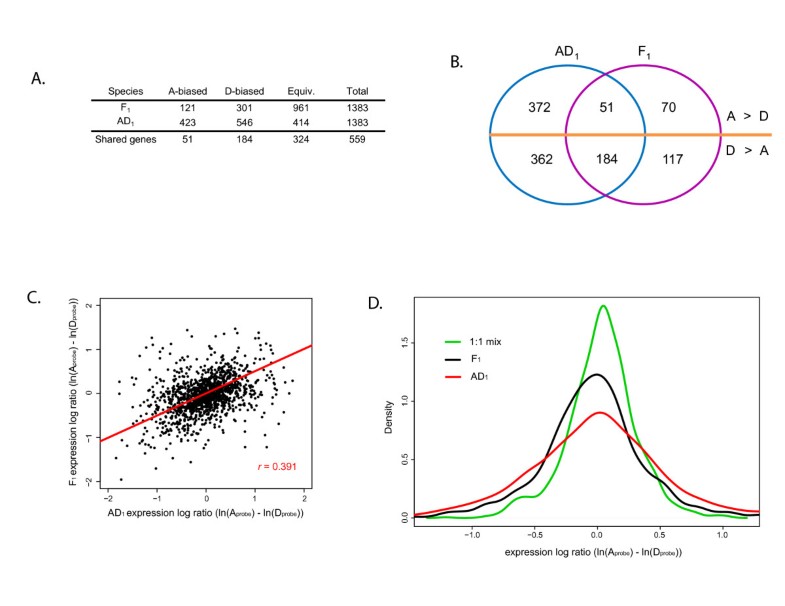 Comparisons between hybridization (F1) and allopolyploidization (AD1)
The comparison between the artificially synthesized F1 hybrid and the 1–2 MY old natural allopolyploid, G. hirsutum (AD1), allows us to assess the role genomic merger plays in the allopolyploidization process [14, 17]. The inclusion of model A- and D-genome diploid progenitors facilitates inference of ancestral expression states and, hence, the directionality and pace of expression evolution (Figure 1A, B). An additional temporal dimension to the analysis concerns homoeolog-specific expression biases detected in the AD1 allopolyploid that were also detected in the F1 hybrid (Figure 2B, C). This is demonstrated by both the sizable set of shared genes found within all expression categories (Figure 2A) and the positive correlation (Pearson's r = 0.391; p-value < 2.2 × 10-16) between estimates of genomic contribution in the F1 hybrid compared with those from the allopolyploid (Figure 2C). Overall around 24% (235 out of 969) of the genes with an A- or D-genome expression bias in the polyploid are also found to be biased in the same direction in the F1 hybrid. This indicates that a significant portion of the expression evolution associated with allopolyploidization may have accompanied the initial genomic merger.
An additional directional trend in the data is a tendency for the allopolyploid genes to exhibit more extreme expression biases (Figure 2D). Both the A- and D-genome biased genes demonstrate a greater number of more extremely biased AD1 genes, when compared with the F1 (1 and 18 gene(s), respectively, for shared A- and D-biased sets). In addition, paired t-test for equality between AD1 and F1 values confirm that the differences in means between AD1 and F1 are significantly different for D-biased genes (AD1 mean = -0.45 and F1 mean = -0.36; p-value = 6.63 × 10-5), and marginally non-significant for A-biased genes (AD1 mean = 0.46 and F1 mean = 0.37; p-value = 0.07). Thus, for genes with immediate expression biases toward one parental Gossypium genome, stabilization and evolution of the allopolyploid genome preferentially continues to enhance this initial bias.
Conclusion
These results extend previous findings of homoeolog expression biases in hybrid and allotetraploid cotton [6, 11, 13, 14, 16]. By employing microarray technology to analyze a large number of genes, we describe the general phenomenon of genomic expression bias in both a modern synthetic F1 hybrid and an ancient allotetraploid. Furthermore, for petal tissues, these biases favor the parental D-genome and have become more extreme in the allotetraploid when compared with the F1 hybrid. By comparing homoeolog contributions to the transcriptome from the F1 hybrid and AD1 allotetraploid, it was possible determine the role of genomic merger in producing homoeolog expression biases. Given this comparison, we have shown that a significant fraction of the expression biases found in the allotetraploid is likely initiated immediately by genomic merger. A still larger fraction of the expression biases is inferred to have arisen from long-term evolutionary processes, thus implicating two temporally distinct phases of expression evolution following allopolyploidization.
Declarations
Acknowledgements
We thank J Stewart and D Stelly for generation and contribution of the F1 hybrid used in this study. B Stupar and N Springer offered invaluable advice and technical support regarding the Sequenom microarray platform. This research was supported by a grant from the National Science Foundation (to JW) and a grant from the US Department of Agriculture (to JW and JU), and by an Iowa State University Plant Sciences Institute Fellowship (to LF).
Authors' Affiliations
(1)
Department of Ecology, Evolution, and Organismal Biology, Iowa State University, Ames, USA
(2)
Department of Plant and Wildlife Sciences, Brigham Young University, Provo, USA
(3)
Department of Statistics, Iowa State University, Ames, USA
Copyright
© Flagel et al; licensee BioMed Central Ltd. 2008
This article is published under license to BioMed Central Ltd. This is an Open Access article distributed under the terms of the Creative Commons Attribution License (http://creativecommons.org/licenses/by/2.0), which permits unrestricted use, distribution, and reproduction in any medium, provided the original work is properly cited.