Research article

Open Access
Hue-shifted monomeric variants of Clavulariacyan fluorescent protein: identification of the molecular determinants of color and applications in fluorescence imaging
Received: 15 February 2008
Accepted: 06 March 2008
Published: 06 March 2008
Abstract
Background
In the 15 years that have passed since the cloning of Aequorea victoria green fluorescent protein (avGFP), the expanding set of fluorescent protein (FP) variants has become entrenched as an indispensable toolkit for cell biology research. One of the latest additions to the toolkit is monomeric teal FP (mTFP1), a bright and photostable FP derived from Clavularia cyan FP. To gain insight into the molecular basis for the blue-shifted fluorescence emission we undertook a mutagenesis-based study of residues in the immediate environment of the chromophore. We also employed site-directed and random mutagenesis in combination with library screening to create new hues of mTFP1-derived variants with wavelength-shifted excitation and emission spectra.
Results
Our results demonstrate that the protein-chromophore interactions responsible for blue-shifting the absorbance and emission maxima of mTFP1 operate independently of the chromophore structure. This conclusion is supported by the observation that the Tyr67Trp and Tyr67His mutants of mTFP1 retain a blue-shifted fluorescence emission relative to their avGFP counterparts (that is, Tyr66Trp and Tyr66His). Based on previous work with close homologs, His197 and His163 are likely to be the residues with the greatest contribution towards blue-shifting the fluorescence emission. Indeed we have identified the substitutions His163Met and Thr73Ala that abolish or disrupt the interactions of these residues with the chromophore. The mTFP1-Thr73Ala/His163Met double mutant has an emission peak that is 23 nm red-shifted from that of mTFP1 itself. Directed evolution of this double mutant resulted in the development of mWasabi, a new green fluorescing protein that offers certain advantages over enhanced avGFP (EGFP). To assess the usefulness of mTFP1 and mWasabi in live cell imaging applications, we constructed and imaged more than 20 different fusion proteins.
Conclusion
Based on the results of our mutagenesis study, we conclude that the two histidine residues in close proximity to the chromophore are approximately equal determinants of the blue-shifted fluorescence emission of mTFP1. With respect to live cell imaging applications, the mTFP1-derived mWasabi should be particularly useful in two-color imaging in conjunction with a Sapphire-type variant or as a fluorescence resonance energy transfer acceptor with a blue FP donor. In all fusions attempted, both mTFP1 and mWasabi give patterns of fluorescent localization indistinguishable from that of well-established avGFP variants.
Keywords
Fluorescence Resonance Energy TransferLive Cell ImagingPhenolate RingFluorescence Emission MaximumImidazolinone
Background
In 1992 the scientific community was gifted with a research tool that profoundly and irreversibly changed the way researchers approach the study of protein function in live cells [1]. The tool was, of course, the gene encoding the Aequorea victoria green fluorescent protein (avGFP) [2]. Soon after the first demonstrations of functional expression of the gene encoding avGFP in organisms other than jellyfish [3, 4], published reports of the use of fluorescent proteins (FPs) for microscopy applications 'took off' [5]. Since that time, the impact of FPs on the life sciences has continued to increase with each passing year and this growth shows no signs of slowing [5]. One important driving force behind the ever-increasing popularity of FPs is the fact that researchers continue to create FPs with wavelength-shifted absorbance and/or emission wavelengths and/or improved or novel properties (for example, increased brightness, improved photostability or photoactivation) [6, 7]. Improved FPs facilitate life science research by minimizing technical hurdles that otherwise complicate their use in imaging applications. For example, FPs with improved photostability enable time-lapse imaging over greater durations. FPs with novel properties can inspire the development of entirely new applications that would otherwise be impractical or even impossible. This has certainly been the case with photoactivatable FPs that have enabled cellular imaging at resolutions beyond the diffraction limit [8].
The availability of engineered avGFP variants with altered color, where color refers to the absorbance and/or fluorescence emission spectral profiles, has been a boon to life science research. Access to a wide ranging FP color palette has allowed researchers to simultaneously track multiple proteins or use fluorescence resonance energy transfer (FRET) to detect protein-protein interactions in a live cell [
9
]. Fortunately, avGFP has been a fertile source of new colors of FPs. The main classes of color variants derived from avGFP include those that are blue fluorescent [
10
], cyan fluorescent [
11
], cyan-excitable green fluorescent [
12
], UV-excitable green fluorescent [
13
] and yellow fluorescent [
14
]. Coral is also an abundant source of FPs [
15
,
16
] and in recent years this treasure trove, which includes variants with fluorescent hues ranging from cyan to far-red, has yielded a number of exciting new variants [
6
,
17
,
18
]. For example, we recently described [
19
] the engineering of a codon optimized and monomeric version of cFP484, a tetrameric cyan FP (CFP) from
Clavularia
coral [
15
]. The resulting protein, known as monomeric teal FP (mTFP1), has an anionic tyrosine-derived chromophore that is chemically identical to that of enhanced avGFP (EGFP; see Figure
1A
). However, the absorbance and fluorescence emission maxima of mTFP1 (emission maximum = 492 nm) are blue shifted by about 15 nm relative to EGFP (emission maximum = 507 nm) owing to numerous amino acid differences in the chromophore-containing cavity [
19
,
20
] (compare Figures
2A
and
2C
and see Figure
3A
). We have demonstrated that mTFP1 is a favorable alternative to avGFP-derived CFPs with tryptophan-derived chromophores such as enhanced CFP (ECFP) or Cerulean [
11
]. The specific advantages of mTFP1 include a narrower and single-peaked emission spectrum, improved brightness and improved photostability [
19
].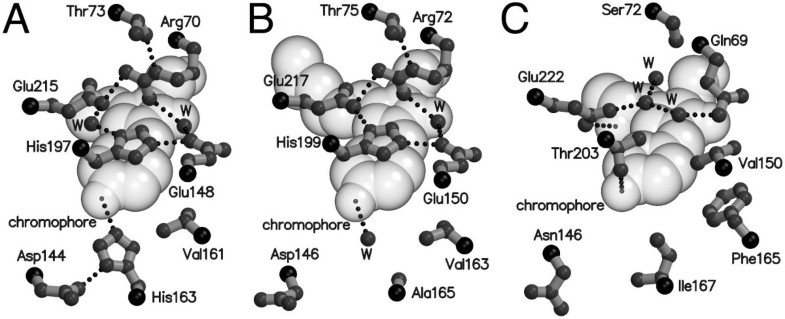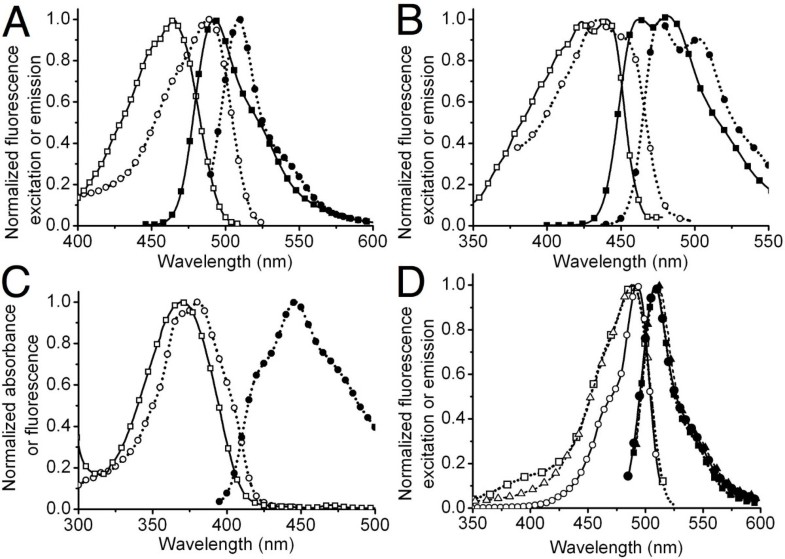 In this work we report on our efforts to engineer a series of new colors of mTFP1-derived FPs through the use of site-directed mutagenesis and random mutagenesis with library screening. This work has provided important insight into the amino acid determinants of color in mTFP1. In addition we have undertaken a thorough assessment of mTFP1 fusion proteins to determine whether such constructs exhibit their expected pattern of subcellular localization. Together these new results further establish mTFP1, and its suitably optimized hue-shifted variants, as useful new additions to the toolkit of FPs for cell biology research.
Conclusion
In this manuscript we have described a series of mutagenesis experiments that have provided fundamental insight into the amino acids that dictate the color of the mTFP1 chromophore. Our data supports the conclusion that His163 and His197 act in an independent and additive fashion to increase the energy of the electronic transitions responsible for absorbance and fluorescence. Although determining the precise details of the mechanism are beyond the scope of this paper, our results are consistent with a previous proposal that electrostatic stabilization of charge density on the phenolate ring is a general means of achieving blue-shifted emission in FPs [20].
Our investigations into the amino acid determinants of the color of mTFP1 led us to a series of hue-shifted variants, one of which was subjected to further engineering and directed evolution to eventually produce mWasabi. While mWasabi is an exceptionally bright and reasonably photostable GFP, we readily acknowledge that for most experiments EGFP or Emerald should remain the GFP of choice. However, there are a number of specific applications, such as two-color imaging in conjunction with a Sapphire-type variant or as a FRET acceptor with a BFP donor, where the negligible excitation of mWasabi at 400 nm provides a substantial benefit. Both mTFP1 and mWasabi are well behaved in protein chimeras, offering a bright and photostable fluorescent signal with no significant perturbation of the localization or function of the protein of interest. This combination of desirable features firmly establishes mTFP1 and mWasabi as useful members of the FP toolkit.
Methods
General methods
Synthetic DNA oligonucleotides for cloning and library construction were purchased from Integrated DNA Technologies (Coralville, IA). PCR products and products of restriction digests were purified by gel electrophoresis and extraction using either the GenCatch™ gel extraction kit (Epoch Biolabs, TX) or the QIAquick™ gel extraction kit (QIAGEN, Valencia, CA). Plasmid DNA was purified from overnight cultures by using either the GeneJET™ Plasmid Miniprep Kit (Fermentas, ON) or the QIAprep Spin Miniprep kit (QIAGEN, Valencia, CA). Restriction endonucleases were purchased from either Invitrogen or New England Biolabs. Dye terminator cycle sequencing using the DYEnamic ET kit (Amersham Biosciences) was used to confirm the complete cDNA sequences for all FP variants and fusion constructs. Sequencing reactions were analyzed at the University of Alberta Molecular Biology Service Unit and the Florida State University Bioanalytical and Molecular Cloning DNA Sequencing Laboratory. All filters for fluorescence screening and imaging were purchased from Chroma Technology (Rockingham, VT), Omega Filters (Brattleboro, VT) and Semrock (Rochester, NY). The nucleotide sequence of mWasabi has been deposited in the GenBank® nucleotide sequence database under accession number EU024648.
Mutagenesis and library construction
Mutagenesis was performed by overlap PCR or error-prone PCR as described previously [19]. The PCR products were digested with Xho1 and EcoR1 and ligated into pBAD/His B vector digested with the same two enzymes (Invitrogen). The crude ligation mixture was used to transform electrocompetent E. coli strain DH10B (Invitrogen) which were then plated on Luria-Bertani (LB)/agar plates supplemented with ampicillin (0.1 mg/ml) and l-arabinose (0.02%). Plates were incubated for 14 h at 37°C prior to picking individual colonies (in the case of site-directed mutagenesis for creation of blue shifted variants) or fluorescence-based library screening for red shifted variants.
Library screening
The screening system has been described previously [10] and is only described here in brief. The light from a 175 W xenon-arc lamp (Sutter) was passed through a bandpass filter selecting for 460–490 nm light. The light passed into a bifurcated fiber optic bundle (Newport) positioned to illuminate a Petri dish harboring bacterial colonies. The fluorescence emission of the colonies was screened by eye using tinted plastic goggles that block light with a wavelength of less than 500 nm. Colonies with more intense fluorescence were picked for further investigation. Colonies of interest were cultured overnight in 4 ml LB medium containing ampicillin (0.1 mg/ml) and l-arabinose (0.2%). The following day 0.1 ml of each culture was dispensed into individual wells of a clear bottom 96-well plate (Nunc) and the full emission spectra of each variant measured with a Safire2 plate reader equipped with monochromators (Tecan). Variants with the most intense and red-shifted fluorescence emission were used as templates in the subsequent round of library construction.
Protein purification and characterization
For production of protein, E. coli strain LMG194 was transformed with the pBAD/His B expression vector containing the FP gene of interest. A single colony was used to inoculate a 4 ml culture that was allowed to grow overnight (37°C, 225 rpm) before being diluted into 1 l of LB medium supplemented with ampicillin and l-arabinose. The culture was grown for 12 h before cells were harvested by centrifugation and lysed by French Press. Proteins were purified by Ni-NTA chromatography (Amersham). Absorption spectra were recorded on a DU-800 UV-visible spectrophotometer (Beckman) and fluorescence excitation and emission spectra were recorded on a Safire2 plate reader. Reference standards for determining the quantum yields of BFP or GFP variants were quinine sulfate in 0.1 M H2SO4 or EGFP, respectively. Extinction coefficients were calculated using the protein concentration as determined by the bicinchoninic acid (BCA) method (Pierce) and the chromophore absorbance as determined by UV-visible spectroscopy. For fluorescence pKa measurements, the protein of interest was first dialyzed into dilute buffer (5 mM Tris HCl, pH 7.5) before being diluted into a series of 200 mM phosphate and imidazole buffers at various pH values. Fluorescence intensity was measured using a Safire2 plate reader.
Photostability measurements
For photostability measurements of green-fluorescing variants, microdroplets of either the purified protein (100 μM) or E. coli culture (previously transformed with the expression plasmid and induced) was mixed with mineral oil and vortexed. Approximately 5 μl of this suspension was sandwiched between a glass slide and a glass cover slip. Individual drops were identified by fluorescence microscopy and subjected to photobleaching as previously described [10]. For all experiments, EGFP was subjected to bleaching under identical conditions and used as a reference standard.
Mammalian expression vectors
To create the Sapphire-actin and mWasabi-NLS vectors, the genes encoding Sapphire (also known as H9-40) [2, 13, 33] and mWasabi were PCR amplified with a 5' primer encoding an NheI site and a 3' primer encoding an XhoI site. The purified and digested PCR products were ligated into pEGFP-actin or pEYFP-Nucleus (Clontech), respectively, which had been previously digested with the same restriction enzymes to excise the FP coding sequence. An analogous nuclear localization construct was made for EGFP. All of the other mTFP1 and mWasabi vectors were constructed using C1 and N1 (Clontech-style) cloning vectors. The FPs were amplified with a 5' primer encoding an AgeI site and a 3' primer encoding either a BspEI (C1) or Not1 (N1) site. The purified and digested PCR products were ligated into similarly digested EGFP-C1 and EGFP-N1 cloning vector backbones. To generate fusion vectors, the appropriate cloning vector and an EGFP fusion vector were digested, either sequentially or doubly, with the appropriate enzymes and ligated together after gel purification. Thus, to prepare mTFP1 and mWasabi N-terminal fusions, the following digests were performed: human non-muscle α-actinin, EcoRI and NotI (vector source, Tom Keller, FSU); human cytochrome C oxidase subunit VIII, BamHI and NotI (mitochondria, Clontech); human zyxin, BamHI and NotI (Clare Waterman-Storer, NIH); rat α-1 connexin-43 and rat β-2 connexin-26, EcoRI and BamHI (Matthias Falk, Lehigh University); human H2B, BamHI and NotI (George Patterson, NIH); N-terminal 81 amino acids of human β-1,4-galactosyltransferase, BamHI and NotI (Golgi, Clontech); human microtubule-associated protein EB3, BamHI and NotI (Lynne Cassimeris, Lehigh University); human vimentin, BamHI and NotI (Robert Goldman, Northwestern University); human keratin 18, EcoRI and NotI (Open Biosystems, Huntsville, AL); chicken paxillin, EcoRI and NotI (Alan Horwitz, University of Virginia); rat lysosomal membrane glycoprotein 1, AgeI and NheI (George Patterson, NIH); endoplasmic reticulum (calreticulin signal sequence and KDEL retention sequence), AgeI and EcoRI (Clontech). To prepare mTFP1 and mWasabi C-terminal fusions, the following digests were performed: human β-actin, NheI and BglII (Clontech); human α-tubulin, NheI and BglII (Clontech); human light chain clathrin, NheI and BglII (George Patterson, NIH); human lamin B1, NheI and BglII (George Patterson, NIH); human fibrillarin, AgeI and BglII (Evrogen); human vinculin, NheI and EcoRI (Open Biosystems, Huntsville, AL); peroximal targeting signal 1 (PTS1 – peroxisomes), AgeI and BspEI (Clontech); chicken protein tyrosine kinase 2, AgeI and BglII (Clare Waterman-Storer, NIH); human annexin (A4), AgeI and BspEI (Alen Piljic, EMBL, Heidelberg); human RhoB GTPase with an N-terminal c-Myc epitope tag (endosomes), AgeI and BspEI (Clontech); and the 20-amino acid farnesylation signal from c-Ha-Ras, AgeI and BspEI (membrane, Clontech). DNA for mammalian transfection was prepared by either the Plasmid Midi or Maxi kit (QIAGEN).
Live cell imaging
HeLa epithelial (CCL-2, ATCC) and gray fox lung fibroblast (CCL-168, ATCC) cells were either cultured and transfected as described previously [19], or grown in a 50:50 mixture of DMEM and Ham's F12 with 12.5% Cosmic calf serum (Hyclone) and transfected with Effectene (QIAGEN). For dual-color imaging, the two expression plasmids were pre-mixed in a 1:1 ratio before transfection. Widefield live cell imaging was performed with a Zeiss Axiovert 200 M microscope equipped with appropriate filter sets (Chroma), a Nikon TE-2000 inverted microscope equipped with Omega filters, or an Olympus IX71 equipped with Semrock filters. Laser scanning confocal microscopy was conducted on a Nikon C1Si and an Olympus FV1000, both equipped with argon-ion 457 and 488 nm lasers and proprietary filter sets. Spinning disk confocal microscopy was performed on an Olympus DSU-IX81 equipped with a Lumen 200 illuminator (Prior, Boston, MA), Semrock filters, and 10-position filter wheels driven by a Lambda 10-3 controller (Sutter, Novato, CA).
Sapphire fluorescence was measured using a 375–415 nm bandpass excitation filter, a 475 nm longpass beamsplitter, and 500–550 nm bandpass emission filters. mTFP1 was imaged with a CFP filter set (96188, Nikon) or a custom set composed of a 430–460 nm bandpass excitation filter, a 475 nm longpass beamsplitter, and a 480–520 nm bandpass emission filter. EGFP and mWasabi were imaged using either a standard EGFP filter set (41017, Chroma), a QuantaMaxTM Green set (Omega), or a BrightLine GFP set (3035B, Semrock).
Abbreviations
avGFP:

Aequorea victoria GFP
BFP:

blue FP
CFP:

cyan FP
ECFP:

enhanced CFP
EGFP:

enhanced avGFP
FP:

fluorescent protein
FRET:

fluorescence resonance energy transfer
GFP:

green FP
LB:

Luria-Bertani
mTFP:

monomeric teal FP
NLS:

nuclear localization signal
PCR:

polymerase chain reaction
YFP:

yellow FP.
Declarations
Acknowledgements
This research was made possible with financial support from the University of Alberta, CFI, NSERC and Alberta Ingenuity. PW was supported by an NSERC USRA. The authors are grateful to Aillette Sierra Mulet, Kristin Hazelwood, Anna Ozarowska, John D Griffin and Christopher Murphy for technical assistance, S James Remington and J Nathan Henderson for helpful discussion and the University of Alberta MBSU for analysis of DNA sequencing reactions. REC holds a Canada Research Chair in Bioanalytical Chemistry. New fluorescent proteins that originate from the Campbell lab and are described in this manuscript are covered by a US patent application owned by the University of Alberta.
Authors' Affiliations
(1)
Department of Chemistry, University of Alberta, Edmonton, Canada
(2)
National High Magnetic Field Laboratory and Department of Biological Science, Florida State University, Tallahassee, USA
Copyright
© Ai et al; licensee BioMed Central Ltd. 2008
This article is published under license to BioMed Central Ltd. This is an Open Access article distributed under the terms of the Creative Commons Attribution License (http://creativecommons.org/licenses/by/2.0), which permits unrestricted use, distribution, and reproduction in any medium, provided the original work is properly cited.