Research article

Open Access
Systematics and plastid genome evolution of the cryptically photosynthetic parasitic plant genus Cuscuta(Convolvulaceae)
Received: 12 October 2007
Accepted: 13 December 2007
Published: 13 December 2007
Abstract
Background
The genus Cuscuta L. (Convolvulaceae), commonly known as dodders, are epiphytic vines that invade the stems of their host with haustorial feeding structures at the points of contact. Although they lack expanded leaves, some species are noticeably chlorophyllous, especially as seedlings and in maturing fruits. Some species are reported as crop pests of worldwide distribution, whereas others are extremely rare and have local distributions and apparent niche specificity. A strong phylogenetic framework for this large genus is essential to understand the interesting ecological, morphological and molecular phenomena that occur within these parasites in an evolutionary context.
Results
Here we present a well-supported phylogeny of Cuscuta using sequences of the nuclear ribosomal internal transcribed spacer and plastid rps2, rbcL and matK from representatives across most of the taxonomic diversity of the genus. We use the phylogeny to interpret morphological and plastid genome evolution within the genus. At least three currently recognized taxonomic sections are not monophyletic and subgenus Cuscuta is unequivocally paraphyletic. Plastid genes are extremely variable with regards to evolutionary constraint, with rbcL exhibiting even higher levels of purifying selection in Cuscuta than photosynthetic relatives. Nuclear genome size is highly variable within Cuscuta, particularly within subgenus Grammica, and in some cases may indicate the existence of cryptic species in this large clade of morphologically similar species.
Conclusion
Some morphological characters traditionally used to define major taxonomic splits within Cuscuta are homoplastic and are of limited use in defining true evolutionary groups. Chloroplast genome evolution seems to have evolved in a punctuated fashion, with episodes of loss involving suites of genes or tRNAs followed by stabilization of gene content in major clades. Nearly all species of Cuscuta retain some photosynthetic ability, most likely for nutrient apportionment to their seeds, while complete loss of photosynthesis and possible loss of the entire chloroplast genome is limited to a single small clade of outcrossing species found primarily in western South America.
Keywords
Internal Transcribe Spacer
rbcL
Plastid Genome
Photosynthetic Gene
Plastid Genome Sequence
Background
Between 150 and 200 species of
Cuscuta
have been described, and they are distributed widely on every continent except Antarctica [
1
]. These parasites have no roots at maturity and their leaves are reduced to minute scales. As such, few morphological characters exist to distinguish and classify species outside of the flower and fruit. Style and stigma morphology, capsule dehiscence and corolla and calyx shape and size form the basis of existing monographical studies [
1
–
3
]. Engelmann [
2
] separated
Cuscuta
into three subgenera on the basis of style fusion and stigma shape. Members of subgenus
Monogyna
have the two styles fused for most or all of their length, and consist of thick-stemmed species that commonly parasitize trees and shrubs; subgenera
Cuscuta
and
Grammica
have free styles, with stigmas being globose in subgenus
Grammica
and elongate in subgenus
Cuscuta
(Figure
1
). The last full monograph of the genus completed by Yuncker [
1
] recognized nine species in
Monogyna
, distributed primarily in Eurasia and Africa with one species,
Cuscuta exaltata
Engelmann, having a disjunctive distribution in the southern United States in the scrub habitat of Florida and Texas. The 28 species in subgenus
Cuscuta
recognized by Yuncker have native ranges restricted to, but widely distributed in, the Old World. Subgenus
Grammica
, with 121 species recognized by Yuncker, is almost completely limited to the New World, with a handful of exceptions in Asia, Africa and the Pacific islands, including Tasmania and Australia.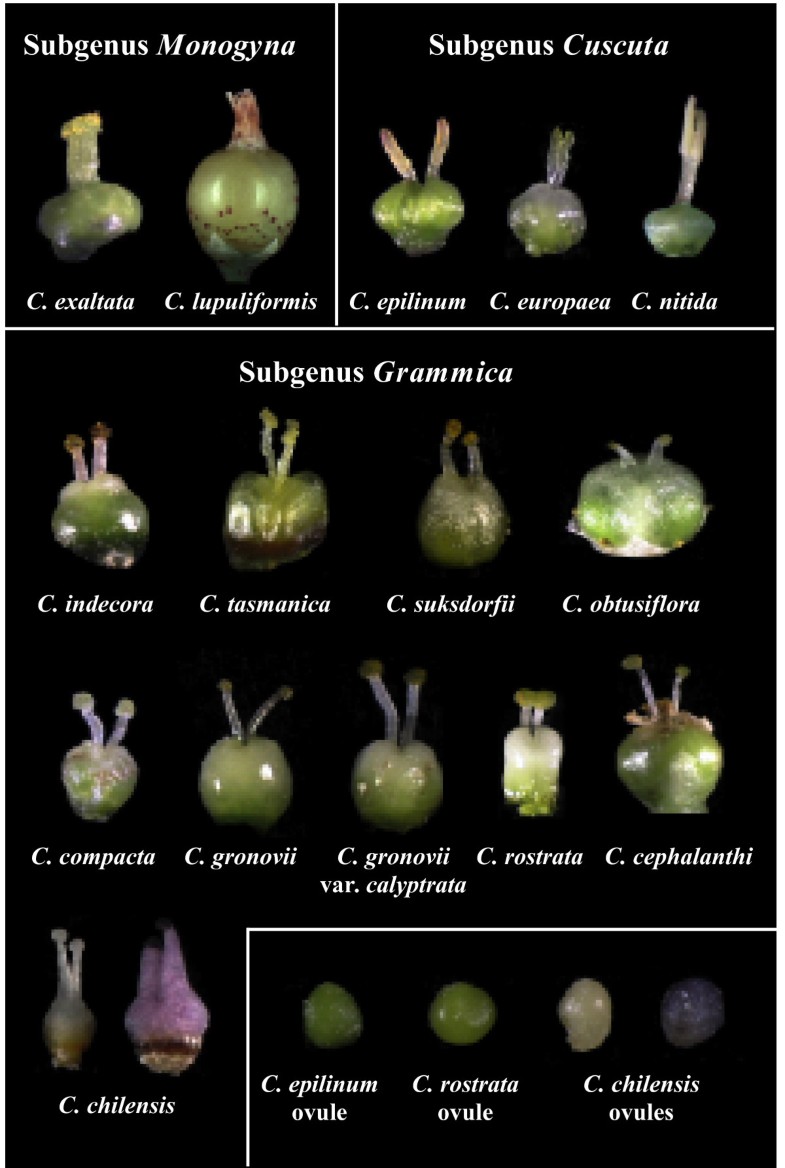 Engelmann [2] further divided each of the subgenera into sections based on stigma morphology and capsule dehiscence. Monogyna consists of two sections; the first, Callianche, contains only Cuscuta reflexa Roxburgh, defined by its elongated stigmas atop the fused styles. All other members of subgenus Monogyna are relegated to section Monogynella, which have shorter, stouter stigmas. All members of subgenus Monogyna possess a circumscissile capsule as the fruit. Subgenus Cuscuta is subdivided into four sections. Section Cleistococca has only one species, Cuscuta capitata Roxburgh, which is distinguished from all other members of subgenus Cuscuta by having an indehiscent capsule as its fruit. Fruits of sections Pachystigma and Epistigma are only irregularly circumscissile, and fruits of section Eucuscuta are always cleanly dehiscent. Section Pachystigma is distinguished from section Epistigma by the presence of long, slender styles topped by wider stigmas, whereas members of section Epistigma possess only short to undetectable styles topped by the elongated stigmas. The six species of Pachystigma are restricted to Southern Africa, while the four species of Epistigma and Cuscuta capitata are restricted to central Asia. Section Eucuscuta has a wider distribution, with the largest number of species found close to the Mediterranean Sea. Subgenus Grammica is divided into two sections based on capsule dehiscence, with section Eugrammica possessing complete to partially dehiscent capsules and section Cleistogrammica producing indehiscent capsules. Species of subgenus Grammica are relatively evenly divided between the two subgenera, with 53 species in section Cleistogrammica and 68 species in Eugrammica [1].
Cuscuta is a readily recognizable genus, with the only species in the completely unrelated but strikingly similar parasitic vine genus Cassytha L. (Lauraceae) ever likely to cause any confusion [4] ; however, small flowers and a paucity of usable morphological characteristics often make the identification of Cuscuta to the species level a challenge. Although no comprehensive taxonomic study of the entire genus has been completed since Yuncker's monograph, Cuscuta remains one of the most widely studied parasitic plant lineages, with numerous publications on its anatomy [5–7], nutritional physiology [8] , plastid evolution [9–21] and even foraging behavior [22–25]. Phylogenies of Convolvulaceae with a small sampling of Cuscuta species showed it is confidently nested within that family [26]. Although its exact placement could not be strongly inferred with more in-depth analysis [27] , the most confident placement was sister to a the 'Convolvuloideae' clade [28]. Taxa from subgenus Monogyna appeared basal to subgenus Cuscuta and subgenus Grammica in those studies. Another study showed multiple members of subgenus Cuscuta to be nested within multiple clades of subgenus Grammica [21] , although those data are likely a result of misidentification of taxa and are discussed more extensively in our results.
Conflicting evidence exists as to the photosynthetic ability across the genus. Machado and Zetsche [9] demonstrated low levels of photosynthetic carbon assimilation in the noticeably chlorophyllous stems of Cuscuta reflexa (subgenus Monogyna) despite apparent loss of all ndh genes [12] , but found no detectable levels of RuBisCo expression in C. europaea, despite the presence of the gene encoding its large subunit (rbcL) in the plastid genome. Studies further showed that C. reflexa only produces chlorophyll in a specific layer of cells isolated from atmospheric gas exchange, suggesting it only photosynthesizes by recycling carbon dioxide released from respiratory byproducts of carbohydrates from its host source [5]. C. pentagona Engelmann of subgenus Grammica was shown to possess a normal photosynthetic ratio of chlorophyll a to b, contain properly localized photosynthetic proteins and display low levels of carbon assimilation [29]. However, other members of subgenus Grammica seem to possess highly altered plastid genomes; C. gronovii Willdenow and C. subinclusa Durand et Hilgard seemingly lack plastid-encoded polymerase (rpo) genes [18] , although low levels of transcription of rbcL still take place from nuclear-encoded polymerase promoter sites [19] , and these species, along with C. campestris Yuncker and C. reflexa still possess normal chlorophyll a and b ratios [16]. In contrast, C. odorata Ruiz et Pavon and C. grandiflora Humbolt, Bonpland et Kunth are achlorophyllous, lack thylakoids and do not produce detectable levels of rbcL transcript or protein [16]. The additional loss of some non-coding data from the plastid genome along with a few minor changes to intact reading frames within Cuscuta and Convolvulaceae have been reported and roughly mapped on a phylogeny of Cuscuta based on a minimal sampling of taxa [20].
In this study, we examine the phylogeny of the genus Cuscuta by sampling 35 species from all sections of the genus defined by Englemann [2] with the exceptions of section Epistigma and the monospecific section Cleistococca. Our sampling also includes species from 19 of 29 subsectional groups recognized by Yuncker [1]. We obtain DNA sequences for phylogenetic analysis from two plastid loci (rbcL and rps2) and the nuclear internal transcribed spacer (ITS) region between the 18S and 5.8S ribosomal RNA loci from largely overlapping subsets of taxa to investigate phylogenetic relationships within the genus and test the monophyly of the previously defined subgeneric and subsectional delimitations. We determine genome sizes for species available as fresh tissue in order to address questions of species delimitation and to test whether genome size correlates with published chromosome numbers, which are highly variable [30]. In addition to the plastid loci mentioned above, which correspond to the RuBisCo large subunit and a small ribosomal protein subunit respectively, we sample two more plastid loci representing two other functionally distinct genes (atpE, ATP synthase subunit; rpoA, plastid-encoded polymerase subunit) from smaller subsets of taxa in order to test whether all classes of plastid genes are evolving equally in Cuscuta relative to photosynthetic taxa. Using further polymerase chain reaction (PCR) assays, we test the distribution of major changes to the plastid genome within the genus and combine them with previously published evidence to gain a comprehensive view of photosynthetic evolution within Cuscuta. Finally, we use evidence from the biology and natural history of these parasites to suggest potential hypotheses as to why photosynthesis is retained in most members of the genus despite what superficially appears to be minimal opportunity for gain of photosynthetic carbohydrate.
Conclusion
By generating a well-supported phylogeny of the economically important parasitic plant genus Cuscuta, we have provided a framework through which to test whether traditional taxonomic divisions of the genus represent monophyletic evolutionary clades, to evaluate which morphological characters are systematically misleading, to formulate biogeographical hypotheses that best explain current distributions of major clades and to interpret molecular phenomenon such as nuclear genome size evolution and plastid genome evolution. Subgenus Cuscuta is paraphyletic with subgenus Grammica nested within it. Subgenus Grammica likely colonized the new world through a dispersal event from South Africa to South America and then radiated throughout both North and South America; subsequent long-distance dispersal events, many possibly aided by transition to floating indehiscent capsules, best explain the few scattered members of subgenus Grammica in Hawaii, Australia, Asia and Africa. Nuclear genome size is highly variable in the genus and may be useful in recognizing new cryptic species. A reduction in plastid genome size appears to have occurred in punctuated steps followed by periods of relative stasis. Although plastid nucleotide substitution rates are quite rapid, photosynthetic genes are very strongly conserved in the majority of Cuscuta species even after the loss of all plastid ndh and RNA polymerase genes. The plastid genome is likely retained primarily for lipid biosynthesis during seed production and is possibly lost completely in a single clade of outcrossing species whose life histories seem to accommodate a reduction in overall seed production.
Declarations
Acknowledgements
The authors thank Daniel Austin, Todd Barkman, Mauricio Bonifacino, Alison Colwell, Peter Endress, Andreas Fleischmann, Julian Hibberd, Greg Jordan, Cliff Morden, Lytton Musselman, Ann Rhoads, Susan Schardt, Kim Steiner, Kyoji Yamada, George Yatskievych, Tony Omeis and the Pennsylvania State University Greenhouse, Tom Wendt and the University of Texas herbarium, and the Pennsylvania State University herbarium for assistance in obtaining plant material, and Daniel Nickrent, David Geiser, Stephen Schaeffer and Andrew Stephenson for helpful comments on the manuscript. This study was supported by a National Science Foundation Doctoral Dissertation Improvement Grant to JRM (DEB-0206659) as well as DEB-0120709 to CWD, and partially performed under the auspices of the US Department of Energy's Office of Science, Biological and Environmental Research Program, and by the University of California, Lawrence Berkeley National Laboratory under Contract No. DE-AC02-05CH11231. A Henry W. Popp Graduate Assistantship for JRM from the Department of Biology at Penn State University is gratefully acknowledged.
Authors' Affiliations
(1)
Department of Plant Biology, University of Georgia, Athens, USA
(2)
Department of Biology, Huck Institutes of the Life Sciences, and Institute of Molecular Evolutionary Genetics, The Pennsylvania State University, USA
(3)
Benaroya Research Institute at Virginia Mason, Seattle, USA
(4)
DOE Joint Genome Institute and Lawrence Berkeley National Laboratory, Walnut Creek, USA
(5)
Genome Project Solutions, Hercules, USA
Copyright
© McNeal et al; licensee BioMed Central Ltd. 2007
This article is published under license to BioMed Central Ltd. This is an Open Access article distributed under the terms of the Creative Commons Attribution License (http://creativecommons.org/licenses/by/2.0), which permits unrestricted use, distribution, and reproduction in any medium, provided the original work is properly cited.