Research article

Open Access
An exceptional horizontal gene transfer in plastids: gene replacement by a distant bacterial paralog and evidence that haptophyte and cryptophyte plastids are sisters
Received: 05 June 2006
Accepted: 06 September 2006
Published: 06 September 2006
Abstract
Background
Horizontal gene transfer (HGT) to the plant mitochondrial genome has recently been shown to occur at a surprisingly high rate; however, little evidence has been found for HGT to the plastid genome, despite extensive sequencing. In this study, we analyzed all genes from sequenced plastid genomes to unearth any neglected cases of HGT and to obtain a measure of the overall extent of HGT to the plastid.
Results
Although several genes gave strongly supported conflicting trees under certain conditions, we are confident of HGT in only a single case beyond the rubisco HGT already reported. Most of the conflicts involved near neighbors connected by long branches (e.g. red algae and their secondary hosts), where phylogenetic methods are prone to mislead. However, three genes – clpP, ycf2, and rpl36 – provided strong support for taxa moving far from their organismal position. Further taxon sampling of clpP and ycf2 resulted in rejection of HGT due to long-branch attraction and a serious error in the published plastid genome sequence of Oenothera elata, respectively. A single new case, a bacterial rpl36 gene transferred into the ancestor of the cryptophyte and haptophyte plastids, appears to be a true HGT event. Interestingly, this rpl36 gene is a distantly related paralog of the rpl36 type found in other plastids and most eubacteria. Moreover, the transferred gene has physically replaced the native rpl36 gene, yet flanking genes and intergenic regions show no sign of HGT. This suggests that gene replacement somehow occurred by recombination at the very ends of rpl36, without the level and length of similarity normally expected to support recombination.
Conclusion
The rpl36 HGT discovered in this study is of considerable interest in terms of both molecular mechanism and phylogeny. The plastid acquisition of a bacterial rpl36 gene via HGT provides the first strong evidence for a sister-group relationship between haptophyte and cryptophyte plastids to the exclusion of heterokont and alveolate plastids. Moreover, the bacterial gene has replaced the native plastid rpl36 gene by an uncertain mechanism that appears inconsistent with existing models for the recombinational basis of gene conversion.
Keywords
Horizontal Gene Transfer
rbcL
Plastid Genome
Plastid Gene
Horizontal Gene Transfer Event
Background
Unlike the dynamic mitochondrial genome of flowering plants, which frequently incorporates plastid and nuclear sequences via intracellular gene transfer [1–3], the plastid genome is highly resistant to the uptake of intracellular DNA [4, 5]. Recently, a large number of discoveries of HGT involving mitochondrial genes of land plants have been reported [6–15]. Most, if not all of these transfers seem to be the result of a gene being transferred from the mitochondrial genome of one species to that of another. No analogous case of plastid-to-plastid transfer has been reported, but these mitochondrial discoveries recommend a thorough assessment of plastid HGT.
To date, only a single non-intron example of HGT to the plastid has been found. This is the ancient transfer of the rubisco operon (rbcL and rbcS) from a proteobacterium into the common ancestor of red algal plastids and their secondary derivatives [16], a case that is revisited in this study. In contrast to transfers of constituent genes, acquisition of new introns may be relatively common in plastids [17–25], based on their disparate phylogenetic distribution among plastid genomes, especially in green algae, and the fact that some introns are mobile elements.
The evidence found thus far for HGT to the plastid proceeded from studies of a particular gene or intron. To quantify the overall extent of HGT in plastid genomes, we searched exhaustively for HGT among the 42 sequenced plastid genomes available when this study began. Our search relied primarily on phylogenetic analyses, but also involved scrutiny of each potential case (including generation of new gene sequences from phylogenetically relevant taxa) to rule out artifacts and various types of homoplasy.
Results
Of the 204 protein genes present in four or more of the 42 examined plastid genomes, 34 produced maximum likelihood (ML) trees that had at least one node that conflicted (see Methods) with the reference plastid tree (Additional File 1), with bootstrap proportion (BP) ≥ 80%. Fifteen had conflicts with BP ≥ 90%, and 11 had conflicts with BP ≥ 95%. Thirteen of the genes with BP ≥ 80% involved rhodophyte/Odontella/Guillardia relationships, eight involved conflicts within the four grass taxa, and the rest were various other conflicts. In eight trees, multiple nodes had well-supported conflicts. Usually these pointed to a single rearrangement in the tree, but three trees had well-supported conflicts in different regions of the tree.
After closer analysis, in some cases requiring the generation of additional sequences for key taxa, none of these conflicts proved to be strong cases of HGT. Ironically, one case that was not detected by this phylogenetic filter involves a very short gene that nonetheless offers strong support for a bacterium-to-plastid HGT.
HGT of rpl36
The
Guillardia theta rpl36
gene is very divergent from the
rpl36
genes present in the surveyed plastid genomes and in cyanobacteria. In trees, it branches with a paralogous
rpl36
type with strong support regardless of the phylogenetic method used (Figure
1
). Here we refer to the type found in
Guillardia
as
rpl36
-c (for cryptophyte), and the type found in most plastids and most cyanobacteria as
rpl36
-p (for plastid). The 144-bp-long
Guillardia
gene shares, with all
rpl36
-c genes relative to
rpl36
-p, three indels (insertions of one and six amino acids, and a deletion of three amino acids), as well as an overall amino-acid and nucleotide similarity (Figure
1
and
Additional File 2
).
Guillardia rpl36
-c has a 7 amino-acid 3' extension present in 18 gamma-proteobacterial species, in the planctomycete
Rhodopirellula baltica
, and in the cyanobacterium
Crocosphaera watsonii
(
Additional File 2
). The
rpl36
HGT was not detected by our initial phylogenetic filter because our trees sampled only plastid-containing taxa, and this gene is too short to give strongly supported groupings within the plastids (
Additional File 3
). We detected this conflict only after building trees containing a broader sampling of
rpl36
genes.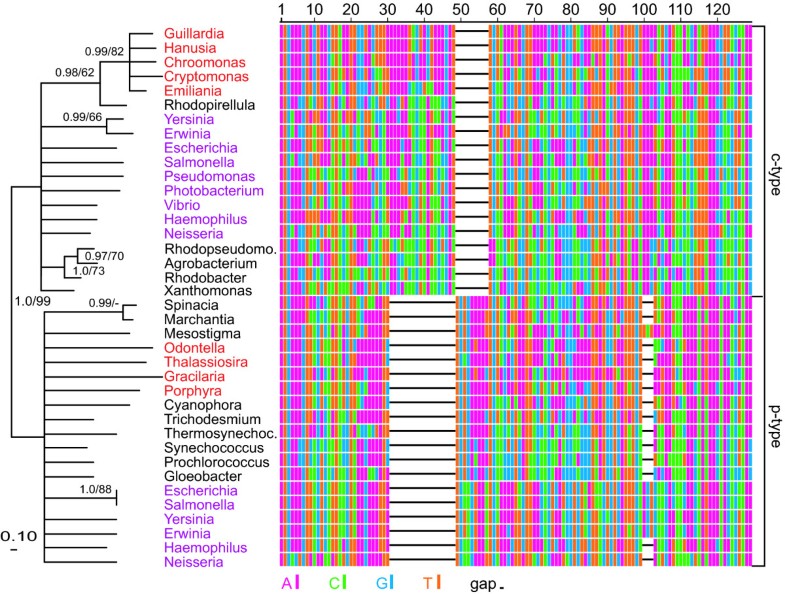 In addition to the plastids and cyanobacteria, rpl36-p is found across many groups of bacteria, including diverse proteobacteria, and in fungal nuclear genes targeted to the mitochondrion. Most gamma-proteobacteria and a few beta-proteobacteria and actinobacteria contain both forms of the rpl36 gene (e.g. Figure 1). Crocosphaera watsonii has an rpl36-p with a frame-shift insertion near the 5' end, suggesting that it has been functionally replaced by a horizontally transferred rpl36-c.
The rpl36 gene is located between secY and rps13 in all six sequenced plastid genomes from red algae and their secondary photosynthetic derivatives, including Guillardia theta (Additional File 2). This is within a larger syntenic group of 22 genes conserved in the red algal plastids and diverse bacterial lineages. None of the rpl36-c genes in bacteria are adjacent to secY or rps13, nor are any located within the larger syntenic region.
To identify the approximate time/phylogenetic boundary of transfer and to confirm the validity of the Guillardia gene, we sequenced rpl36 from three additional, diverse [26] cryptophytes: Hanusia phi, Chroomonas mesostigmatica, and Cryptomonas tetrapyrenoidosa. Using PCR, we isolated only rpl36-c from all three cryptophytes (and only rpl36-c was found in the unpublished plastid genome sequence of the cryptophyte Rhodomonas salina CCMP1319; H. Khan and J. Archibald, personal communication). These genes possess high sequence similarity (nucleotide identity between 79% and 96%) to rpl36 of Guillardia theta. We obtained high-quality sequence for a region comprising all of rpl36, both of its flanking spacers, 219 bp at the 3' end of secY, and 300 bp at the 5' end of rps13 (Figure 1 and Additional File 2).
The plastid genome of the haptophyte Emiliania huxleyi, which was sequenced too recently [27] to be included in this study, also contains rpl36-c in place of rpl36-p (Figure 1 and Additional File 2). Emiliania rpl36 shares the c-type indels and 3' extension with the cryptophyte rpl36 genes and contains no additional indels over its entire length. Its amino-acid identities to the cryptophyte rpl36-c genes range from 85 to 90%, and its nucleotide identities range from 72 to 79%. It too is located between secY and rps13, with 5' and 3' intergenic spacers of length 139 bp and 14 bp, respectively. The Emiliania sequence groups as sister to the cryptophyte rpl36-c genes with good support (Figure 1). In addition, an EST sequence http://tbestdb.bcm.umontreal.ca from the dinoflagellate Karlodinium micrum, which possesses a tertiary plastid of haptophyte origin [28–30], also contains the rpl36-c gene. Furthermore, the Karlodinium sequence is sister to the Emiliania sequence in phylogenetic analyses (data not shown, but see Additional File 2).
The clpPconflict
In what follows, we describe and discuss genes that initially gave conflicting trees with relatively high bootstrap support, but which for various reasons were either strongly rejected or brought into question as potential horizontal transfers.
The
clpP
gene from
Oenothera elata
is highly divergent. With the taxon sampling used in this study (
Additional File 1
), it branches, with 84% BP (see Figure
2
legend), as the sister to the grasses, which are also a long-branched group (Figure
2A
). Suspecting long-branch attraction (LBA), we obtained more genes (provided by L. Goertzen and C. Long) from the order Myrtales, to which
Oenothera
belongs (including
Clarkia
,
Fuschia
,
Eucalyptus
,
Punica
,
Callistemon
, and
Oenothera organensis
) and from other non-grass monocots (including
Acorus
and
Flagellaria
) to test if the grouping with the grasses was an artifact. The resulting tree (Figure
2B
) strongly suggests that the original result was an LBA artifact, as
Oenothera
goes within the Myrtales (and within its family Onagraceae) with the better sampling.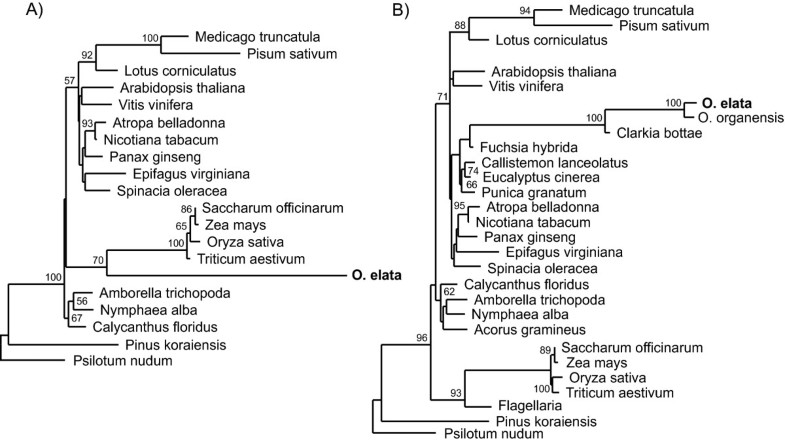 The ycf2conflict
The published
Oenothera elata ycf2
gene branched as sister to the asterids
Atropa
and
Nicotiana
with BP of 100%, instead of with other rosid sequences (e.g.
Arabidopsis
and
Lotus
). To verify this, we sequenced
ycf2
from a number of diverse Myrtales including
O. elata
itself. This new
Oenothera
sequence did not match the published
O. elata
plastid genome sequence [
31
], several regions of which (up to 1.5 kb in length) have 100% sequence identity with the
Nicotiana ycf2
gene (Figure
3A
). These cover regions that have long insertions in our
O. elata
sequence but that are missing in the
O. elata
genome sequence. This latter sequence also contains insertions shared with
Nicotiana
but not with our
O. elata ycf2
sequence. Regions in the published sequence that do match our sequence appear to have single base errors, given that our
O. biennis
sequence is more similar to our
O. elata
sequence than is the published sequence in these regions (Figure
3A
). Although very divergent, the new
O. elata
sequence branches in the expected position with other Myrtales (Figure
3B
). We strongly suspect that this conflict is due to extensive error in the
ycf2
region of the published
O. elata
genome [
31
], perhaps due to inadvertent incorporation of
Nicotiana
sequence during genome assembly (see
Additional File 4
).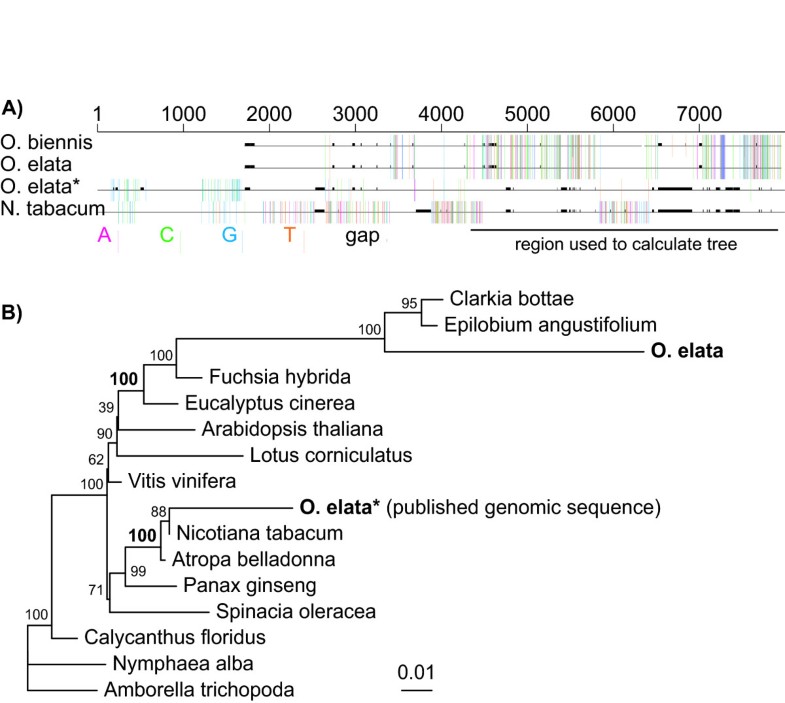 The rhodophyte/chromalveolate conflicts
The chromalveolates [Guillardia (cryptophytes), Odontella (heterokonts), and apicomplexans in our sampling] are a putatively monophyletic group that, with respect to plastid phylogeny, branch within the red algae, with the Cyanidiales being sister to the Porphyra/Gracilaria/chromalveolate clade (Additional File 1). Relationships among the different chromalveolate groups are not well established [32], but the consensus topology provides a reasonable working hypothesis. Most of the conflicts that we found relative to this topology involve Guillardia and/or Odontella branching as sister to all the rhodophytes instead of as sister to Porphyra/Gracilaria. Although some of these conflicts could in principle be true cases of HGT, the combination of long branches and near-neighbor exchanges makes these conflicts suspect, even given high bootstrap support. For some of these we have seen evidence (assuming our plastid tree is correct) of codon-usage bias. For example, the psbB gene tree goes from 100% BP for rhodophytes being monophyletic to the exclusion of Guillardia and Odontella, using all three codon positions, to weak support for a topological change to the consensus tree when only second positions are used. First and second positions together still give strong support for the conflicting tree, indicating that first positions may also contribute a significant bias for psbB [33].
Another well-supported conflict, psbA, is discussed in Additional File 5. The remaining genes that had conflicts supported by BP of 80% or higher are psbC, atpH, psaK, dnaK, atpF, atpB, rpl31, ycf4, ycf17, ycf45, and ycf37. As above, we could not reject the conflicts outright, but we could show weakened support or induce topological changes with alternative data filtering such as using second codon positions alone or amino acids. In no case did we observe any telltale signals such as uniquely shared indels in the conflicting clades.
The grass conflicts
Eight gene trees conflicted with the consensus tree (Additional File 1) with respect to relationships among the four grasses examined. Four gene trees (atpI, psbH, atpF, rpl16) supported the monophyly of Triticum/Saccharum/Zea, while the other four (rpl22, ndhD, psaA, psbA) supported monophyly of Oryza/Saccharum/Zea. In all cases there is a long branch leading to the grasses, which reflects both the lack of any close outgroups (no other monocots were included) and the well-established rapid evolution of the chloroplast genome in the stem group leading to grasses (Stefanovic et al [34] and references therein). We hypothesize that all eight gene trees whose within-grass topologies conflicted with the consensus topology reflect spurious results stemming from the lack of close outgroups to the grass sequences. To test this hypothesis, we reanalyzed the two genes (atpI and psbH) that showed the highest level of conflict (BP = 96%), using all other monocot sequences available (from Sorghum, Hordeum, Phyllostachys, Typha, Yucca, Phalaenopsis, and Acorus) for these two genes. With this improved sample, the atpI phylogeny was no longer in significant conflict with the organismal tree; instead, relationships among Triticum, Oryza, and Saccharum/Zea were entirely unresolved under an all nucleotide position ML model (Additional File 6). For psbH, however, the situation did not change markedly; we obtained a BP of 91% for Oryza being sister to Triticum/Saccharum/Zea, but this corresponds to only three parsimony informative characters. Such a small number of informative characters could easily be homoplasious, and better taxon sampling is required to resolve these conflicts firmly.
Other conflicts
The remaining conflicts with BP ≥ 80% were all brought into question using alternative phylogenetic analyses that led to reduction of bootstrap support or topology change. All of these involved conflicts with branches that are near each other in the consensus tree.
rRNA and tRNA genes
The small and large subunit ribosomal RNA genes had strong support for the euglenids going outside the green algae (sister to red/green algae for 16S and within the red algae for 23S). Increasing taxon sampling using other available rRNA genes [35] gave a weakly supported placement of the euglenids within the green algae. No clear cases of HGT in tRNA genes were detected, but interpretation of these alignments and trees is difficult, owing to the short length and extensive paralogy of these genes.
Scrutiny of long-branched lineages
The approach used here is limited by the taxon sampling. Because our initial trees included only plastid genes, we could essentially detect HGT only from one plastid genome to another, but not transfers from other genomes into plastids. We reasoned that transfers of non-plastid genes should normally result in a long branch leading to the donee taxon within the plastid gene trees. A description of our analysis of these long-branch lineages is presented in Additional File 7. No additional cases of HGT were detected in this analysis.
Conclusion
This study confirms and quantifies the hypothesis that HGT is rare in plastids. Only rpl36 and the rubisco operon are clear cases of HGT to the plastid genome. Both are ancient transfers, whereby bacterial genes have replaced native homologs and have become permanent, functional residents in their respective lineages. In contrast, the frequent (and recent) transfers in plant mitochondria occur by plant-to-plant transfer and are essentially ephemeral events, few of which seem to be of functional significance. The horizontal transfer of bacterial rpl36-c into the plastid genome represents an unprecedented example of apparent homologous recombination that defies current concepts of the sequence relatedness required to allow gene conversion/replacement to occur. The rpl36-c HGT also serves as a striking phylogenetic character that establishes an important new phylogenetic connection, linking haptophyte and cryptophyte plastids as sister groups to the exclusion of heterokont and alveolate plastids.
Declarations
Acknowledgements
We thank Christa Long and Les Goertzen for contributing unpublished clpP sequences for use in this study; Chris Lane, Hameed Khan, and John Archibald for providing several cryptophyte DNA samples and unpublished information about the Rhodomonas plastid genome; John Gray for providing the unpublished sequence of Pisum sativum plastid genome; and Virginia Sanchez-Puerta for helpful suggestions regarding the manuscript. This work was supported by NIH research grants GM-35087 and GM-70612 (to J.D.P.).
Authors' Affiliations
(1)
Department of Biology, Indiana University, Bloomington, USA
Copyright
© Rice and Palmer; licensee BioMed Central Ltd. 2006
This article is published under license to BioMed Central Ltd. This is an Open Access article distributed under the terms of the Creative Commons Attribution License (http://creativecommons.org/licenses/by/2.0), which permits unrestricted use, distribution, and reproduction in any medium, provided the original work is properly cited.