Research article

Open Access
Human hair genealogies and stem cell latency
Received: 16 October 2005
Accepted: 03 February 2006
Published: 03 February 2006
Abstract
Background
Stem cells divide to reproduce themselves and produce differentiated progeny. A fundamental problem in human biology has been the inability to measure how often stem cells divide. Although it is impossible to observe every division directly, one method for counting divisions is to count replication errors; the greater the number of divisions, the greater the numbers of errors. Stem cells with more divisions should produce progeny with more replication errors.
Methods
To test this approach, epigenetic errors (methylation) in CpG-rich molecular clocks were measured from human hairs. Hairs exhibit growth and replacement cycles and "new" hairs physically reappear even on "old" heads. Errors may accumulate in long-lived stem cells, or in their differentiated progeny that are eventually shed.
Results
Average hair errors increased until two years of age, and then were constant despite decades of replacement, consistent with new hairs arising from infrequently dividing bulge stem cells. Errors were significantly more frequent in longer hairs, consistent with long-lived but eventually shed mitotic follicle cells.
Conclusion
Constant average hair methylation regardless of age contrasts with the age-related methylation observed in human intestine, suggesting that error accumulation and therefore stem cell latency differs among tissues. Epigenetic molecular clocks imply similar mitotic ages for hairs on young and old human heads, consistent with a restart with each new hair, and with genealogies surreptitiously written within somatic cell genomes.
Keywords
Molecular Clock
Replication Error
Short Hair
White Hair
Outer Root Sheath
Background
One way to organize the billions of cells within an individual is through genealogy, because all cells are related. Each cell has its own genealogy, which starts from the zygote and ends with the current phenotype. Conceptually, the genealogy of a differentiated epithelial cell can be divided into three distinct phases: neogenesis or development between the zygote and tissue formation, stem cell latency, and differentiation (Figure
1
). Stem cells are the progenitors or common ancestors of the much larger numbers of differentiated cells that compose our bodies. The stem cell phase is chronologically the longest because developing and differentiated cells survive for relatively short periods. However, it is uncertain how often stem cells divide because they are rare, difficult to culture, and lack unique identifying markers.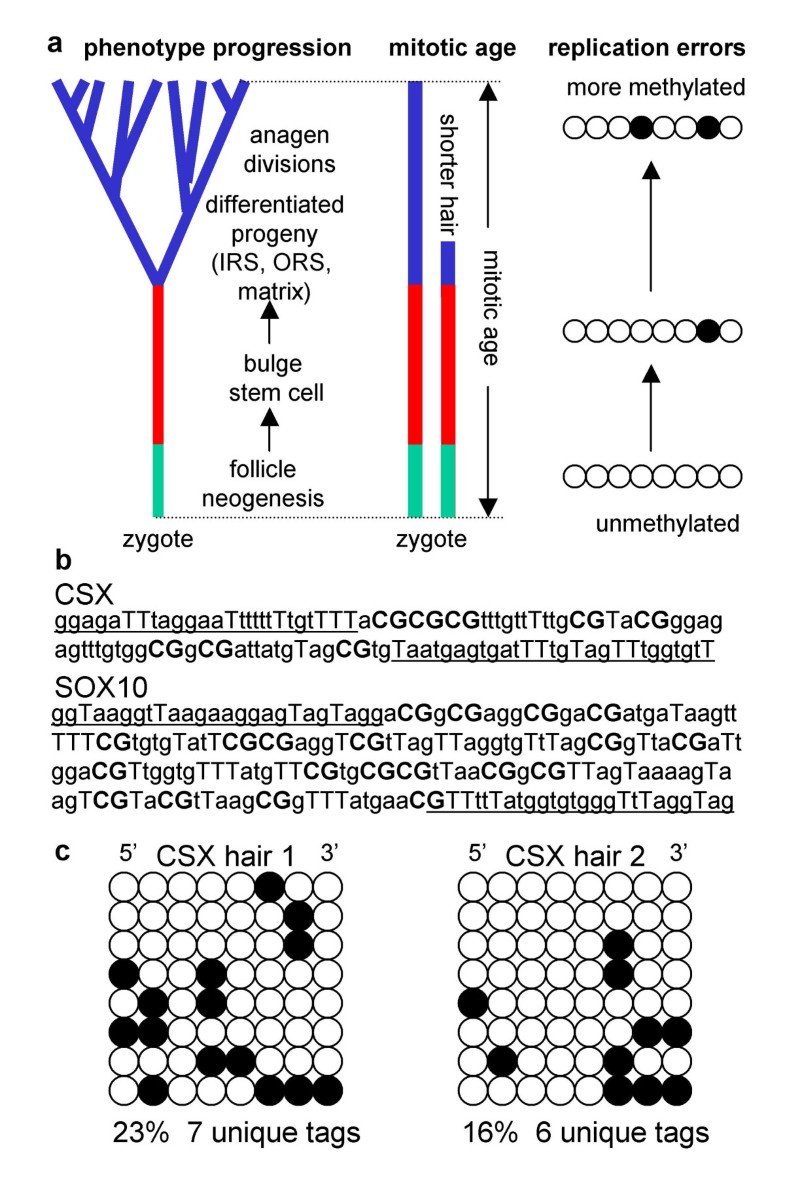 Stem cells are few in number, but it is possible to infer how often they divide by measuring the genomes of their more abundant differentiated descendants. The mitotic age of a differentiated cell can be defined as the total numbers of divisions since conception, which includes the three genealogical phases. Development and differentiation are highly regulated, and numbers of divisions during these phases are similar regardless of age. In contrast, stem cells may divide throughout life. Therefore, any increase in average mitotic age primarily depends on stem cell division.
To apply this logic, we infer mitotic age by measuring the errors that occur during genome replication. The idea is that replication errors surreptitiously record cell divisions, the number of errors being proportional to the number of divisions. Such molecular clock approaches are commonly employed to trace species ancestry [1], but conceivably somatic cell genealogies are also recorded within genomes. Sequences are initially similar in all cells but will become increasingly polymorphic owing to rare and random replication errors. In theory, ancestry may be inferred from polymorphisms sampled from any population, including somatic cells. Sequences rarely mutate, but epigenetic errors also exhibit somatic inheritance and methylation measurably accumulates at certain CpG-rich regions during normal human aging [2, 3]. The 5' to 3' order of CpG methylation provides binary information strings (i.e. "0" for unmethylated and "1" for methylated) or tags analogous to sequences, which appear to function as somatic molecular clocks [3]. In general, percent methylation is equivalent to mitotic age because our tags, like most CpG islands [4], are initially unmethylated.
Human intestinal studies revealed an age-related increase in tag methylation, suggesting that crypt stem cells divide throughout life [3, 5]. Although cell division appears to be required for de novo in vitro CpG island methylation [6], some in vivo methylation could also occur in non-dividing cells. Although it is difficult to test directly whether tag methylation primarily represents replication errors, such errors probably occur in all cells and should record genealogies in many tissues. Human hair can provide a further test of such an epigenetic molecular clock because its biology suggests much greater stem cell latency.
Hair is periodically shed because follicles exhibit cycles of growth (anagen), degeneration (catagen) and rest (telogen). Differentiated cells including the matrix and inner root (IRS) and outer root sheath (ORS) keratinocytes are shed when the lower follicle physically disappears during catagen [7, 8]. A new hair cycle is thought to be initiated after telogen from stem cells located in the bulge. According to a bulge activation hypothesis [9], stem cells briefly divide at the start of anagen to produce differentiated progeny that reconstruct and maintain a new lower follicle. Most divisions occur in differentiated cells that die at the end of anagen whereas stem cells seldom divide and survive each cycle.
This biology suggests hair genealogies with relatively few stem cell divisions, since most divisions occur in differentiated cells during anagen, and greater mitotic ages in longer hairs. Variations among hairs on a single individual will primarily reflect differences in anagen divisions because lower follicle mitotic activity is high, cycles are asynchronous, and anagen lasts a variable number of years [8, 10]. Age-related methylation should be minimal to undetectable because of relative bulge stem cell quiescence. However, hair biology has mainly been studied in mice, and human anagen cycles are longer (years versus weeks) and usually recur for decades. Relatively little is known about human hair stem cell dynamics because experimental manipulations are impractical.
Conclusion
Age-related changes in methylation or mitotic ages appear to depend on how often stem cells divide. Although the stochastic nature of replication errors may hinder the interpretation of molecular clocks, and many questions remain [25], such approaches provide information that is difficult to obtain by other more precise methods. Further studies are needed to define human somatic molecular clocks better, and more information can be extracted with more data and formal quantitative modeling. Here we infer human stem cell genealogies from present day methylation patterns consistent with biology reconstructed by more direct methods, primarily in mice. Epigenetic molecular clocks are experimentally much more efficient than sequence somatic clocks because mutation frequencies in tumor cell lines are about one per million bases [26] whereas multiple epigenetic errors are readily found after sequencing only a few hundred bases (Figure 1). Replication errors are synonymous with division, and somatic molecular clocks that count these errors potentially facilitate the systematic reconstruction of many human tissue genealogies, allowing a fundamental distinction between old and new cells within the same individual.
Methods
Randomly chosen vertex scalp hair follicles were obtained by plucking from 28 individuals of different ages. This research was approved by the Health Sciences Institutional Review Board at the University of Southern California. Most of these hairs were in anagen because telogen hairs (obtained by pulling rather than plucking [10]) generally did not contain sufficient DNA for amplification (data not shown). For CSX, seven hairs each with eight tags per hair were sampled from each head. For SOX10, four to five hairs, each with six tags per hair, were sampled. Long hairs were greater than 40 cm and short hairs were shorter than 4 cm on the same head. DNA was extracted by placing the follicle in 10 μl of 10 mM Tris-HCl, 2 mM EDTA (pH 8.0) with 20 mg/ml Proteinase K for two hours at 56°C. The solution was boiled for 5 min and DNA was bisulfite converted using an agarose bead method [3]. The final bead volume was about 25 μl. Approximately 10% (2.5 μl) of the bead was amplified with 42 PCR cycles using primers specific for CpG rich regions or tags in the CSX and SOX10 genes (Figure 1). Each follicle was amplified in duplicate and PCR products were combined prior to cloning (TOPO TA Cloning kit, Invitrogen, Carlsbad, CA). Tags with evidence of incomplete bisulfite conversion (Cs at non-CpG sites) were discarded from the analysis. Average hair methylation was defined as the average number of methylated sites among tags from each follicle. Follicle diversity of a hair was defined as the number of unique tags found among the sampled tags.
Methylation of the first five CSX CpG sites was also measured with pyrosequencing [11]. The biotinylated primer was 5' -ACACCAAACTACAAAATCACTCATTA-3' and the pyrosequencing primer was 5' -TAGGAATTTTTTTTGTTTTA-3'. A suitable pyrosequencing primer could not be located for the last 3 CpG sites. The assay was performed on a PSQ HS 96 Pyrosequencing System with conditions recommended by the manufacturer (Pyrosequencing, Inc., Westborough, MA).
Declarations
Acknowledgements
This work was supported by a grant from the National Institutes of Health (DK61140). ST is a Royal Society-Wolfson Research Merit Award holder, and is supported in part by a grant from CRUK. We thank the many individuals who donated their hair.
Authors' Affiliations
(1)
Department of Pathology, University of Southern California Keck School of Medicine, Los Angeles, USA
(2)
Department of Biological Sciences, University of Southern California, Los Angeles, USA
(3)
Department of Oncology, University of Cambridge, Cambridge, UK
(4)
Department of Pathology, Inje University Sanggye-Paik Hospital, Nowon-gu, Korea
Copyright
© Kim et al; licensee BioMed Central Ltd. 2006
This article is published under license to BioMed Central Ltd. This is an Open Access article distributed under the terms of the Creative Commons Attribution License (http://creativecommons.org/licenses/by/2.0), which permits unrestricted use, distribution, and reproduction in any medium, provided the original work is properly cited.