Research article

Open Access
Initiating a regenerative response; cellular and molecular features of wound healing in the cnidarian Nematostella vectensis
Received: 15 January 2014
Accepted: 12 March 2014
Published: 26 March 2014
Abstract
Background
Wound healing is the first stage of a series of cellular events that are necessary to initiate a regenerative response. Defective wound healing can block regeneration even in animals with a high regenerative capacity. Understanding how signals generated during wound healing promote regeneration of lost structures is highly important, considering that virtually all animals have the ability to heal but many lack the ability to regenerate missing structures. Cnidarians are the phylogenetic sister taxa to bilaterians and are highly regenerative animals. To gain a greater understanding of how early animals generate a regenerative response, we examined the cellular and molecular components involved during wound healing in the anthozoan cnidarian Nematostella vectensis.
Results
Pharmacological inhibition of extracellular signal-regulated kinases (ERK) signaling blocks regeneration and wound healing in Nematostella. We characterized early and late wound healing events through genome-wide microarray analysis, quantitative PCR, and in situ hybridization to identify potential wound healing targets. We identified a number of genes directly related to the wound healing response in other animals (metalloproteinases, growth factors, transcription factors) and suggest that glycoproteins (mucins and uromodulin) play a key role in early wound healing events. This study also identified a novel cnidarian-specific gene, for a thiamine biosynthesis enzyme (vitamin B synthesis), that may have been incorporated into the genome by lateral gene transfer from bacteria and now functions during wound healing. Lastly, we suggest that ERK signaling is a shared element of the early wound response for animals with a high regenerative capacity.
Conclusions
This research describes the temporal events involved during Nematostella wound healing, and provides a foundation for comparative analysis with other regenerative and non-regenerative species. We have shown that the same genes that heal puncture wounds are also activated after oral-aboral bisection, indicating a clear link with the initiation of regenerative healing. This study demonstrates the strength of using a forward approach (microarray) to characterize a developmental phenomenon (wound healing) at a phylogenetically important crossroad of animal evolution (cnidarian-bilaterian ancestor). Accumulation of data on the early wound healing events across numerous systems may provide clues as to why some animals have limited regenerative abilities.
Keywords
Cnidarians
ERK signaling
Gastrulation
Glycoprotein
Lateral gene transfer
Metalloproteinase
Microarray
Nematostella vectensis
Regeneration
Wound healing
Background
Wound healing is the process of cellular contraction, movement and re-adhesion immediately after injury and is the precursor to regeneration of lost structures. During these cellular dynamics, other components such as immunity, cell death or proliferation, and nervous system inputs all interact during the process of scar-free healing [1]. Among animals with high regenerative capabilities, a unifying theme has emerged suggesting that the cells that re-epithelialize the wound provide the signals necessary to initiate regeneration [2]. Defects in the wound healing program, including excessive scar formation or mechanically manipulating the wound, can block regeneration, even in animals with a high regenerative capacity [3–5]. Understanding the process of wound closure in diverse animal groups that vary in regenerative capacity may help reveal factors correlated with the loss of regeneration.
The process of wound healing exists widely throughout the animal kingdom, yet after a significant loss of tissue, few animal groups can faithfully regenerate the entire complement of original tissue. The cnidarians (for example, corals, jellyfish, sea anemones) are diploblastic animals, consisting of ectodermal and endodermal tissue [
6
]. Many studies have demonstrated that cnidarians are a powerful model for understanding the evolution of bilaterians, because of their phylogenetic position (sister to bilaterians) and because they are more similar in terms of genomic content and organization to deuterostomes than other model systems [
7
–
11
]. As adults, cnidarians exhibit a high regenerative capacity with few limitations [
12
]. The medusazoan model system,
Hydra
, has long been a comparative model for regenerative study, bridging the gap between early animals, planarians, flies and vertebrates. The anthozoan cnidarian,
Nematostella vectensis
, is widely known as a comparative system for embryological studies, yet following bisection through their major longitudinal axis (the oral-aboral axis) both halves can regenerate into normal animals [
13
–
18
]. Unlike
Hydra
, anthozoans like
Nematostella
do not appear to have an I-cell population of precursor stem cells [
19
]. Instead, cell proliferation is required for the completion of the regenerative process in
Nematostella
and is first active 18 hours after injury [
16
,
19
,
20
]. Interestingly, regeneration experiments where wound healing was allowed to proceed but cellular proliferation was chemically blocked can be rescued by re-injuring the same untreated tissue, triggering mitosis and regeneration [
16
]. This suggests that wound healing acts as an initiator of regeneration in
Nematostella,
where the onset of proliferation may serve as an important transition between wound healing and a regenerative response (Figure
1
A). Regeneration of lost oral structures takes approximately 72 hours (Figure
1
B), yet little is known about the timing and transition from wound healing to regeneration in
Nematostella
. A genomic survey of stress response genes suggests that homologs of many vertebrate genes previously associated with wound healing are also present in the
Nematostella
genome, although a quantitative assessment of gene expression is lacking [
21
]. Overall, the high regenerative capacity and key phylogenetic position of cnidarians provide a unique opportunity to study the basic mechanism underlying animal wound repair. This type of study is of great interest in comparison to other highly regenerative animals (to see similarities) and in comparison to animals that lack the capacity to regenerate (to see differences). Studying new systems with forward approaches also provides unique opportunities for gene discovery.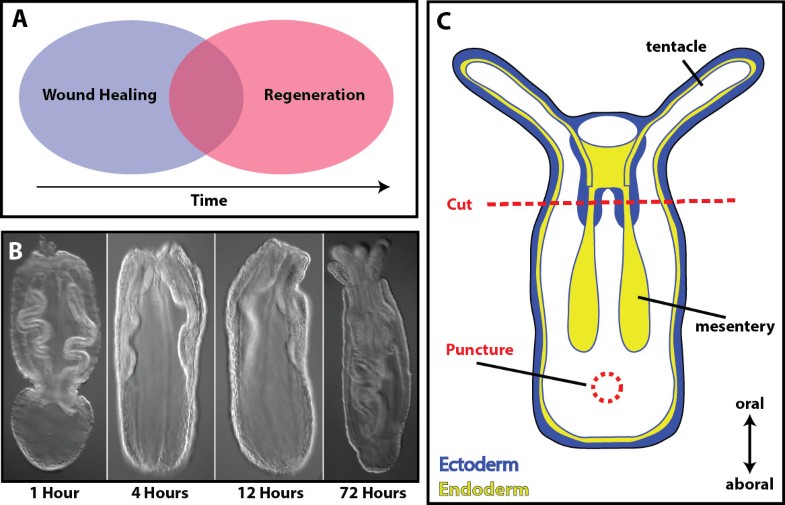 The mitogen-activated protein kinase (MAPK) signaling pathway is present in all eukaryotic genomes and functions in a wide range of cellular processes including immune system regulation, proliferation, apoptosis, cell signaling and movement. A subset of the pathway, ERK signaling, regulates initial events of Drosophila wound closure by regulating actin dynamics around the site of injury [22]. In vertebrate cell culture, scratch assays show that ERK is localized in contractile cells around the wound margin [23]. ERK signaling is also a key regulator of the Grainyhead gene family, a group of genes known for their role in establishment of the epithelial layer and their role in wound healing across animals [24]. Activation of ERK is also linked with the innate immune response in a number of animals [25–27] where MAPK signaling is likely the main signaling system for host-parasite or symbiont-host interactions. Among the results reported here, we found that the inhibition of ERK signaling blocked both wound healing and regeneration in Nematostella. Using a diverse set of approaches we describe many of the components involved during wound healing in Nematostella, and show that a universal set of genes are activated during different types of wound healing prior to regeneration.
Discussion
Comparative embryological studies using Nematostella vectensis have shown that many molecule components utilized during early embryogenesis of deuterostomes were present in the cnidarian-bilaterian ancestor and remain today [9, 33, 34]. This suggests that the signals patterning during early embryonic development have an ancient origin and exhibit a strong level of conservation over evolutionary time. The healing of the wound in the epithelial layer after injury is a necessary process; disruption of this process is known to inhibit regeneration [2–5]. Therefore, to gain a better understanding of the regenerative potential between species we must first understand what signals activate wound healing and allow for the step-wise activation of regeneration. Characterization of the wound response in a diverse set of animals will provide clues into why so many animal lineages have lost the ability to regenerate as a result of defective wound repair.
In Nematostella, an injury is capable of initiating regeneration [16]. In the current study, the wound healing response in Nematostella was characterized to determine the cellular and molecular components necessary for activating a regenerative response. Our findings suggest that the wound healing response consists of an early cellular response and a late growth response that leads into the proliferative response necessary for regeneration.
The early cellular response during wound healing
Late wound healing response
A single α-integrin is up-regulated in response to wound healing
At four hours after injury, we began to see components of cell membrane signaling (integrins, G-proteins and a wnt ligand) as well as activation of growth factors. Integrins are mediators of focal adhesion complexes and numerous α- and β-subunits are activated or up-regulated during vertebrate wound healing [67]. Nematostella and closely related coral species have fewer numbers of integrins than vertebrates [68]. We identified a single α-integrin up-regulated at four hours after injury, with significant expression change in relation to the mitogen-activated protein kinase kinase (MEK) inhibitor, U0126. Although we do not know the location of expression, we predict that it will be found in a similar location to SoxE because these two genes are known to be in overlapping regions of the presumptive endoderm during gastrulation in Acropora millepora[61, 68]. Due to functional redundancy and lethality of integrin knockouts in vertebrates [67], Nematostella could be a valuable system to discern the functional relationship of integrins and wound healing.
The activation of integrin is closely associated with regulation of calcium and ionic balance [69] and a number of calcium-related proteins (86027, 216996, 100701) were activated at four hours in Nematostella. In Hydra and axolotl, the EF-hand calcium-binding are associated with the wound response [40, 41] and are thought to function during cnidarian morphogenesis [70]. EF-hand motif-containing genes regulate filopodia formation in migratory cells [71], and are a cellular component known to participate in Nematostella gastrulation [65]. Although we have made several comparisons between the potential parallels of gastrulation and wound healing, a direct comparison of the transcriptional repertoire of genes utilized in both gastrulation and wound healing (in relation to U0126 treatment) would need to be done to confirm our findings.
Expression of growth factors is delayed in the Nematostellawound healing process
Based on the timeline of gene activation (Figure 8B), our results suggest that MMPs may have a conserved role in cell movement and may act in releasing growth factors to initiate synthesis. The growth factor PDGF (239536) has not been characterized in detail in Nematostella, but other fibroblast growth factor-related genes are thought to regulate axial patterning and cell specification [72–74]. Interesting, a single TGF-β gene was identified to be down-regulated in wild-type animals at one hour compared with U0126-treated individuals. Tight regulation of TGF-β and downstream targets is suggested as a possible means to resolve excess scar formation [31]. Data found in this paper suggest that there is a delay in growth factor initiation, unlike many vertebrate systems in which growth factors arrive immediately after injury through the circulatory system [35]. Comparing how growth factors are activated in different model systems may be crucial for understanding how wound healing varies in animals with different regenerative capacities. Based on the timing and activation of proliferation during regeneration, it is likely that this later stage of wound healing prepares the tissue for proliferation (Figure 8B). Future studies will be necessary to determine which genes are functionally responsible for the initiation of regeneration.
Conclusions
Wound healing and regeneration are separable developmental processes. Here we suggest that healing from a puncture wound takes roughly six hours after injury to allow for injured tissue to become functional again. Some time between 12 and 18 hours, signals from healed tissue activate a program initiating proliferation and regeneration [16]. We have shown that the same genes that heal puncture wounds also are activated after oral-aboral bisection. Apoptosis is activated immediately after injury and could provide signals for head regeneration, although ectopic activation of apoptotic signals in the aboral zone does not induce a second axis. Interestingly, notch signaling only effects head regeneration whereas inhibition of ERK signaling is capable of blocking healing and regeneration (Figure 8B). We propose that in Nematostella the key transition from wound healing to a state of regeneration is the activation of cell proliferation. ERK signaling is necessary for the initiation of the early wound healing response in Nematostella and is closely linked to the activation of proliferative cells in other highly regenerative invertebrate model systems [46, 47, 49, 75], After the first wave of ERK-generated signals, later stages appear to prepare the tissue for proliferation of lost structures. This study uncovered a potentially important role of glycoproteins (mucins) during wound healing and found a novel anthozoan-specific thiamine biosynthesis enzyme utilized during healing. We have demonstrated that whole genomic microarray analysis is a powerful way to identify new targets of developmental processes. Our study is the first to identify and characterize genes involved during wound healing in Nematostella and is relatable to multiple model systems of regenerative biology.
Abbreviations
DMSO:

dimethyl-sulfoxide
MAPK:

mitogen-activated protein kinase
MMP:

matrix metalloproteinase
qPCR:

quantitative polymerase chain reaction
PBS:

phosphate-buffered saline
PBT:

phosphate-buffered saline with .2% Triton-X100
TBST:

Tris-buffered saline with 0.1% Tween20
TGFβ:

transforming growth factor beta.
Declarations
Acknowledgements
The authors would like to thank fellow researchers at the Kewalo Marine Laboratory in Honolulu, Hawaii and those at the Whitney Marine Laboratory in Marineland, Florida for insight and guidance on this project. We would like to thank researchers at the Center for Regenerative Therapies in Dresden, Germany for sharing project interests and aiding in gene selection for in situ analysis. We would also like to thank the four anonymous reviewers for their helpful criticism and suggestions that improved our data and manuscript. Our work was supported by the Albert L. Tester Memorial Fund from the University of Hawaii, Manoa and by grants from the NIH (GM093116) and NSF IOS06-42273 to MQM.
Authors' Affiliations
(1)
University of Hawaii, Kewalo Marine Laboratory, Honolulu, Hawaii
(2)
University of Florida, Whitney Marine Laboratory, Augustine, USA
(3)
Stanford University, Hopkins Marine Station, Pacific Grove, USA
Copyright
© DuBuc et al.; licensee BioMed Central Ltd. 2014
This article is published under license to BioMed Central Ltd. This is an Open Access article distributed under the terms of the Creative Commons Attribution License (http://creativecommons.org/licenses/by/2.0), which permits unrestricted use, distribution, and reproduction in any medium, provided the original work is properly credited. The Creative Commons Public Domain Dedication waiver (http://creativecommons.org/publicdomain/zero/1.0/) applies to the data made available in this article, unless otherwise stated.