Research article
Open Access
Genome mining for methanobactins
Received: 21 December 2012
Accepted: 26 February 2013
Published: 26 February 2013
Abstract
Background
Methanobactins (Mbns) are a family of copper-binding natural products involved in copper uptake by methanotrophic bacteria. The few Mbns that have been structurally characterized feature copper coordination by two nitrogen-containing heterocycles next to thioamide groups embedded in a peptidic backbone of varying composition. Mbns are proposed to derive from post-translational modification of ribosomally synthesized peptides, but only a few genes encoding potential precursor peptides have been identified. Moreover, the relevance of neighboring genes in these genomes has been unclear.
Results
The potential for Mbn production in a wider range of bacterial species was assessed by mining microbial genomes. Operons encoding Mbn-like precursor peptides, MbnAs, were identified in 16 new species, including both methanotrophs and, surprisingly, non-methanotrophs. Along with MbnA, the core of the operon is formed by two putative biosynthetic genes denoted MbnB and MbnC. The species can be divided into five groups on the basis of their MbnA and MbnB sequences and their operon compositions. Additional biosynthetic proteins, including aminotransferases, sulfotransferases and flavin adenine dinucleotide (FAD)-dependent oxidoreductases were also identified in some families. Beyond biosynthetic machinery, a conserved set of transporters was identified, including MATE multidrug exporters and TonB-dependent transporters. Additional proteins of interest include a di-heme cytochrome c peroxidase and a partner protein, the roles of which remain a mystery.
Conclusions
This study indicates that Mbn-like compounds may be more widespread than previously thought, but are not present in all methanotrophs. This distribution of species suggests a broader role in metal homeostasis. These data provide a link between precursor peptide sequence and Mbn structure, facilitating predictions of new Mbn structures and supporting a post-translational modification biosynthetic pathway. In addition, testable models for Mbn transport and for methanotrophic copper regulation have emerged. Given the unusual modifications observed in Mbns characterized thus far, understanding the roles of the putative biosynthetic proteins is likely to reveal novel pathways and chemistry.
Keywords
methanobactinmethanotrophparticulate methane monooxygenasecopperchalkophoreTonB-dependent transporternatural productpost-translational modification
Background
Methanotrophs are Gram-negative bacteria that use methane, a potent greenhouse gas, as their sole source of carbon and energy [1]. As the only biological methane sink, methanotrophs have attracted much attention as a means of mitigating methane emissions [2–4]. The first step in their metabolic pathway, the oxidation of methane to methanol, is catalyzed by methane monooxygenase (MMO) enzymes, which are of broad interest in the quest to exploit abundant natural gas reserves as fuel and chemical feedstocks. Most methanotrophs utilize particulate methane monooxygenase (pMMO), a copper-dependent integral membrane enzyme [5, 6]. Under copper-limiting growth conditions, some methanotrophs can also express an alternative, soluble form of MMO (sMMO) that utilizes iron [7]. In these methanotroph strains, the switch between pMMO and sMMO is controlled by copper: copper represses transcription of the sMMO genes and causes formation of intracytoplasmic membranes that house pMMO [8–10]. The details of this "copper switch" regulatory mechanism are not understood and represent a major outstanding question in the field.
An important part of the copper switch puzzle is the discovery of methanobactins (Mbns), a family of copper-binding natural products initially detected in the methanotroph Methylosinus trichosporium OB3b [11–13], and potentially useful in applications ranging from wastewater copper removal in the semiconductor industry [14] to treatment of Wilson disease, a human disorder of copper metabolism [15]. Mbns are believed to be secreted under copper limiting conditions in a copper-free (apo) form to acquire copper from the environment and then internalized in a copper-loaded form to provide essential copper to the methanotroph [16, 17]. In support of this model, methanobactin (Mbn) promotes the copper switch [18, 19] and can mediate release of copper from insoluble mineral sources [19, 20]. In addition, direct uptake of copper-loaded Mbn (CuMbn) by Methylosinus trichosporium OB3b has been demonstrated, and proceeds via an active transport process [21]. Because this model for Mbn function as well as aspects of its structure (vide infra) are reminiscent of iron siderophores, Mbn has also been referred to as a chalkophore [13] (chalko- is derived from the Greek word for copper whereas sidero- is from the Greek word for iron).
Mbn molecules from
Methylosinus trichosporium
OB3b,
Methylocystis
strain SB2,
Methylocystis hirsuta
CSC-1,
Methylocystis
strain M and
Methylocystis rosea
SV97T have been characterized by mass spectrometry, nuclear magnetic resonance (NMR) and crystallography (Figure
1
; Additional file
1
, Figure S1). These data reveal a peptidic backbone and copper coordination by two nitrogen-containing heterocycles next to thioamide groups [
13
,
22
–
25
]. The
Methylosinus trichosporium
OB3b Mbn backbone has the sequence 1-(N-(mercapto-(5-oxo-2-(3-methylbutanoyl)-oxazol-(Z)-4-ylidene)methyl)-Gly
1
-Ser
2
-Cys
3
-Tyr
4
)-pyrrolidin-2-yl-(mercapto-(5-oxo-oxazol-(Z)-4-ylidene)methyl)-Ser
5
-Cys
6
-Met
7
and is thought to derive from the peptide backbone LCGSCYPCSCM (Figure
1A
).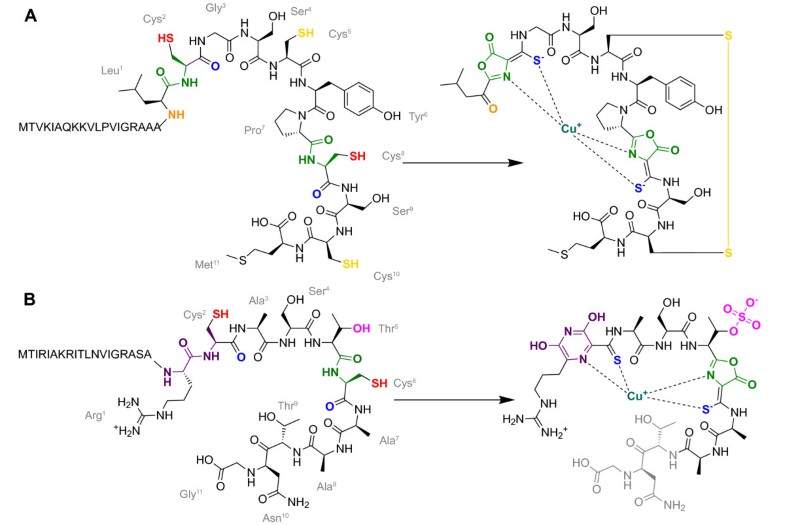 By comparison, Methylocystis Mbns are alanine-rich, and the first nitrogen-containing heterocycle is not an oxazolone [24]. All the Methylocystis Mbns have a similar backbone. The N-terminal residue is either arginine- or methionine-derived (the latter only in Methylocystis hirsuta CSC-1), and immediately precedes the first heterocycle. The heterocycle/thioamide pair (pyrazinadione in all structures except the NMR structure of Methylocystis strain SB2) is followed by an alanine, a serine and a sulfonated threonine (Additional file 1, Figure S1). Next is an oxaozlone/thioamide pair and an alanine followed by a methionine (Methylocystis sp. M) or a second alanine (Additional file 1, Figure S1). Additional C-terminal residues are present in some forms of the molecule. The Methylocystis rosea SV97T Mbn contains a Thr-Asn sequence [24], and likely derives from a peptide backbone containing the sequence RCASTCAATN (Figure 1B). Despite these structural differences, these Mbns retain their strong and specific affinity for copper [24].
The Mbn biosynthetic pathway has not been elucidated, and was initially suggested to involve nonribosomal peptide synthetases [16, 26], similar to production of many siderophores [27]. However, sequencing of the Methylosinus trichosporium OB3b genome [28] led to the identification of a 30-amino acid open-reading frame (ORF) with similarities to the peptidic Mbn backbone [23], supporting previous suggestions that Mbn is produced via post-translational modification of a ribosomally synthesized precursor peptide [22]. A similar precursor peptide was identified in an unrelated species, Azospirillum sp. B510, along with several conserved neighboring genes [17, 22], but analogous ORFs were not detected in other available methanotroph genomes, and the relevance of many of the neighboring genes surrounding the precursors was unclear.
Genes encoding the precursors of small ribosomally-produced natural products can be difficult to detect and annotate, and the underdetection of biologically relevant small ORFs is a known problem [29–31]. However, the ever-increasing rate at which bacterial genomes are released has prompted the design of genome mining tools for widespread classes of ribosomally synthesized and post-translationally modified peptide natural products (RiPPs), such as lantibiotics [32–37]. With the aim of identifying the potential for Mbn production in a wider range of bacterial species, we mined the available microbial genomes in the National Center for Biotechnology Information (NCBI) and Joint Genome Institute (JGI)/Integrated Microbial Genomes (IMG) databases, identifying 18 new Mbn-like precursors and accompanying biosynthetic genes from 16 species, including unknown or provisionally identified species present in metagenomic samples. Surprisingly, many of these precursor peptides and their operons are from non-methanotrophic species and several well-studied methanotrophic species seem to lack Mbn operons similar to that of Methylosinus trichosporium OB3b. Beyond biosynthesis-related genes, we also identified a widely-conserved set of transporters and sigma factors, which has implications for Mbn export and import as well as its involvement in cellular copper homeostasis. Finally, this bioinformatics study provides new tools to better detect Mbn-like gene clusters in novel genomes.
Results and discussion
Using a variety of bioinformatics techniques, we were able to detect putative biosynthesis operons for Mbn-like natural products in 14 new species, as well as several unidentified or tentatively identified species present in metagenomic studies (Figure
2
; Additional file
2
, Table S1). While five of the identified species are Type II methanotrophs like the first identified Mbn-producer,
Methylosinus trichosporium
OB3b, the remaining species are not. Operons were detected in β- and γ-proteobacteria as well as α-proteobacteria, to which the Type II methanotrophs belong. Both the precursor peptides and the range of non-core biosynthesis genes present in the operon hint at a set of potential modifications that may define the Mbn family. Furthermore, genes likely to be related to export, import and copper regulation are found in almost every operon. Based on sequence analysis, the presence of specific Mbn-related genes and the overall operon structure, we have provisionally divided the operons into five groups (Figure
2
).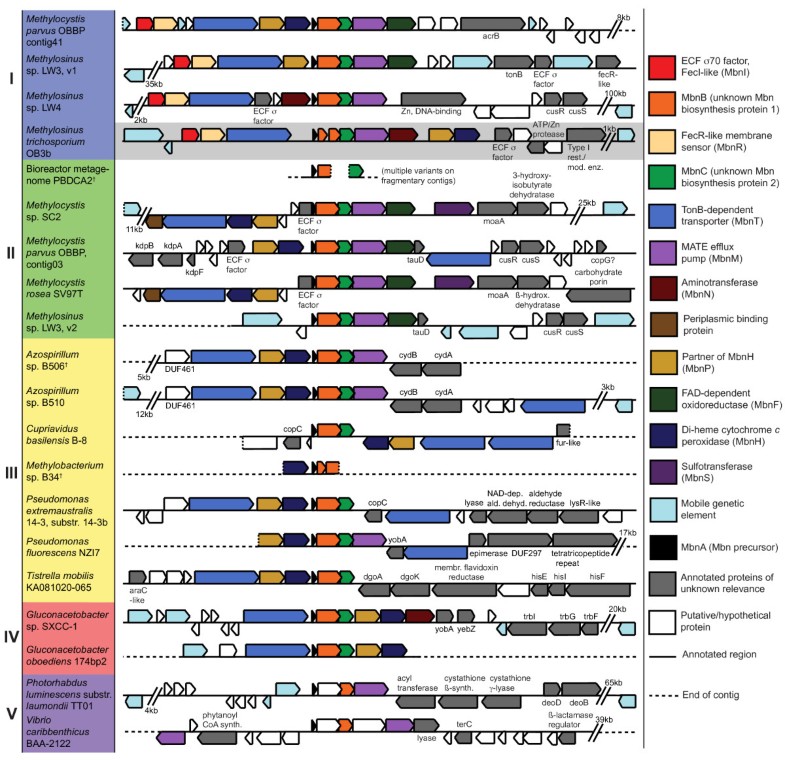 Conclusions
We have detected a total of 18 novel Mbn-like precursors located in full or partial biosynthesis/transport operons in 16 species or metagenomic samples. Of the methanotroph species, operons are present in both strains that undergo the copper switch from sMMO to pMMO (for example, Methylosinus trichosporium OB3b [28], Methylocystis str. M [80, 81], Methylocystis hirsuta CSC-1 [82]) and those that only express pMMO (for example, Methylocystis parvus OBBP [40], Methylocystis rosea SV97T [83]). The 16 species are not limited to methanotrophic bacteria, providing compelling evidence that Mbn-like compounds may play a broader role in proteobacterial metal homeostasis. This analysis reveals the precursor peptide for Methylocystis rosea SV97T Mbn [24] and identifies in the same operon genes encoding enzymes that would be necessary to produce the novel features of this Mbn, specifically the sulfonated threonine. Moreover, these data allow us to predict that the Mbn produced by Methylocystis strain SC2 will be very similar to that of Methylocystis rosea SV97T and likely identical to that of Methylocystis hirsuta CSC-1. Conversely, we can predict that the Mbn operons of Methylocystis str. SB2, Methylocystis str. M and Methylocystis hirsuta CSC-1 will have the same core components as the two Methylocystis operons presented here. Taken together, these findings provide strong new support for a post-translational modification biosynthetic pathway.
Beyond the four Methylocystis Mbns, the only other structurally characterized Mbn is the original compound from Methylosinus trichosporium OB3b, which has a Group I Mbn operon. As the related natural products from Group I, III, IV and V familes are characterized, the extent of structural diversity in the Mbn family should become more clear. The roles of MbnB and MbnC as well as the less universal MbnN, MbnS and MbnF proteins in biosynthesis are unknown or unconfirmed and need to be investigated biochemically. This is particularly important since Mbns contain uncommon post-translational modifications, such as thioamide groups, a modification rare enough that Mbns have doubled the number of compounds known to contain it [84]. In addition, there are no other examples of RiPPs containing pyrazinediones [85, 86], and even oxazolone rings are uncommon, with oxazoles and thiazoles constituting the more common products of serine, threonine and cysteine cyclization. The combination of these motifs with the possibility of more unknown post-translational modifications in Mbns from Groups I and III to V suggests that novel biochemical mechanisms may be involved in Mbn biosynthesis.
The two identified Group V operons may represent a different natural product subfamily, albeit one that shares some similar biosynthesis proteins and modifications with the main Mbn family. Notably, their MbnA sequences contain only a single modifiable cysteine, suggesting that if the final products bind copper at all, they do not use the paired heterocycle/thioamide coordination scheme. Instead of MbnC homologues, these operons include a third unidentified putative protein which neighbors MbnA, and Vibrio caribbenthicus also has a second unknown protein following MbnB. Both have nearby exporters, but no TBDT-like importers.
The identification of MbnM and MbnT as common members of the Mbn operon provides candidate transporters for both Mbn import and export. The possible involvement of MATE-type exporters is somewhat surprising, but the ability of TBDTs to import metal-loaded siderophores is well documented, and the association of such transporters with Mbn operons supports experimental work showing that Mbn uptake is an active process [21, 53–55]. Furthermore, in the case of Group I operons, the N-terminal transduction element in MbnT combined with the presence of MbnI and MbnR is consistent with FecIRA-style regulation. This model, along with a hypothetical pyochelin-like route for non-Group I operons, provides testable mechanisms for CuMbn involvement in methanotrophic copper regulation, and may help unravel the mystery of the copper switch.
A final point of interest lies in what was not found in this analysis. There are a variety of methanotroph genomes, including but not limited to Methylococcus capsulatus (Bath) [87], Methylocella sylvesteris BL2 [88], Methylocystis str. Rockwell (ATCC 49242) [78] and Methylomicrobium album BG8, in which we detect no Mbn biosynthesis/transport operons. Based on their genomes, if these species produce a chalkophore as suggested [89], it is not similar to existing structurally characterized Mbns and its biosynthetic enzymes do not closely resemble MbnB and MbnC. While one of these species only produces sMMO, the rest produce pMMO and some, including Methylocystis str. Rockwell, produce only pMMO. If these methanotrophs do not produce their own chalkophores, they might scavenge chalkophores from other species, similar to what is observed for siderophores [90], and may still possess Mbn-transporting TBDTs. Alternatively, these strains may have other, yet to be unidentified, mechanisms of copper uptake. Taken together, these data provide new insight into Mbn and Mbn-like compounds and their biosynthesis, provide new tools for investigating these processes, and have implications for the broader question of bacterial heavy metal homeostasis.
Abbreviations
Aa:

amino acids
ABC:

ATP-binding cassette
ATP:

adenosine triphosphate
BLAST:

Basic Local Alignment Search Tool
ECF:

extracytoplasmic function
FAD:

flavin adenine dinucleotide
HMM:

hidden Markov model
MATE:

multidrug and toxic compound extrusion
Mbn:

methanobactin
MFS:

major facilitator superfamily
MMO:

methane monooxygenase
Mrna:

messenger ribonucleic acid
NExT:

N-terminal extension
NMR:

nuclear magnetic resonance
ORF:

open reading frame
pMMO:

particulate methane monooxygenase
RiPP:

ribosomally synthesized and post-translationally modified peptide natural product
RND:

resistance-nodulation-cell division
SACCP:

surface-associated cytochrome c peroxidase
SAM:

S-adenosyl methionine
sMMO:

soluble methane monooxygenase
TBDT:

tonB-dependent transporter.
Declarations
Acknowledgements
We thank Dr. Ralf Koebnik for providing us with the NExT HMM. We also thank the Institute for Genome Sciences Annotation Engine service at the University of Maryland School of Medicine for providing structural and functional annotation of the Cupriavidus basilensis B-8, Methylocystis parvus OBBP and Pseudomonas fluorescens NZI7 genomes. This work was supported by NSF grant MCB0842366. GEK was supported in part by National Institutes of Health Training Grant GM08061.
Authors' Affiliations
(1)
Departments of Molecular Biosciences and of Chemistry, Northwestern University, Evanston, USA
Copyright
© Kenney and Rosenzweig; licensee BioMed Central Ltd. 2013
This article is published under license to BioMed Central Ltd. This is an Open Access article distributed under the terms of the Creative Commons Attribution License (http://creativecommons.org/licenses/by/2.0), which permits unrestricted use, distribution, and reproduction in any medium, provided the original work is properly cited.